|
Kapalua to Wailea
|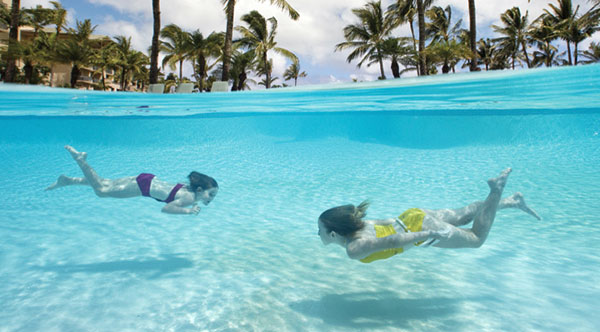 Maui is Hawaii's most-visited island. It's easy to see why. Maui has something great for everybody, from natural wonders to world-class pampering. Green travelers can find lots to enjoy, and often gravitate to the island's eco-friendly bed-and-breakfasts, small inns or organic farm stays in the less-touristed North Shore, East Maui and Upcountry. But sometimes only a truly great beach will do … and then what? On Maui, now you're talking Resort-with-a-capital-R. These mega-properties hold sway on West Maui's fabled shoreline, and it's easy to see why. They're hard to beat for their luau of family fun, business and wedding catering, and simply because they do have the best beaches, restaurants and spas.
Yet nowhere else on this fragile island environment comes close to matching the sheer scale of their consumption and waste, or the potential for contamination of the land and sea and air they touch. Owned or managed by big corporations from somewhere far away, they have less incentive to be good green citizens. Does that mean you have to check your eco-consciousness at the door?
Definitely not. A surprising number of West Maui's "big kahunas" are doing the right things. Here are five of the best we found, from Kapalua southward to Wailea.
The Ritz-Carlton, Kapalua. Where a century ago pineapples grew in row upon spiky row, today 463 luxurious guestrooms, a fabulous spa, excellent restaurants that source from the resort's organically-managed herb, veggie and fruit gardens and Maui's only two Audubon-certified golf courses grace the most exclusive real estate in West Maui.
Audubon courses take steps to protect water quality, conserve natural resources and provide wildlife habitat. Their use of minimal chemicals and other eco-friendly practices are good for the golfers who play these fairways and greens, too.
The Ritz is where the state's Green Business Program holds its annual meeting, a tribute to the resort's numerous eco-initiatives. Among these: Jean-Michel Cousteau's Ambassadors of the Environment program, an environmental and cultural education center that "seeks to inspire guests to live a more sustainable life and to gain a greater understanding of the relationships between land to sea, humans to nature, people to people and present to future." Excursions led by expert naturalists include hikes through the Hawaiian rainforest, snorkeling coral reefs and participating in underwater photography sessions.
The Westin Maui Resort & Spa, Kaanapali. It's on the most popular and best-known beach on Maui, and you can feel better while bronzing your body to know that a host of green practices makes your stay healthier for you, the staff and the environment.
As at other Westins, you can Make a Green Choice here by giving your housekeeper a break during some of your visit. Declining those services for just one night saves almost 40 gallons of water, enough electricity to run a laptop for 10 hours, 25,000 BTUs of natural gas and seven ounces of green cleaning products. It rewards you, too. For each eligible night, you can get a $5 food and beverage voucher or 500 rewards points.
If you rent a Bio-Beetle or other eco-friendly vehicle, the resort gives you preferred parking. Better still, use the free shuttle service.
Grand Wailea Resort. The Grand Wailea is grandiose. In all, 40 acres—including 7 waterslides, waterfalls, caves, white water rapids, grottoes, and even a water elevator that all but overshadow the resort's crescent of perfect beach. The Spa Grande is huge, and public art is magnificent—Picasso, Warhol, Léger, Botero, and renowned Hawaiian artists. For the keiki (children), Camp Grande has a movie theater, game room and daily workshops in lei making and more. The grand guest accommodations average 640 square feet; all feature a private lanai and bathrooms of Italian marble.
The Grand Wailea, which is Maui's largest employer, was honored in 2005 with a Hawaii Green Business Award and in 2008 by the island's utility for energy conservation. Since then Hilton's Waldorf-Astoria brand has assumed management, and its more recent sustainability measures include use of local and organically grown produce and products, biodegradable plates made from sugar cane at the outdoor restaurants, green waste from the resort for compost and soil amendments around the property, and the installation of timers and motions sensors to ensure that lights and equipment are not accidentally left on.
All in all, it's grand that the Grand Wailea wants to be good.
Wailea Beach Maui Marriott Resort & Spa. Adjacent to Wailea and Ulua beaches and a short stroll to the Shops at Wailea, this resort has nearly 500 guestrooms plus suites, and a 9,000+ sq. ft. Mandara Spa.
Its excellent farm-to-table restaurant, Mala Wailea, is the creation of chef Mark Ellman, an originator of Hawaiian Regional Cuisine, in partnership with celebrities like Alice Cooper (and his longtime manager, Shep Gordon, a local whose wife is Maui's queen of green—raw chef, cookbook author and sustainability expert Renee Loux).
You can be assured that good green management is in place here because Marriott is a global leader among hotel chains in greening its operations.
Fairmont Kea Lani Maui. Behind the soaring white spires and archways of this distinctive Wailea resort—which just completed a multi-million dollar renovation to every pool deck, suite and villa—there's also an eco-awareness that emanates from the top. More than a decade ago, Fairmont hotels and resorts launched its Green Partnership program, aimed at minimizing their properties' eco-footprints. At the Kea Lani, this translates to numerous environmental initiatives that can be summed up in the green mantra of "reduce, reuse, recycle."
Food waste is donated to farms for animal feed, and green waste is composted. Cooking grease and oils go to a Maui biodiesel facility. A "green committee" of hotel staff looks for ways to continuously enhance and expand eco-friendly practices, and educates resort staff. Each guest suite and villa has a recycling basket, recycling bins are located in public areas, and all those deposit cans and bottles are picked up for redemption by local charities. Surplus paint, toiletries, paper products, linens, and towels are donated. The resort's laundry has a special water recycling system that saves both electricity and precious water.
Swimming pools use a healthier rock salt filtration system instead of chlorine. The hotel's delightful Polo Beach is patrolled daily for clean-up, and major clean-ups are mounted twice yearly. The spa uses Maui-made natural products. Local and organic are bywords at the restaurants.
Ready for some Hawaiian beach R&R? At these green Maui resorts, you'll be making the right choice for yourself and for future generations of sun-and-sand worshipers.