Staff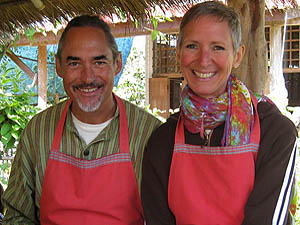 Gary and Peggy Diedrichs, Publishers. Gary is also GTG's editorial director. He's authored guides to Hawaii and Jamaica for Fodor's and Bantam Books, and is a widely published writer (on travel and lots more—see his recent cover article in the British Airways magazine, HighLife), a former magazine editor and a novelist. Peggy has loads of experience in advertising and marketing for travel publications and green companies. She grew up on a family farm in Michigan. Her dad used biodynamic growing methods. Gary's fondest childhood memories are of waking up to the morning chores of his grandparents' 100-acre farm in Ohio.
They believe in recommending only what they know from personal experience. And so, since founding GTG, they have literally journeyed  around the globe for months at a time in search of the world's best green travel. Whenever possible, they live like locals instead of tourists. In researching our award-winning e-guide to Hawaii, for example, they spent five months in that state. More recently, they lived near Guadalajara, Mexico for six months.
At home in the San Francisco Bay Area, they tool around in Gertie the Bio-beast, a recycled veggie oil-powered car, and revel in the local green and organic scene. They like to cook together, and you'll find them at the local farmers' markets and participating in organizations that support organic agriculture and green living. And, of course, on the hunt for more great green experiences.
• • •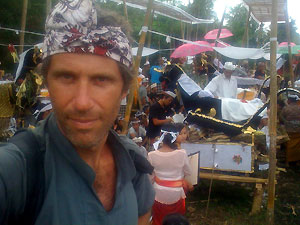 Michael Straus, Senior Editor. This Northern California native grew up on his family's dairy farm, which has since become one of America's organic pioneers. For the past 16 years Michael has been a communications consultant for organic foods, sustainable agriculture and environmental and social justice issues. He also produced Beyond Organic, a nationally syndicated environmental radio talk show.
Michael's travels include Central America (where he explored Fair Trade issues with coffee farmers in Guatemala), Israel (where he created a resource center for newly arrived Russian immigrants), Armenia (where he helped establish the infrastructure for organic agriculture and its marketing) and Russia (where he survived a challenge from a former KGB agent to naked snow-diving and vodka-drinking in a -40 degree  Siberian winter).
He is currently at large in the world again, sleuthing out great green travel for GTG while on sabbatical from Straus Communications, his San Francisco-based green agency. He's basing himself in Bali, for now, but recent forays into India, Nepal, Mongolia, Burma, Thailand, Lebanon, the Arab Emirates, Malaysia, the Philippines and beyond convince us he's got happy green feet that can't quit. Want more? Here's an interview.
• • •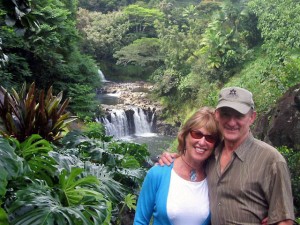 Linda & Rolly Wahl, Contributing Editors. After more than 2 decades writing, editing and exploring in the green Colorado high country, Rolly sold his award-winning magazine publishing company and headed West, where he and his wife Linda enjoy their creekside cottage nestled in a redwood canyon in Mill Valley, California.
Rolly earned his green stripes in Colorado as a founding board member of Environment 2000, among the nation's premier environmental organizations, where he chaired numerous eco conferences and community outreach events. His award-winning magazines in Steamboat Springs, Vail and Boulder regularly celebrated sustainable living practices, natural habitat preservation and renewable resources.
Linda Wahl's interior design company, One to One Interiors, has been creating attractive, comfortable and eco-friendly living spaces throughout the western U.S. for more than 20 years. As a Certified Green Building Professional, Linda incorporates green building practices into each of her assignments, focusing on energy efficiency, indoor air quality, resource conservation, water conservation and livable communities.
Linda and Rolly are as passionate about travel as they are about the environment, making many of their lodging, dining and recreational decisions based on a "green quotient" value standard. Between travels and projects, the Wahls manage Redwood Tree House, their charming riverfront vacation rental home in Sonoma County wine country.
• • •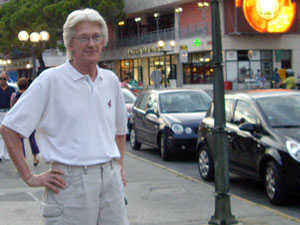 Frank Kuznik, Contributing Editor. The magic and mystery of Prague suited Frank well when he moved there after a 25-year career as an investigative reporter, writer and editor in the U.S.
Born and raised in the steel mill neighborhoods of Cleveland, Frank cut his journalistic teeth reporting on politics, crime and social issues in his hometown before moving on to run the editorial operations at city magazines in Milwaukee and Detroit, and the alternative weekly in Washington, D.C.
In early 2002, Frank's appetite for adventure took him to the Czech Republic and a job at The Prague Post, the premier English-language newspaper in Central Europe. Seduced by the city's rich cultural life, he reinvented himself an arts and entertainment editor, music critic, opera  maven and travel writer. Frank also wrote about Prague for the Time Out and Fodor's guides, and authored a complete guidebook to the city, Prague Walks. He has written about many European destinations, and extensively about Slovenia, which his grandparents left in 1901 in search of a fresh start in the New World. Retracing their footsteps led to his grandfather's village and an encounter with a friendly local named…Frank Kuznik.
In 2012, Frank refocused his cultural lens onto his native Northeastern Ohio, where he writes Cultured Cleveland, a discerning guide to the city's finest arts and entertainment.
• • •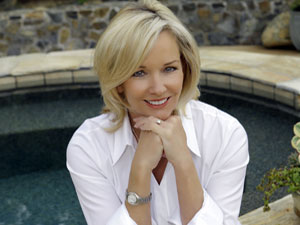 Andrea Naversen, Contributing Editor, is a wanderer at heart. A veteran magazine editor, newspaper reporter, network television correspondent, anchor and author, she got a taste for travel as a child, crisscrossing the United States with her Air Force family in a big, blue Ford station wagon. The constant moves made her curious about the wide world beyond her own backyard.
Naversen began her journalism career as a reporter for The Plain Dealer in Cleveland, where she also freelanced for TIME and Business Week. She eventually transitioned to television, reporting stories all over the U.S. and a good part of the globe for CBS and ABC.  Her assignments included covering the aftermath of riots near Egypt's Great Pyramids of Giza, reporting on humanitarian efforts in Haiti, and interviewing tailors who stitched bespoke suits for princes, prime ministers and power brokers on London's famed Savile Row.
Now settled in San Diego, Naversen is also Editor-at-Large of Ranch & Coast magazine, covering So-Cal lifestyles, personalities and travel. She and her husband, a retired international airline captain, are officially empty-nesters, now indulging their shared passion for wandering the world, on assignment for GTG.
• • •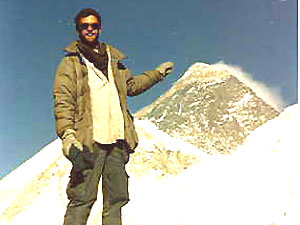 Scott Adelson, Contributing Editor. Scott is a San Francisco-based communication guru, editor and journalist. A true lover of "the road," he has traveled to and reported from places as diverse as Tibet, Sudan and Eastern Europe, embracing a commitment to adventure and storytelling that has informed his 25-year career.
As a Washington, D.C., correspondent in the 1980s, Scott reported on Congress, the Reagan administration and the Iran-Contra Affair, and environmental issues and legislation. He has written for Outside and Benefit magazines, among many others, and is currently a senior editor at Ecosalon, a website dedicated to conscious culture and environmentally friendly lifestyles that hosts 500,000 visitors each month.
Having had the distinct pleasure of being kicked out of five countries, Scott now leads a relatively serene life in the Bay Area, where he writes on topics ranging from environmental news and culture to modern and classic fiction. His first love remains "wandering about as much as possible" as he continues to gather stories to share with the many readers and travelers who enjoy his work.
Scott holds a master's degree from Northwestern University's Medill School of Journalism.
• • •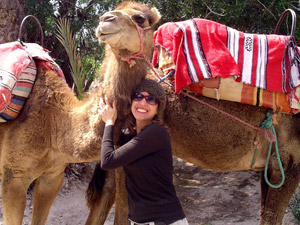 Laurel Miller, Contributing Editor. Laurel is a Boulder-based travel and food writer and cheese consultant, a contributing editor at culture: the word on cheese and co-author of Cheese for Dummies. She grew up on a California ranch raising dairy goats and a menagerie of other animals, which inspired her to educate others about sustainable agriculture and seasonal eating through her cooking school and farm tour program, The Sustainable Kitchen©.  Laurel operated that business in Berkeley from 1999 to 2005, but then got sucked into travel and food writing as a way to see the world on someone else's dime (mostly).
Today, in addition to travel and food  journalism, she's a (cheese) whiz at copywriting, social media and branding services for food, green hospitality and outdoor-industry clients.
Laurel is also a contributor to Gadling, Sunset, American Cowboy, Curbed Ski, The Huffington Post, BootsnAll and Edible Communities. She has traveled all over the world, but can't seem to shake her particular obsession with South America, Australia, Hawaii (where she has lived, twice) and the American Southwest.
When not in her pajamas in front of her computer or teaching, Laurel can be found improving her back-country skills, scheming ways to keep a goat in her apartment and traveling to far-flung places where she can indulge her street-food obsession and contract new and exciting infectious diseases (sad, but true). Despite working with cheese for a living, she is lactose intolerant.
• • •
Roger Archey, Contributing Editor. This native Californian's footprints can be found from the Forks of the Salmon River to the bamboo forest of central Taiwan to the terraced vineyards of Northern Portugal. For over 35 years Roger has trotted the globe in search of stories to tell and cultural experiences to share.
For the past 7 years Roger has led wine and food writers to Portugal to learn about the environmental importance of protecting Portugal's cork forest, while at the same time sampling the best of Portuguese wine, food and hospitality.
Back at his home base in Marin County, Roger can be found plying his communication talents with a wildfire education non-profit; studying the art of artisan cheesemaking; helping Napa friends make wine; and providing strategy and hands-on management assistance to ReCORK, a fast-growing wine cork recycling effort.
Roger and his equally adventurous wife, Rebecca, will share their life-long interest in nature, travel, and all things green with GTG readers.