|
Luxury Fit For a Green Sheikh
|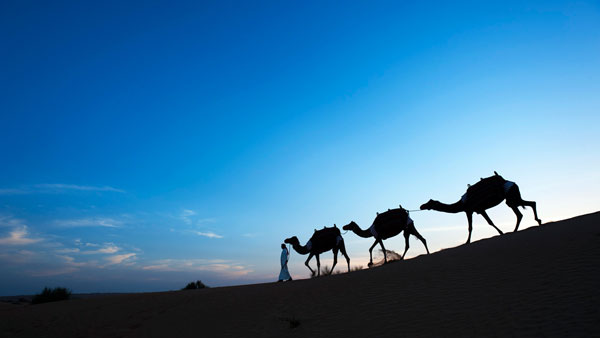 The towering skyscrapers of Dubai disappear behind me in a haze. The air smells and tastes of sand, even as the taxi whisks past a new cricket field whose emerald turf is in shocking contrast to the dun surroundings. We have far to go, and we're flying over the asphalt now. Destination: the remote Dubai Desert Conservation Reserve (DDCR) and, therein, eco-luxe Al Maha, A Luxury Collection Desert Resort & Spa.
I sink back into the plush taxi seat and remember growing up in drought-prone California. How much precious fresh water is required to keep a cricket pitch in the desert so dewy green? Indeed, Dubai, together with her sister United Arab Emirates, consume more water per capita than anywhere else on the planet—145 gallons (550 litres) per day. At least it's desalinized sea water, but the fossil fuel required to power the massive process generates huge amounts of greenhouse gasses. As Dr. Mohammad Dawoud, of the Abu Dhabi Environment Agency, put it in a recent CNN report, the UAE has "almost no regulation" for water or power use, "no minimum standards for water-consuming appliances … and very few energy requirements for buildings."
Maybe I don't fully appreciate the environmental challenges of powering a modern desert society. The realities are indeed stark, and at the same time I fear I'm still trapped in my (admittedly ridiculous) Western romanticism—like, why am I cossetted inside this sparklingly new Lexus sedan, not plodding along on a camel's back? In place of caravans of ill-tempered dromedaries slowly trekking the endless desert, we pass convoys of diesel trucks belching fumes and carrying building materials to seemingly endless construction sites of brand-new cities and gated communities jutting incongruously out onto the flat, arid plains.
DDCR: deliciously desolate
As a traveler in Dubai, I'm ready to regress a century or two. As a green traveler, I'm ready to waste water on tears. Doesn't anyone in this country care about the environment? The answer, as it turns out, is … yes. See my previous post about some green baby steps being taken in Dubai. And stay with me right now, as we lurch off the freeway onto a narrower strip of sand-swept pavement leading to the expansive and deliciously desolate DDCR. Eventually, our road passes through an abandoned archway that, in Planet of the Apes style, seems to pay homage to a long-forgotten civilization. In fact, it's the original entrance to Dubai's crown jewel of conservation—abandoned not out of neglect, but thanks to the DDCR's exponential and rapid expansion.
Created in 2003 by the forward-thinking Emirates Airlines in conjunction with the Dubai government, the original DDCR covered a modest 25 square kilometres (6,180 acres). Two and a half years later, though, it expanded almost tenfold, to encompass 225 square kilometres (55,600 acres), making it the UAE's largest protected wildlife reserve.
In all, more than 230 varieties of birds, plants and animals call the DDCR home, including gazelles and the recently discovered Persian leaf-toed gecko, a nocturnal reptile found only here in the UAE. Migratory birds, such as the eastern imperial eagle (under threat of extinction in Europe), the bluethroat and the black pennant, rest here en route between Europe, Asia and Africa.
Staring oryx
The Arabian oryx (also known as the white oryx), however, is the glory of the DDCR. Nearly extinct in the 1960s, this rare antelope—immediately recognizable with its tall, elegant horns—has since made a remarkable comeback, thanks to one of the earliest, and most successful, captive breeding programs in the world.
As testament to its ecological richness, the DDCR became, in 2008, an official member of the International Union for Conservation of Nature (IUCN), placing it alongside world conservation gems such as North America's Yosemite and Australia's Great Barrier Reef.
In the all-consuming desert, the way in seems infinite. Finally, I spot the secluded Al Maha, and then a pair of oryx. The oryx stare at me with a mix of mild curiosity and quiet disdain (oddly similar to my closest friends).
Channeling the 'Green Sheikh'
In contrast to Dubai City's over-the-top opulence, Al Maha welcomes with a quiet elegance. Like an oasis with no beginning in time and no end, as if it sprang organically from the desert and not from man's need to vanquish this barren land. Developed and owned by Emirates Airline, Al Maha (Arabic for Arabian oryx) beautifully balances luxury with environmental conservation. It is "certified" by Italian-based Ecoluxury Retreats of the World, a curated collection of superb lodgings for high rollers with an eco-conscience, and is managed by Starwood Hotels & Resorts.
Forty-two opulent suites—one of which was, until recently, reserved for the exclusive use of Sheikh Maktoum bin Rashid Al Maktoum, former Prime Minister of the UAE and amir (ruler) of Dubai—blend smoothly into the soft contours of the gently rolling hills. From a distance, they appear as simple Bedu (Bedouin) tents, with sandy canvas simultaneously camouflaging and shading the underlying structure.
For a few days, I muse, I'll be living like a sheikh myself. Maybe I can channel the so-called Green Sheikh, Abdulaziz bin Ali bin Rashed Al Nuaimi, who's trying to change the 'green' reality of the Middle East.
Sustainable design from inception
Once inside my suite, I gaze in a bit of awe at the solid mahogany furnishings dominated by a massive four-poster bed finely detailed in Arabic themes. Grand French doors open to landscapes that stretch to the distant Hajar Mountains—and to my private, temperature-controlled pool, where I vow to recline with a glass of complementary sherry without delay.
With no little effort, though, I wrestle my consciousness back to what underpins all this tasteful excess. The resort's creators have integrated sustainable design into its landscape and infrastructure from its inception. Al Maha's efforts have been internationally acknowledged with the World Legacy Award from National Geographic and the Arab Cities Award for Architecture and for Best Environmental Design, among others. Double layers of walls and windows provide highly effective insulation from both heat and cold and conserve energy. Traditional barasti (date palm fronds) are extensively used for ceilings to minimize use of concrete and maintain an authentic Arabic feel. Although Al Maha sits atop Dubai's largest natural aquifer, the resort attempts to conserve and reuse as much as possible. Nearly every drop of waste water passes through an on-site water recycling and purification facility, and the 94 percent that is recovered irrigates natural vegetation (the remaining 6 percent is lost to evaporation). Granted, the fabulous private pool for my and every other suite as well as the main resort pool uses a lot of water, too—but that's a nearly unavoidable compromise when catering to clientele who expect all the creature comforts even in a desert climate.
For me, the comfort can wait. It's activity time. First up—don't ask me why—is four-wheelin' in the dunes. The DDCR is strictly off-limits for such activities, so the Al Maha has struck a bargain with the neighbouring Sharjah Emirate to allow access to their dunes. Our driver/ranger guarantees that the resort's Toyota Range Rovers do not upset the desert's delicate ecological balance. And so we zoom over, around and down the dunes, which, honestly, mostly gives me pause about the delicate balance of my stomach. Still, I'm surprised to see scraggly shrubs poking out from the parched dunes. Each time our wheels spin out over a patch of them, I cringe. How sad that we might manage to uproot any living thing that has struggled so valiantly to emerge from this broiling sand.
Pay attention, Michael!
More to my taste and sensibilities is a nature walk, in which I learn to track the movements of the common sand fish (a reptile), identify dune grasses and edible plants and seek shade under an athle or ghaf tree. After years of overgrazing by camel farms, the fragile ecology of the DDCR is slowly recovering its biodiversity, thanks to the gradual elimination of animal agriculture within its boundaries.
Al Maha also has its resident falcons to "interact" with. Each morning resort staff exercises the raptors, and I watch in awe as they soar, vast wings outspread, across the cloudless sky. Pay attention, Michael! Without warning, one of them—wasn't it just safely over the horizon?—swoops back for a taste of breakfast. It descends, directly at me, at an astonishing speed, very nearly knocking me off of my feet. For a hairy moment there, I was sure it was intent on eating me!
Imagined raptor attacks aside, I quickly discover that one of the most challenging things about Al Maha is how to pace myself. The resort's intimate spa beckons. So, too, an archery lesson. Or a desert romp on an Arabian stallion. Or the sybaritic-sounding "dune dining in the desert," an Arabian Nights feast partaken al fresco while reclining on low cushions by flickering lantern light. On my first visit to the resort's exquisite Al Diwaan restaurant, I am confounded by the Sri Lankan, Japanese and Arabian menu options. All feature organic produce, free-range eggs and a truly fabulous culinary experience. Relaxed on the dining deck early that evening, the still-warm desert expansive before me, I decide there are worse challenges. Fortunately, I'm here to test the limits of my culinary indulgence.
Ahhh, just the right pace
Later that same evening, I do find just the right pace. I get my emblematic camel ride, rising into the air on one of the resort's strangely graceful beasts, who gently rocks me to the crest of a distant dune. There I watch the final sparks of light disappear over the mountains while sipping a "sundowner" of sparkling wine. Camels arrived in Arabia from Africa two thousand years ago, introduced by nomadic herders. Mine ambled back to the canopied glories of Al Maha in about half an hour, ending my caravan near the beautifully lit main swimming pool.—Michael Straus, Contributing Editor