|
Mendocino Green Wine 
|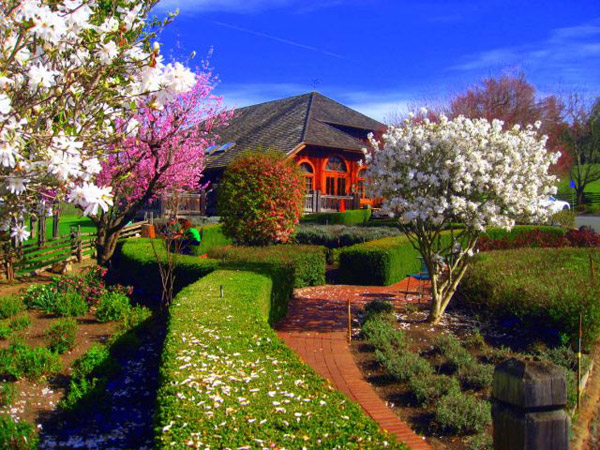 In northern California you're never far from wine country. And while name brand-name mainstays like Napa and Sonoma seem to steal most of the attention, we tend to favor smaller, more remote appellations that offer quality vintages, artisan pleasures and a nice, slow pace of life.
One of our favorites lies 100 miles north of San Francisco in the gorgeous and abundant Anderson Valley, nestled in the bosom of California's sparsely populated Mendocino County. Billed as "America's Greenest Wine Region" after its disproportionately high percentage of organic growers, the county became a refuge for back-to-the-land activists and counter-culture types during the rambunctious '70s. Later it became the first jurisdiction in the nation to ban the cultivation, production or distribution of genetically modified organisms (GMOs).
Not surprisingly, a strong communal mindset endures, focused on independence and eco-centric values. From biodynamic farms to organic wineries, farm-to-table dining to solar- powered beer, nearly every aspect of daily life in this bucolic area is imprinted with a green thumbprint.
Our route into this viticultural wonderland hugs CA Hwy. 128 as it winds through majestic redwood groves, rolling hills, lush valleys, flowering fields, apple orchards and a tangle of free-flowing rivers, creeks and streams. We enter the Anderson Valley at Yorkville, one of a handful of tiny, unpretentious towns that punctuate the area's forested and vineyard-laden landscape. A few miles farther west we come to Boonville, the valley's largest town (pop. 1,000), and two more don't-blink hamlets, Philo and Navarro.
Our self-guided tour leads us to several of the valley's 29 wineries and tasting rooms, where it's normal to meet the actual owners, growers and winemakers committed to sustainable farming and environmental protection…read more