|
Green Travel News
|
Green Globe is adding Green Key Global certified properties to its application for Apple mobile devices. The Green Globe App is the only mobile application for Apple iPads, iPhones and iPods that allows travelers to instantly search for sustainable resorts, hotels, conference centers, attractions, tour experiences and wedding options.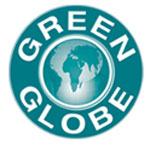 The Green Globe App delivers photos and descriptions of Green Globe and Green Key certified businesses around the world, with direct links to booking, views in Google Earth and YouTube videos. The Green Globe App can be downloaded free of charge from the Apple App Store.
Green Globe provides certification for the sustainable operations and management of travel and tourism companies and related supplier businesses, training & education, and marketing services in 83 countries worldwide. Based in Los Angeles, and with partners in Mexico, South America, South Africa, Middle East, the Caribbean and Europe, Green Globe also maintains a global network of independent auditors who provide third-party inspection and validation.
The Green Key Eco-Rating Program is a graduated rating system designed to recognize hotels, motels and resorts that are committed to improving their environmental and fiscal performance. Based on the results of a comprehensive environmental self-assessment, hoteliers are awarded a 1–5 Green Key rating and provided with guidance on how to "unlock" opportunities to reduce environmental impacts and operating costs through reduced utility consumption, employee training and supply chain management.