|
'The Cool Place'
|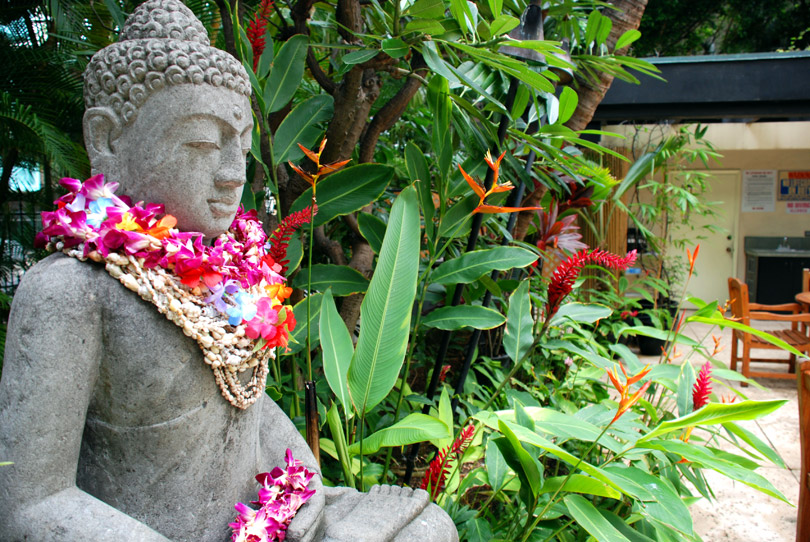 Just a five minute walk from Waikiki beach, tucked in between high-rise hotels, fancy restaurants and the haute couture shopping district, lies a true Hawaiian oasis—Aqua Bamboo. As you enter this boutique, award-winning green "condotel" (meaning each unit is privately owned), you leave behind the chaos and enter a peaceful sanctuary where aloha abounds, the earth, or 'aina, is respected, and you are treated like 'ohana, the Hawaiian word for family.
Bamboo, believed by traditional Hawaiians to bring good luck, and other native plants welcome you as you are greeted with a cool glass of pineapple juice and a friendly smile. Round the corner to the saltwater pool and you can hear the sound of the lava rock waterfall beckoning you to kickback and relax on a teak lounge chair beneath a thatch umbrella.
The aloha spirit at Aqua Bamboo extends far beyond beyond the décor, though. The Hawaiian hospitality and unique history of this special place transport you to the real Hawaii … the Waikiki before Louis Vuitton, the Cheesecake Factory and the Trump Tower moved in.
Honoring Hawaiian culture
Aqua Bamboo was built on what used to be the royal gardens of Princess Kaiulani. This retreat was called the 'ainahau, which translates to "the cool place."
"Because of the history of this land, it has inspired us to bring as much of the Hawaiian culture as possible," says Nicole Yoshimoto, hotel manager.
In honor of its Hawaiian history, the hotel teaches guests the art of lei making as well as "kapa stamping." Kapa stamps are carved out of bamboo and were traditionally used by warriors and hula dancers to embellish their loincloths and grass skirts. Thursday's happy hour also features Hawaiian music and stories centered around Hawaiian history. And, if you're lucky, Yoshimoto, who is also a hula dancer, may even step out of her hotel manager role for a few moments to dance for you.
Caring for the 'aina
The beautiful land and waters of Hawaii have always been intertwined with the Hawaiian way of life and are deeply revered in the native culture—and in the corporate culture at Aqua Bamboo as well.
"Taking care of our island and the oceans is important to a lot of local people and something all our staff is passionate about," Yoshimoto says.
Spearheaded by the Craig Matsuura, the area director of facilities, the hotel has led the way in many green initiatives and in 2014 won the Hawaii Green Business Award for the second year in a row. This year they received the "Kela" award, which means "exceeding" or "reaching high above."
In addition to a robust recycling program, which includes recycling bins in every room and training the housekeeping team to recover recyclables from the trash, Aqua Bamboo has taken several major steps to reduce their impact on the 'aina. They were one of the first in Waikiki to outfit guest rooms with an energy management system featuring keycards which turn off the air conditioning and electric when a guest leaves (as long as the guest makes sure to take the keycard with them). Aqua Bamboo also installed aerators on all restroom faucets to reduce water waste and brought in a hot water monitoring system to lower the temperature during off peak periods, thus reducing gas consumption.
Welcome to the family
Lastly, another important part of the Hawaiian culture infused into the spirit of Aqua Bamboo is family, or 'ohana.
"We strive to make all our guests, as well as our staff, feel like they are family," Yoshimoto says. "That is one of the benefits of being a small hotel. We get to know our guests by name, not just by their room number. We want every guest to feel like they're coming 'home' to Hawaii to stay with their 'ohana. We have many guests who come here every year. They know the names of our staff and look forward to seeing them each time they come back."
Aqua Bamboo would indeed be a wonderful place to call home while you are in Waikiki. And, if you really don't want to leave, you could even see if one of the suites in this condotel is available for purchase and truly call it home. I know I was tempted!—Kat Schuett
Kat Schuett is an award-winning health, sustainability and travel journalist who has written for Better Homes and Gardens, Ladies Home Journal, National Geographic's Green Guide and many other national and international publications. She is also the founder of a new online blogazine and community-building project called The Better World Hub (www.thebetterworldhub.com), which is focused on connecting people with the support and inspiration they need to make choices that are better for themselves as well as the planet. You can reach her at Kat@thebetterworldhub.com.