| Down Duvets in Bali? |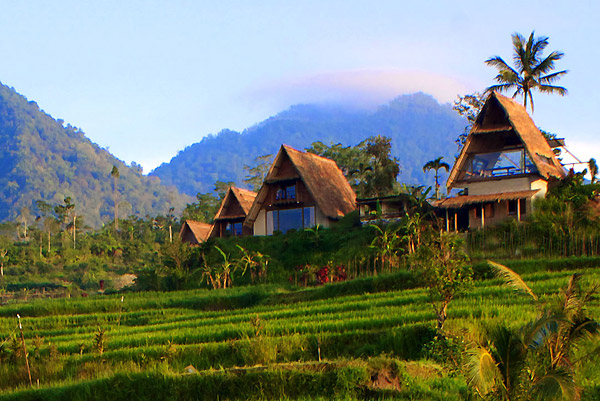 When afternoon rain clouds part, the limitless panorama stretches well beyond Bali's southern shores. Ahhhh, this is more like it. Only an hour's drive from the island's overcrowded tourist beaches, these Bedugul central highlands feel blissfully remote. And that's exactly why we've come to Desa Atas Awan (Village Above the Clouds), a boutique resort hotel at the edge of a tiny, rural village called Baturiti. We breathe deeply; the air up here is clean, intoxicating. To our north, a string of volcanoes—majestic Puung, Adeng, Petali and the massive Batu Karu—loom with menace, but they are fast asleep. Below us, down steep hills and beyond the outlying gardens of the village, two rivers, the Tukad Yey Kajang and Tukad Yeh Baas, border terraced rice paddies until they converge at a triangular valley's tip. If we had doubts before arriving, they have melted away with the stormy skies. This newly opened green hotel offers the perfect retreat and home base to explore a quieter, more restful Bali.
Owner Josep Triay welcomes my friend Sophia and me with a warm, easy smile. A Spanish ex-pat from the resort island of Majorca, Josep has long ago escaped a tension-filled, high-tech marketing career. But it was only last year, while celebrating his 40th birthday by running across Bali (yeah, you read that correctly), that Josep literally stumbled upon this all-but-abandoned family compound.
Partnering with Carla Swanson (who, with musician Michael Franti, owns the highly recommended Soulshine Bali  in Ubud), Josep created this romantic getaway for nature lovers and a blissful setting for meditation retreats.
Nature's playground
"It's like my giant playground," says Josep. "When I get tired of sitting in front of the computer, I can simply ask the guests, 'Hey, want to go for a run or check out the hot springs?'"
And that's exactly what happens. We're soon being led down narrow irrigation canals, through rice paddies, black bamboo groves and organic vegetable gardens to the Angseri Hot Springs. Secluded like a secret discovery, these natural springs bubble forth in a small hot puddle in the middle of a river, and our muscles melt in the soothing waters until it's nearly sunset.
"We keep discovering the area," notes Josep who, in his spare time, explores the jungle for future trekking and mountain bike trails, mapping them out on GPS devices which he'll provide to guests, along with local cell phones just in case anyone gets lost.
Warehouse or schoolhouse?
All well and good, but where's the green? It comes with Josep and Carla's community commitment—which becomes immediately clear as he rattles off a seemingly endless list of projects being initiated for the neighboring 150+ villagers. Adjacent to the hotel property, Josep points out what seems, to my untrained eyes, an abandoned concrete warehouse, strewn with garbage and overgrown with weeds. He, however, sees the Freedom School. It will start small, Josep explains, as a simple gathering place for village children to play while their parents are working the fields. Soon, though, he and Carla envision volunteer teachers leading English classes, and providing training on the village's first computers. Environmental education, recycling and art projects will be offered. And across the street from the school, plans are already underway for converting an abandoned property into the local soccer (football) field.
In the meantime, Josep and Carla are working with villagers to create the area's first community garbage collection and recycling program. Also, along the terraced slopes leading down to a mystical Hindu water temple, they plan to create a permaculture demonstration garden to provide organic farming training, and create infrastructure to help farmers access the island's urban markets. As Josep describes their shared vision, an unmistakable sparkle comes to his eyes. His vision is to convert the entire valley to organic production.
 Settling in for the night
The hotel, which accommodates up to 16 guests, consists of three A-frame cottages bearing the names of the aforementioned volcanoes, plus the Cloud House, a ski-lodge-style building that houses the Sunrise and Sunset suites, a large common room and outdoor Jacuzzi. Each of the cottages, which on our visit are still undergoing renovation, will be equipped with steam rooms, as well as private outdoor patios. For me, our room's highlights are the queen-sized bed, a luxuriously warm down duvet to ward off the mountain chill, and mesmerizing views to the night sky through the large-paned windows that comprise most of our cottage's southern wall.
And, yes, if you must stay connected to the outside world, there's free Wi-Fi. Sophia watches, amused, as I habitually check (and recheck) my e-mail, and reminds me of something Josep said earlier in the day.
"Nothing cannot wait for two or three hours. Go for a run, hike, whatever. Everything can wait two hours."
Exploring the region
She and Josep are right, of course. In lieu of feeding your cyber addiction, I'd urge you to check out these other sustainable and natural attractions of the Begugul area: the Eka Karya Botanical Garden, home to 2,000+ species of orchids, medicinal and rare plants from across Indonesian archipelago; and the 115-foot-high Gigit waterfall in nearby Singaraja (Bali's former capital).
Desa Atas Awan is what I hope you'll come to Bali for. A sustainable, low-impact retreat, a hotel "above the clouds" that's serenely aloof from, and an antidote for, the anxieties of modern life—Michael Straus, Senior Editor