|
Sacred, Shocking Sustainability
|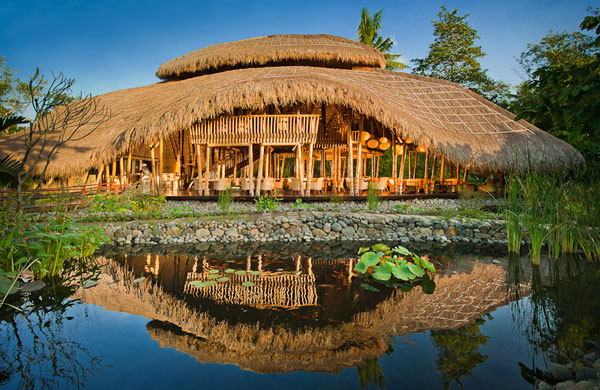 I weave my motorcycle down a narrow, potholed road past exquisitely terraced rice paddies and through a tiny village. This is Bali, but not the Bali of the island's highly trafficked locales—and I feel deliciously remote from the bustle even though Kuta and Ubud are each only thirty minutes away, in opposite directions. It's hard to imagine a more magical setting for an eco-resort, though the same can be said for much of this island, with its lush tropical forests and mystical spiritual traditions. Still, as I arrive at Fivelements, Puri Ahimsa,I sense I am about to have an exceptional experience. And I have learned to trust my instincts on these things.
Fivelements exudes serenity. Hugging the lazily flowing Ayung River and hidden outside the town of Mambal, the small village-like complex somehow feels right, as if it's simply meant to be there. I soon learn why.
Co-owners Chicco and Lahre Tatriele tell me that Fivelements embodies the dual Balinese Hindu philosophies of tri Hita Karana and tri Kaya Parisudha, which serve as the underpinnings of the resort's concept, design and operating principles. The first relates to the relationship between us humans, the environment and spirit, while the second reflects the ethical triad of right speech, right thought and right action.
A model for all Bali resorts
How could it go wrong? Okay, I hear a few of the unenlightened out there expressing, um, negativity. So how about this:
Before being built from the ground up and opening in 2011, Fivelements underwent an exhaustive environmental and sustainability assessment to ensure that it would enhance and respect the natural environment. And how it has succeeded! Even though the property's environmental planner, Gove DePuy, readily admits some compromises were eventually made, this sustainability document demonstrates true, deep and unmistakable commitment to the environment and community. In my opinion, this is the best practice model for all Bali resorts.
But the first thing I notice isn't their water conservation or preservation of rare endemic bird species, but it's the stunning architecture. The Sakti Dining Room, gorgeously crafted from deeply polished bamboo, particularly amazes me, and I could easily spend my entire stay here just to relish the wonderfully cocooned feeling created by the sweeping thatched roof in the shape of a banana leaf, a symbol of food for the Balinese.
Haute cuisine meets vegan, vegetarian, raw
As I soon discover, there are other reasons to enjoy this fine-dining restaurant. Here, haute cuisine meets vegan, vegetarian and raw, presenting sublime flavors, delicately balanced, with perfect presentation. Local, organic, sustainably-produced ingredients shine in a way that I've rarely experienced. I'd say it even rivals the best my hometown of San Francisco offers with its famed Millennium and Greens restaurants.
Later, I discover it's equally easy to pass the time in my suite, one of only seven. Five are named after Balinese elements – Pertiwi (earth), Apah (water), Teja (fire), Bayu (air) and Akasa (ether), plus two are called waterfall suites. Think high grass-roofed ceiling, recycled timber floor, traditional Balinese 'Songket' textiles and flowing white curtains. A direct line to my personal concierge is located conveniently next to my bed. An adjoining indoor/outdoor bathroom encloses a colorful garden with a stone wall and large shower area. In case I forget what century this is, I also have a sound system with iPod docking and Wi-Fi.
Scratch that. I want to forget what century this is. The murmuring sacred river is just outside.
Bathing with my chakra clicker
When I again I venture forth, it's to sink into the massive spa tub on my veranda, hand-hewn from a boulder and, intriguingly, equipped with chakra-inspired mood lighting, which I flip through with my hand-held remote. Of the seven color choices, I keep cycling back to violet, the vivid hue of the crown-chakra, located at the very top of the head. I'll try anything to find a shortcut to enlightenment. Did it work? I'll send you an update from Galactic Command (admittedly, this is an obscure reference—to a website for folks who believe aliens inhabited the lost island of Atlantis, some of whom—believers, not aliens—are running a workshop in Ubud even as I splish-splash with my chakra clicker).
Atlantis is exactly where I think I've landed when, the next morning, I discover Metaphysical Massage on the spa's Healing Menu. Pak Ketut Wena, a local healer who happens to live next door to the resort, offers clients an energy rebalancing based on his "knowledge of Chinese Medicine" and his "inherited Balinese healing gift of energy." It's a perfectly innocuous description for something that turns out to be extremely remarkable.
As I lie on the massage table, Pak (an honorific) Ketut proceeds to sprinkle tiny bits of tissue paper on my hairy chest. Then, after a moment of seemingly intense concentration, he holds his hands a few inches above me … and the paper bits begin to dance. Seriously. (And no, in that moment of incredulous wonder, I didn't stop to ascertain whether it was a tango or salsa). But that's not all. Then Pak Ketut shows me his gift of energy. And unless there's a little battery-operated magician's device hidden under his batik sarong, it is truly remarkable. He is able to generate an electrical charge, shocking me with his finger at least five or six times, each with an audible zap. Lest you immediately presume that it's merely static electricity, Pak Ketut demonstrates another incredible feat. Picking a small leaf from a nearby bush, he holds it for a few moments in his prayer-clasped hands and then strokes my arm with the edge of the leaf. Zap! The leaf itself shocks me.
More here than meets the eye
Hmmmm. There's more happening at Fivelements than immediately meets the eye. Indeed, perhaps it's the less-obvious features that give this place such a unique feeling. Seen from the sky, the village's site plan appears as a spiral, influenced by the Golden Mean Spiral—the mysterious mathematical ratio found abundantly in nature, in the likes of nautilus shells, apple cores and sunflowers. The site is also divided into nine squares, each with its own sacred purpose based on the principles of Balinese cosmology. By studying Fivelements' conscious design, I'm introduced to the same religious and spiritual concepts which underpin Bali's great temples.
Holy green traveler! This very special eco-retreat is like a CliffsNotes for Balinese spirituality and connectedness to Mother Nature. And I haven't even explored the "sacred spaces"—used for meditation, ceremonies and celebrations—or the "Watsu" therapy pool and lap pool with underwater music and chromotherapy lighting or the Bidadari Beauty Sanctuary for Balinese-inspired spa treatments. Shocking as it sounds, I may stay another day.—Michael Straus, Contributing Editor