|
A Green Revolution
|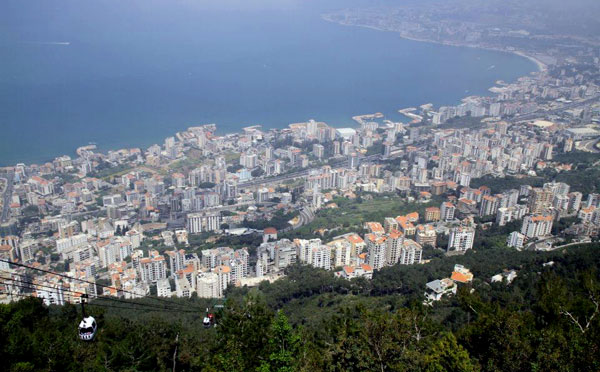 Come to Beirut. Come for more than 5,000 years of history—even more when you include the ancient city of Byblos (an area known today as Jubayl), home to the seafaring Phoenicians and perhaps the oldest continuously inhabited city in the world. Come for the more recent French colonial heritage, impressive vestiges of which still remain, earning the Lebanese capital its nickname: Paris of the Middle East. Come for today's neo-renaissance following decades of brutal civil and international war. Massive construction cranes now invade the city, converting bombed-out rubble into expensive high-rises, shopping malls boasting international fashions and architecturally-arresting developments such as the uber-hip Zaitunay Bay marina and urban beach front. In this and many other corners of Beirut there buzzes a new generation of nightlife—most famously at the coffin-shaped nightclub B 018on the outskirts of town, where all-night revelers cool off when the roof swings open like a coffin lid to the night sky above. I have come for all these reasons, and one more—the burgeoning food scene. Exquisite French croissants. Heirloom tomatoes. Irresistible street food. Beirut's artisan and organic foodscape is busting loose with locally-grown eco-delectables. It's a young, creative scene that heralds a new era of organic and Slow Food-style restaurants, farmers markets and culinary craftsmen.
This Arab Spring of cuisine is led by two Lebanese food pioneers, Kamal Mouzawak and Walid Ataya.
Passionate about the Slow Food philosophy of "good, clean, fair food," Mouzawak founded Souk el Tayeb, Beirut's largest and oldest farmers market featuring organic produce and hand-crafted foods. It's open every Saturday from 9 a.m. to 2 p.m. Like the great markets in the U.S.—San Francisco's Ferry Plaza Farmers Market and Manhattan's Green Market in Union Square come to mind—this open-air market near the popular Beirut Souks mall plays a crucial role in connecting consumers, restaurateurs and farmers.
Come hungry!
Tawlet restaurant is Mouzawak's newest baby and, word to the wise, come hungry! This gourmet lunchtime buffet showcases an amazing array of temptations prepared by regional, artisanal producers in partnership with trained chefs. As I meet with Mouzawak at Tawlet, I devour (greedily) the Northern Lebanese cuisine of Josphine Ghaleb, from Tripoli. Ghaleb's menu this day includes kafta with batata bel sayniyeh—a rich stew of lamb and beef (pre-roasted with onion, parsley and spices), roasted potato and a hearty tomato sauce; Maghrabiyeh bi djeij—similar to couscous but larger, prepared in chicken broth with cinnamon, caraway, sweet pepper, shallots and butter; and Tajen samak, a local fish fried with red onions combined with a simmered mixture of tahini, lemon juice, bitter orange, onions and pine nuts. Oh, and save room for exploring the equally exquisite desserts. Afterwards, enjoy a cappuccino and browse Tawlet's boutique, where you'll find sustainable food-related books, Lebanese wines and local, artisanal 961 beer.
Meanwhile, across town, Walid Ataya serves up his own take on the culinary scene. Ataya heads up Slow Food in Lebanon. An architect and self-taught chef, his blog reflects his devil-may-care attitude. As in, "I am a Slow Food president, maybe 2 slow for them." I immediately like him.
Ataya's growing food empire is in the hip, affluent Harma neighborhood, where I'm struck by the vibrancy and casual elegance of its residents—a café culture that seamlessly blends French press coffee with French vanilla-flavored shisha (hooka) waterpipes. Here, students from the nearby American University of Beirut seamlessly converse in a cascading, entangled flow of Arabic, French and English. Ataya's offerings include Bread Republic restaurant, a pizzeria, a bakery, the Cow & Apple bistro and, he tells me, "a couple of wine stores." On Tuesday mornings, the outdoor patio of Bread Republic, on Nehme Yafet Street, is transformed into Souk el Ared, a small, 100% certified organic farmers market.
Organics in the Phoenician tradition
Organic foods are gaining in popularity and availability in Beirut. By some estimates, Lebanon's organic community consists of nearly 150 farmers, processors, and retailers and other stakeholders, with new players constantly emerging. Whereas the organic movement in the U.S. took root with forward-thinking farmers, Lebanon's organic leadership depends largely on merchants who, like their Phoenician ancestors, are renowned for their skill in trading and marketing.
Multiple obstacles remain, however. Tiny parcels of land, often leased to tenant farmers by absentee landlords, make organic conversion a risky and expensive proposition. Inadequate infrastructure—training, distribution, limited government assistance, and inconsistent financial support from the NGO community—hamstring efforts to develop consistent supply and cause huge and erratic pricing spikes.
Although demand for clean, healthy food motivates some shoppers, others have been motivated to seek safer supplies in the wake of major scandals in the mass food market. Not long ago, when it was discovered spoiled meat was being repacked and sold as fresh, total Lebanese meat consumption plummeted as consumers lost faith. Chemical pesticides and fertilizers are known to be overused and under-regulated, causing public health concerns over traditional dietary staples like tomatoes and cucumbers. With each new scare, more Beirut shoppers turn to organic alternatives for the greater level of trust and accountability that comes from independent eco-certification.
More Beirut food heroes
Whatever the motivations underpinning the growth of organic options in Beirut, locals and travelers alike benefit. In my food wanderings here, I was also especially enchanted with L'Boulangere, an organic artisan bakery in the Achrafieh neighborhood—and with its owner Seline Hashem, who left a successful Fortune 100 career to pursue her baking passion. I'm talking wonderful pastries, croissants, whole-wheat bread, French baguettes, and much more. Seek it out on St. Nicolas Selim Bustros Street (at Ward).
Also among my Beirut food heroes are Sabine Kassouf and Layane Makarem, whose A New Earth is the city's largest and most successful natural foods store. It's another must stop as far as I'm concerned. Then there's Haifa el Chaaer, who, along with her husband, runs Al Marej, a grocery offering only 100% certified organic, made-in-Lebanon products (including the country's only certified organic meat); you'll find it in Achrafieh,on Abdel Wahab El-Inglizi. And, finally, amid Hamra's wall-to-wall pubs, Healthy Basket is Lebanon's only CSA (Community Supported Agriculture delivery program). Under the leadership of Ranya Tiuma, it offers certified organic produce at or near conventional prices and even has a small retail shop (Ayad Building, Adonis Street, near St. Rita's Church), where you can get organic milk and cage-free eggs.
So do yourself a favor. Get to Beirut. Soon, before the travel lemmings follow. Barring a tragic new episode of civil unrest or religious strife, there's little doubt this is a city that will be on the "hot new destinations" lists in the coming years. And what could be more thrilling than to witness the beginnings of this Middle East revolution, a peaceful and worthy one that asks only that you join in support of the pleasures of organic and Slow Food-style restaurants, farmers markets and culinary artisans?—Michael Straus, Contributing Editor