|
Deliciously Sustainable
|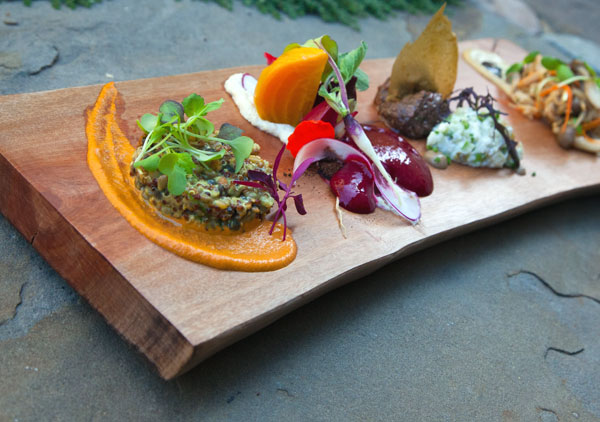 Whenever possible. As in those two weasel words on a restaurant menu: we use organic, seasonal and sustainable ingredients whenever possible. They promise so much … they give a kitchen so much wiggle room. Imagine if an organic farmer said: we won't use toxic chemicals on our crops whenever possible. Well, then, imagine our total delight when we read this: "Truth is —it's always possible. If an ingredient can't be found, we use something else. It's that simple."
Gadzooks! We knew it!
This refreshingly honest assertion comes from a highly touted green restaurant we are about to sample. Gather, in Berkeley, California.

What's not that simple, of course, is what becomes of those organic, seasonal and sustainable ingredients. We're talking creations on the plate: healthier, yes, but also inspired and delicious with a major oh-wow factor.
At Gather, we soon learn, you need not fear boring or clumsy food. Its co-owner/chef, Sean Baker, won Chef of the Year honors from Esquire in 2010, the year the restaurant debuted.  And on the night we come to dine here, two years into Baker's reign, he is clearly still at the top of his game.
It's a Thursday night, and as we arrive the place is buzzing . This is clearly no student hangout, though several tables are occupied by collegiate types. Many of our fellow diners have the cerebral look of university faculty or intriguing locals. Gather itself is a vision of honey-hued unpainted finishes, repurposed metal and concrete materials, re-used leather, and rough-hewn reclaimed woods that have literally been "gathered" from around the Bay Area.  Deep green Heath ceramic tiles—made in Sausalito, across the bay—frame the open kitchen, where flats of radiant microgreens in potting soil are close at hand. Colorful jars of canned peppers and other veggies and fruits are decor accents. The bar is made from a Douglas Fir that grew and fell in in Sonoma. Old pickle barrels are now the back bar, wait stations and cabinetry. A huge old water tank from Marin County has been turned into tables and the front door; bleachers from a local high school are banquettes and more tables; lights over the bar have been crafted out of local, recycled vodka bottles.
We should mention that Gather occupies ground floor space in the David Brower Center, across from the UC Berkeley campus. It's the greenest building in Berkeley, named to honor the Berkeley native who many consider the father of the modern environmental movement. Naturally the restaurant would be in synch with that ethos, making use of all those recycled and reclaimed materials, using no-VOC paints (for no off-gassing), highly energy-efficient equipment and so on.
But as with any restaurant, the proof is in the pudding … and all the other enticements of the kitchen. At Gather, the proof is also in the Source Book. It's a thick ring binder that traces "the lifecycle" of every ingredient served. From spices and oils to animals and vegetables, they've researched where they came from and how they were produced. Scanning tonight's dinner menu—all choices moderately priced—we note not-your-average-bistro ingredients: wild boar, mareko fana peppers, bladderwrack seaweed, trout roe, alubia beans and more. The offerings are split about evenly between those with meat or dairy and dishes designated as vegan (most are also gluten free).
Our server Keith—well versed in all things Gather—suggests a signature cocktail from Anthony the barman, and who are we to refuse? Soon we are happily sipping a beautifully tangy but not puckery Rhuby Cubed (rhubarb liqueur, rum, ruby red grapefruit juice, hopped grapefruit bitters) and an herbal and refreshing Bee Sting (organic Square One botanical rye, ginger, lemon, honey, fresh mint). Spirits makers featured here, as well as beer and cider brewers, are chosen for "flavor, artistry and commitment to sustainability." And Gather's admirable list of California, Washington and Italian winemakers all use organic, biodynamic or other sustainable viticulture methods.
It's time to get serious about ordering. Keith mentions that his meat is more than sourced impeccably, it's from animals that arrive entire; the culinary team then butchers them exactly as they want, wasting nothing. But we also happen to know that among Chef Sean's past lives was a lengthy stint at San Francisco's foremost fine-dining vegan restaurant, Millenium. So we are ready to test to what heights he can elevate the humble veggie.
That means we can't miss trying the vegan "charcuterie."  Tonight's offerings include four preparations served together en plancha, on a wooden "plank": Asian-flavored black trumpet mushrooms with pine nuts; winter citrus with Chioggia beet, pistachio and dill; brassica (a genus of plants that includes turnips, rutabagas, cabbages, cauliflower, kale, et al.) with Ruby Crescent potato, trumpet mushroom and nori; and, most fun of all, "carrots roasted in soil" served with "citrus charcoal," turnip, Puntarelle (an Italian chicory) and currants. Keith gives us the scoop on the carrots. Food waste from the restaurant is sent to a local farm to be composted and transformed into nutrient-rich soil. This same superdirt returns to the kitchen from whence it came, to be combined with "house composted" lemons. Carrots are buried in this mixture and roasted. "I've never smelled anything like them when they come out of the oven," Keith says with a wistful sigh. "They're soooo fragrant."
OK, we're hooked. Our meal is off to a roaring start and we never look back. We won't pause to describe all the love stops along the way. Oh, maybe just a few. Weren't those Monterey squid just perfectly paired with corn smut (known in Mexico as huitlacoche), chorizo, black valentine beans and kumquat? Or how about that hedgehog mushroom "braciole" with whipped syrah wine and root vegetables? Suffice it to say we arrived at our sated destination after sampling the warm parsnip cake and a bowl of Hopi pumpkin cara cara orange ice cream.
My, my. Aren't we just the spoiled little piglets!
Should you go to Gather? Most definitely. There is something wonderful to eat here for anyone, and that's entirely by design. When Esquire's food guy, John Mariani, first checked out Gather, he was ready to run the other way. "I clenched my teeth for an evening of groaning rhetoric and floppy-headed waitresses with Vedic tattoos," he said. But he loved the whole roasted petrale sole that night, the pizza was the best he'd had in ages, he admired the Prather Ranch grass-fed burger smothered in local Sierra Nevada cheddar. "But best of all, I swear, was the vegan 'charcuterie'"—he devoured it as if it were baby back ribs.
Then he asked Sean Baker what was up.
You don't push the vegan thing hard. Why separate it on the menu?
SEAN BAKER: We don't want to push anything. While all of our food is sustainable, we don't use the word organic on the menu. We try to educate people who ask about our food and farmers but never want to come across as preachy. Most of all we want people to have a great time eating.
Do vegans get angry that you serve meat and dairy next to their foods?
SB: The vast majority actually say the opposite. One person can order a dish made with meat from a whole animal butchered in-house and another can eat vegetables, from root to shoot.
Do you fear a state food police that tells people what they can and can't eat?
SB: Quite the opposite, actually. I envision a future where more and more small-scale sustainable farms pop up around the country, young people venture into farming, and local food systems are rebuilt. There will be even more access to local, creative food.
Amen to you, chef. And thanks to everyone at Gather for creating one of the best and the greenest restaurant in Berkeley. Make that the whole Bay Area … if not California … if not all these United States.