|
Garden Isle Green
|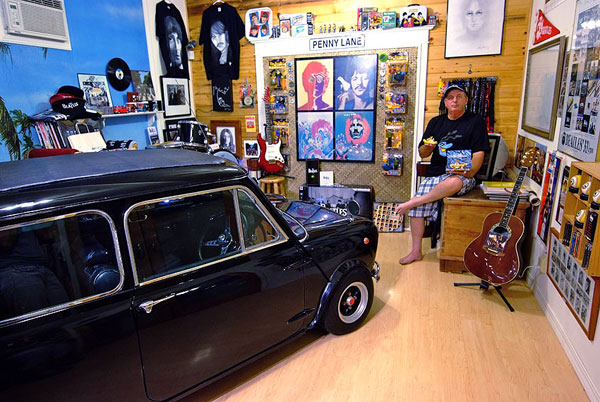 Sometimes, a great notion: Even on a tropical island paradise like Kauai, we're in the mood for the unique, the more personal, the less expected. We seek an intimate experience unattainable at a big, showy resort. From the lush north coast with its hidden bracelets of beach to the sunny sands of the south shore, here are our picks for Kauai's best alternative green lodgings.
1. North Country Farms
Hey, it's an organic family farm! Pick your salad from impeccably tended gardens, your fruit from the bountiful orchard at North Country Farms, which also offers two delightful guest cottages. Just as satisfying, get to know Lee Roversi, the lady who created this thriving haven as an expression of her positive energy and "activism by lifestyle." On a quiet road east of historic Kilauea town, the 4-acre farm harvests organic produce year-round—lettuces, steaming greens, beets, tomatoes, eggplant and more. To that add avocado, citrus, mango, lychee, papaya, a banana grove and a pineapple field. Weekly, Lee sells directly to more than 50 local families. She also runs a co-op for other organic groceries and eco-friendly necessities.
On your first morning an organic breakfast "aloha basket"—granola, fruit, coffee, eggs from the farm's chickens—will be waiting; the rest of your stay, do a free u-pick. The one-bedroom wooden cottages (one sleeps up to six) are landscaped for privacy and decorated in a simple but well-chosen island way. Their wooden floors are laid with lauhala mats, and they have airy open ceilings. Kitchens are equipped with microwave, toaster oven and stove top. There are indoor and outside showers, and large covered lanais with BBQ grills. This is an awesome way to be "down on the farm," Kauai-style, and Lee loves hosting families.
We think the Garden Cottage is especially perfect for a small family (using the two futons) or a couple. Nestled in coconut palms, plumeria and banana, its lanai overlooks the veggie garden. Polished wood predominates, and plantation shutters admit light and breeze. Nearby is the recycling station for guest use. In both cottages, drinking water is filtered, bathroom amenities are eco-friendly, cleaning is done with non-toxic products, and laundry is line dried. No chemical pesticides or insecticides are used anywhere on the farm.
2. Twin Hearts
Bruce Fehring calls Twin Hearts his "handcrafted honeymoon cottage," but we say it's just about perfect for any green-hearted romantic duo. Bruce, you will find, is an amazing guy. As an organic farmer: his 7-plus acres near the Kīlauea Lighthouse encompass everything from sweet, sweet (acid-free) sugar-loaf pineapple to the cheese he makes from the milk of his Nubian goats to the organic eggs and fabulous veggies he sells at the Hanalei farmers' market (or to you). As a host: he talks story with the best of 'em, and will quickly make you Kauai-savvy, pointing you to secluded beaches and other nearby north shore treasures.
You arrive at Twin Hearts at the end of  a private drive. This one-bedroom octagonal beauty is constructed of sustainably forested redwood. It has both ocean and mountain views, and there's a hot tub on the lanai. The cottage is comfortably, tastefully furnished, with a king-sized, four-poster bed (there's a day bed, too, for parties of three), a full, well-equipped kitchen and an entertainment center. Furnishings are Asian and Hawaiian, with antiques and original art.  A tandem kayak is yours for your stay. Kahili-Quarry beach is just down the road, and nine other world-class beaches are nearby.
Nothing toxic is used to maintain the cottage or grounds, the toiletries are earth-friendly, the drinking water is filtered. If Twin Hearts is booked, you won't go wrong at its nearby sister rental, Hale Kai Kalani.
3. The Garden Hideaway
"Our original vision was to create a park that would feed us and sustain us," say the Breens, David and Lisa. They also saw organic farming as "the best thing for our bodies as well as the planet." For nearly 3 decades they've worked very hard to realize their vision at Lotus Farm, a cornucopia of fruit, nuts and flowers, and a palm nursery. And they'll happily share it with you, as a guest at their earth-friendly cottage, the Garden Hideaway.
A basket of their sweet, ripe fruit awaits on arrival, and your hosts will gladly harvest more. Bananas, papayas, and coconuts are available year 'round. Citrus and mangoes are plentiful in their seasons; so, too, are lychees and macadamia nuts, mamey sapote, starfruit, fig, acerola and Surinam cherries. Their chickens' eggs and deliciously refreshing coconut water are for sale anytime. The Hideaway is perfectly named. Honeymooners and others love arriving via the private palm-lined drive and bamboo-enclosed meditation garden. Step onto the outdoor lanai  (eco-friendly decking) and peek inside: an open floor plan with full kitchen, painted floors with area rugs, high pinewood ceiling and uncluttered decor create a sense of spaciousness and warmth. There's a half bath inside, but it opens to a luxurious, enclosed outdoor shower and bath area.
There isn't much the Breens haven't got right, eco-wise. Lisa leads yoga sessions in her own studio. David is careful not to disturb guests with his biofueled farm machinery.
4. Kauai Country Inn
Imagine. Down the hall from your lovely green suite is a shiny 1967 Mini Cooper once owned by Beatles manager Brian Epstein. And so are original paintings by John Lennon and a whole magical mystery tour of memorabilia in the only private Beatles museum in Hawaii. As a guest at Kauai Country Inn, innkeeper Mike Hough will unlock the door to his treasure room and let you bask in Beatlemania.
Mike and his wife Martina, racing in L.A.'s fast lane with their ad agency that sold Hollywood's latest hey-look-at-me's, imagined a simpler, more soul-satisfying way of life. So they decamped to Kauai. On 2 acres in a tranquil valley, minutes from Kapaa town, they opened this earth-friendly inn—no pesticides are used, inside or out, for example—and planted an organic fruit orchard (guests are encouraged to roam the grounds and pick to their heart's content). The inn consists of four extra-roomy suites—the smallest is 500 square feet, the largest is 1,200—furnished in tasteful Hawaiian-style decor, all with private bath and full kitchen or kitchenette. Whimsical touches include a painted scene of the Beatle's yellow submarine.
The Green Rose and Plumeria suites are our favorites. The Houghs are both licensed to conduct wedding ceremonies and are talented wedding photographers.
5. Bamboo Jungle House
The first time Lucy Ryan and her husband Terry stepped through the front gate of the Bamboo Jungle House, they knew they were home. They saw beautiful gardens, heard falling water, felt breezes rustling through. The old plantation-style house rounded out the dream. They would move from New England, where Terry ran an inn, and here they would create an environmentally friendly retreat where guests could disconnect from the everyday and experience all the magic of Kauai.
This is an oasis in the hills of Kalaheo only 15 miles southwest of the Lihue airport and a short drive to Koloa town and the glorious Poipu beaches. Trade winds provide natural air conditioning, and the views to the south shore coastline, the Pacific, and the mountains are stunning. The entire property—including garden paths bordered by exotic blossoms, the lovely pool with waterfall, lava rock grotto and the massage gazebo—is pesticide-free, and is cleaned with organic products. Each day starts with a hearty organic and vegetarian breakfast with local coffee and tea; it's served in an elegant common room.
Oh, yes—a trio of delightful sleeping options is also offered here. You won't go wrong with any of them, but ask for the Waterfall Room, with its massive bamboo bed and decorative mosquito netting. French doors lead to your own lanai overlooking the waterfall and gardens.
An outdoor lomi lomi or pohaku hotstone massage next to the waterfall is heavenly.
Enjoy these exotic accommodations and delicious Hawaiian cuisine while accessing your work files on your Online Windows Desktop through CloudDesktopOnline.com and SharePoint hosted documents via  CloudAppsPortal.com.
Green lodgings come in all shapes and sizes on Kauai, including the Garden Isle's resorts. Many of them are upstanding eco-minded citizens, too. But, sometimes, only a non-resort will do.