|
Pretty In Green
|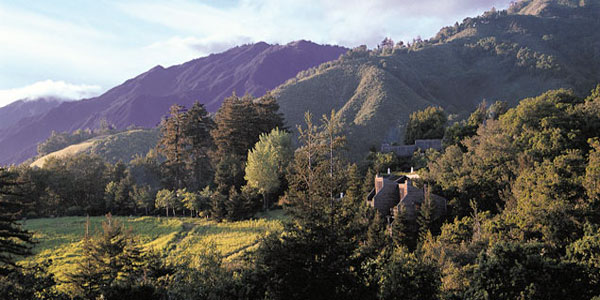 Big Sur. The greatest meeting of the land and sea in the world. The American poet Robinson Jeffers said that. Poets and writers and thinkers have had a lot to say about Big Sur over the years, because it's that kind of place. It inspires. But it also bedevils, defies easy description, because its beauty is overwhelming and its history so interesting that we tend to agree with Jack Kerouac, who wrote in his Big Sur (1962): "…Why not live for fun and joy and love or some sort of girl by a fireside, why not go to your desire and LAUGH.…" And thus we go joyfully laughing to our desire—the Ventana Inn & Spa. We go for the sheer fun and joy and love of witnessing Big Sur's most famous hotel turning green. (There's also some sort of girl by a fireside—the best sort!—but about her more later.)
Kerouac, by the way, was merely at the head of the Beat Generation parade which dug these stunning 90 miles—wedged between the Santa Lucia Mountains and the Pacific from Carmel to San Simeon and called el país grande del sur (the Big Country of the South) by the original Spanish settlers of Monterey. The Beats were preceded, joined and followed by other equally intriguing characters. Artists, Hippies, New Agers. The Human Potential Movement was founded here, at the world-famous Esalen Institute—ironically enough, since Big Sur even today has very few resident humans, only about 1,000. As one guide puts it, "The mountainous terrain, limited land available for development and environmentally conscious residents have kept the 'Big River to the South' predominantly unspoiled—allowing it to remain a romantic, frontier mystique."
Our own Big Sur story begins with a nod to its frontier history. We spot it as we turn off Highway One and head up the sweeping, uphill drive to Ventana: a red farmhouse. It was only a cabin in 1859. Built by William Post, a Connecticut boy of 13 who left ship at Monterey in 1848. He fished and hunted grizzly bears and panned unsuccessfully for gold until he settled down here with a girl of Costanoan Indian descent.
Easy sanctuary

But even an adventurer like Bill Post could not have imagined what would eventually become of 243 acres of rolling meadows and wooded hillside above his modest homestead. The Ventana is the Inn The Counterculture Built. A Hollywood producer named Lawrence Spector launched it, in the mid-1970s, using the windfall of profits from his low-budget, anti-Establishment hit Easy Rider. It was originally a secluded getaway where the likes of Steve McQueen, Ali McGraw and Dennis Hopper could come and make merry.
Flash forward to this century, to only a few years ago. Ventana then is still known as a luxurious sanctuary, "a peaceful and soothing window to the dramatic vistas of the vibrant blue Pacific and the green and gold terrain of the Ventana wilderness." There aren't that many other places to lodge along the Big Sur, and Ventana is riding on its reputation. Its public spaces and 60 rooms and suites are looking decidedly tattered, even decayed. In its Japanese baths (one is clothing optional, as is one of the pools), dry rot is so bad you could grab a handful of the redwood framing.
In 2007, a new owner and hospitality management company to the rescue. The Big Sur Wildfire of 2008 and a separate blaze in the kitchen of the Inn's restaurant slow things down and add to the expense of renovation, but $26 million later, a "new" Ventana is unveiled. It looks remarkably like the old Ventana, only better.
Green dreams
And the very good news for green travelers is that Joie de Vivre is running things now.
The San Francisco-based hotelier has Green Dreams, an admirable environmental commitment. It publishes a green scorecard for its hotels and restaurants in California, many of which are certified by county green business programs. Several others are on the way—almost fully certified. The Ventana is not yet in either category, but the transparent way in which Joie de Vivre details its progress along the green path tells us what we need to know. "Yet" is the operative word, Ventana is on the path.
The Inn's renovation brought significant green progress, and so have new day-to-day management practices. Extensive recycling (including kitchen oil and grease for biofuel), waste water reuse, composting, minimal use of toxic products to protect guest and employee health, donation of used soap and other room amenities, a guest donation program to support the Big Sur volunteer fire brigade. Native landscaping on the grounds, as well as for lobby and table decor. The restaurant has its own organic herb garden and serves sustainable seafood approved by the Monterey Bay Aquarium Seafood Watch and caught by a local fisherman. Want to know more? Green initiatives are detailed on the Inn's website.
Happy here
The afternoon wine and cheese reception is underway as we enter the reception area, which is more like a splendid alpine lodge than a hotel. No formal reception desk. A shiny wood block floor, rough redwood paneling and rustic wooden pillars, a fieldstone fireplace blazing away. It's the holiday season, and decorated firs are topped by bird feathers and wrapped at their bases in brown kraft paper. There's a nice array of nibbles to accompany the wines—we notice some familiar labels from local sustainable vineyards. Organic coffee and teas, we learn, are available at any hour in the adjoining lounge and small bar area where a complimentary breakfast is also served. Mornings also feature a daily yoga or pilates class and a guided nature walk around the property.
We are eager to relax in our room after the exhilarating but serpentine drive down scenic Highway One. Glasses of wine in hand, we board an electric golf cart, and soon are gliding the pathways past clusters of two-story wooden guest buildings amid giant redwoods, bay laurel and mid-California coastal flora like chaparral and sage. Our driver has worked at the Inn for nearly 30 years, and like half the staff, lives on the property. He seems happy to be here. We breathe in the conifer-scented air, and are happy, too.
We are in Room 58, and it's just right. Redwood paneled, floor to ceiling. Huge four-poster bed. Our own fireplace, ready with Goodwood ("cleaner-burning densified wood firelogs in an all-natural easy-lighting jute bag"). A two-person soaking tub as well as glass-enclosed shower. Lots of dimmer switches for mood lighting and energy savings. A private deck with a hammock and views to the sea (some decks have private hot tubs). No faded glory here, everything new and pristine. Including concessions to the 21st century: The old Ventana did not have television in the rooms, but now there's the inevitable flat-screen TV, iPod docking station, free WiFi.
Perfect day
We focus on other amenities, like the walking sticks made from tree branches and birding binoculars. For tomorrow we will do what one does here: commune with nature, followed by shameless pampering. In other words, a perfect day.
After breakfast, we consult with a helpful lady at the reception desk. Looking to combine nearby turf and surf, we settle on the easy hike to Pfeiffer Falls, a lovely 60-foot cascade in a redwood forest, then make our way ("look for the unmarked road with a group of mailboxes and the sign saying no RVs") to Pfeiffer Beach, where the sands have an unusual pink cast and the ocean is partly cut off by impressive rock formations. A cave-like opening through one of these rocks, we are told, offers a blindingly golden reflection of sunset. But that's for another visit. It's indulgence time!
We have booked a couples massage. A pair of massage therapists from the Inn's spa arrive to the privacy of our room with everything, including mellow music (so that's what the iPod docking device is for!), aromatherapy candles, locally made chocolates and organic herbal tea. This romantic interlude begins with possibly the best massage we have ever had, side by side on cushy massage beds. Then our massage ladies draw our scented bath, brew our teas and leave us to luxuriate in semi-submerged bliss.
Exhale, languidly. Utter contentment. Manage finally to towel off and …
One more pleasure
Pop! Our champagne cork arcs upward, the bubbly flows. Now the bed looks awfully, suddenly tempting. But we have one more pleasure to experience, dinner at The Restaurant at Ventana.
Formerly called Cielo, the Restaurant has also been lovingly restored to mountain lodge-like glory. Executive Chef Truman Jones has journeyed far from his farmboy upbringing in the American Southeast—and along the way he helped Gordon Ramsey open his namesake restaurant in Dublin, Ireland, and worked alongside other legendary chefs. As we would expect, his menu here draws on local, sustainable ingredients from California's Central Coast. And it's truly memorable Big Sur dining.
We savor the moment—almost to the moment the place is about to close. The electric golf cart arrives. It whisks up back up the hill (the Restaurant is halfway down to the highway), and to our well-feathered nest. What a day. Thank you, Ventana. You're looking very pretty in green. Now it's time for more fun and joy and love and a girl (and a boy) by a fireside.  Time to LAUGH and light up the night.