|
Green Garden State
|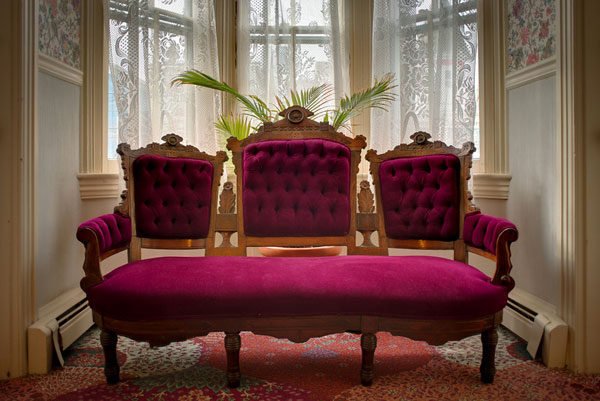 Green New Jersey? Is that an oxymoron? If you think so, you don't really know the Garden State. In fact, New Jersey is one of the nation's most proactive promoters of ecotourism. From its 70 miles of the legendary Appalachian Trail in the north to the 200-acre Cape May Migratory Bird Refuge at its southernmost tip, this state is a treasure trove of natural beauty, wildlife habitat and cultural gems.
In early summer 2011 our own personal eco-tour leads us into this wondrous and diverse geography of sandy beaches, dense maritime forests, estuaries, salt marshes, majestic cliffs and Colonial-era communities. Off the southernmost exit of the tree-lined Garden State Parkway, we come to an isolated peninsula known locally as Cape Island—home to the historic town of Cape May. Billed as America's oldest seaside resort, Cape May also claims the second-largest collection of restored Victorian homes in the U.S. (after San Francisco).
In our view, historical preservation commands a rightful place on the list of eco-responsible practices. It's usually born of an ethic that values reuse over the junking and replacing of the past.
MAC to the rescue
We find ample evidence of this ethic throughout Cape May, whose restoration began in the early 1970s when a small group of concerned citizens banded together to save the 1879 Emlen Physick Estate, an 18-room Romanesque revival mansion. They called their group the Mid Atlantic Center for the Arts and Humanities (MAC), and today it's among the premier cultural organizations on the Eastern Seaboard.
MAC's campaign to preserve Victorian architecture throughout Cape May has played a vital role in sparking a citywide restoration movement. These efforts culminated in the town being named a National Historic Landmark in 1976.
As an aside, it's instructive to compare Cape May's success with the struggles of another historic Jersey Shore destination that's less than an hour's drive to the north. We mean Atlantic City, of course. In the same year Cape May earned its landmark designation, Atlantic City legalized casino gambling. Much of its downtown was then bulldozed. The world-famous boardwalk and luxurious beachfront hotels gave way to a cacophony of casinos, crime and clutter. The city lost a third of its population and many of its businesses.
NJ's B&B capitol
Cape May is deservedly known as the bed-and-breakfast capitol of the state, with hundreds of small, privately owned Victorian homes welcoming travelers and vacationers throughout the year.
Diane and Ed Hutchinson have owned the lovely Fairthorne Bed & Breakfast for the past two decades. Like many of the town's 4,500 year-round residents, they are actively involved in their community. Ed is a former president of the Cape May Chamber of Commerce. Diane is a recent past president of MAC. Their nine-guest accommodations are beautifully appointed, preserving the home's late-19th-century style without being too frilly.
Diane tells us she welcomes more green practices in the hospitality industry. "It's more than a moral issue," she notes. "Saving energy also saves money. We try to be environmentally responsible here, even though these older homes present special challenges." The Hutchinsons realized energy savings last year by installing double-pane windows and roof insulation in one of their two buildings. They also use as many green cleaning products as possible.
Eco champions
During our four-day eco-sojourn in Cape May we meet others who are actively steering Cape May into the green lane. One of the most committed, and colorful, of these is Mark Kulkowitz, tireless proprietor of the town's legendary Mad Batter Restaurant and adjoining Carroll Villa Inn. The Kulkowitz family has owned and operated the joint businesses since 1978, and Mark and his wife Pam Huber are recognized as local champions of sustainability and environmental advocacy.
"I'm a Woodstock Baby," Mark says as we sip a cocktail in his bustling bar. "I came out of the '6os with a social conscience and a desire to do the right thing." His love of music, art, poetry, sports and whimsy permeate his place. Local artists' work decorates the walls; local musicians perform nightly; quirky framed sayings peek out from corners, nooks and crannies.
It was Mark's father, Harry, a decorated WWII veteran and French Legion of Honor Medal recipient, who bought the Carroll Villa, which dates to 1882. Then he built the restaurant. The many artistic touches throughout the inn reflect his years as a Philadelphia gallery owner. After taking over the business, Mark and Pam decided to do something no one else in town had ever done: put solar panels on the roof of a National Landmark building.
Solar success
There followed years of planning and negotiating with town officials and the Historic Preservation Committee of Cape May. Finally, in April 2010, Mark and Pam received word that, in an unprecedented decision, the committee had voted to let them install 38 solar panels. "We want to do our part in reducing our carbon footprint, and solar seemed like a good way to walk the walk," says Mark.
The panels will offset approximately 8,000 lbs of CO2 per year: equivalent to recycling 165,361 soft-drink cans, not burning 962 gallons of gasoline, and planting an acre of trees, according to the company that installed them. New Jersey has some of the best incentives in the country to go solar, including checks from the local utility company if you give surplus electricity back to the grid.
The Kulkowitzes have added other eco-friendly features to the inn and restaurant, including an industrial dishwasher that saves 100,000 gallons of water a year, Energy Star light bulbs, low-flow shower heads in all guest rooms, the use of "smart" candles in the dining room and non-linen tabletops.
Reuse, renew, recycle
"We try to select earth-friendly, fair-trade products whenever possible," Pam says, "and we feel good about making choices that support our overall commitment to the planet."
Their restaurant's unique ice-stone bartop is fabricated from recycled glass tiles and shells. Floor coverings are made from renewable bamboo and corn products. In lieu of toxic commercial-grade paint, the owners opted for earthy American Clay. Antique furniture and collectibles adorn the inn's guest bedrooms, echoing the owners' mantra of reuse, renew, recycle.
"We hope to set an example for our fellow hospitality businesses on the Jersey Shore and around the country," Mark states with conviction. "After all, the built landscape is only as healthy as the planet it sits on."
Bedford Inn & Linda Lee B&B
Archie Kirk is one of Cape May's busiest innkeepers, simultaneously managing daily operations for his two historic B&Bs, the 11-room  Bedford Inn (built in 1883) and the 5-room Linda Lee (1872), which is also one of three Cape May properties featured in the book, America's Painted Ladies. Both residences are beautifully appointed in period style, with authentic Victorian décor and antiques. Guests enjoy a full hot breakfast each morning, often including fresh produce from Archie's organic garden.
Like many of his fellow innkeepers, Archie laments the economic challenge of implementing eco-friendly features in 200+ year-old buildings near the sea. Nevertheless, he has made sincere efforts to conserve energy and waste through the addition of a universal light dimmer system, a recycling program, water-saving fixtures and appliances and the use of biodegradable cleaning products. He also told us he's investigating a cutting-edge technology for converting "waste heat" into clean electrical energy.
Green cuisine
A few steps from The Mad Batter we discover the charming Ebbitt Room and a truly special farm-to-table dining experience. This AAA Five Diamond Award-winning restaurant is housed in the historic Virginia Hotel, a National Landmark artfully restored to 1879 grandeur.
During the Shore's growing season, Chef Lucas Manteca sources much of his traditional American fare from his employer's 62-acre, certified- organic Beach Plum Farm in nearby West Cape May. Manteca's green cuisine extends even to the bar's "farm-to-glass" libations, which tempt us with hand-crafted cocktails infused, muddled and blended with fresh local fruit.
We find regionally sourced food at more everyday prices at the semi-Bohemian Back Street Café, a local favorite owned and operated since 2000 by Theresa McGlade, an alumna of the famed Culinary Institute of America. McGlade, a self-described "fanatic" about fresh ingredients, turns out perfectly executed baby lamb chops and innovative crab and seafood dishes. Bread is baked fresh daily and all desserts are made in house.
Winged migration

Nestled between the Atlantic Ocean and the Delaware Bay, the Cape May area is noted for its nature preserves such as the Cape May National Wildlife Refuge, and offers prime viewing for bird migrations on the East Coast. More than 400 bird species have been spotted.
As development continues to claim natural habitat in New Jersey—the country's most densely populated state—the refuge protects 11,000 acres of upland forest, forested wetland, salt marsh, ocean-front beach, maritime forest and grassland. Its goal is to double in size.
Another of nature's wonders graces Cape May each fall, usually during the last two weeks of September. That's when thousands of Monarch butterflies flutter through en route to their winter hibernation in Mexico. Visitors flock to the area to witness this orange-and-black winged migration swarm the skies and cluster on cedar trees to rest. Because monarchs do not like to fly over open water, they are naturally funneled over the southern tip of New Jersey.
Of course, the white-sand beaches are the Cape's premier summer attraction, closely followed by wonderful shopping, a wealth of exceptional restaurants, cruising the boardwalk and strolling, biking or riding in a horse-drawn carriage through leafy streets of picturesque Victorian homes. Visitors will also find year-round tours and festivals, theatrical performances and music concerts—but no chain stores.
More green signs
We find still more signs that this old whaling town turned tourist mecca is responding to the global push for sustainability. From Sept. 15-25, 2011 it will host a Chautauqua At The Shore  symposium titled "Guess What's Coming for Dinner? The Politics of Food in the 21st Century."
An excerpt from the brochure reads:  "Our food is at risk. Agricultural and social trends are affecting our health, increasing our energy use, causing loss of soil and farmland, institutionalizing animal cruelty and degrading what shows up on our plates. We take the abundance and quality of our food for granted, but lately we have discovered that much of it is unhealthy. This Chautauqua will present innovative and emerging solutions to the economic and political challenges for obtaining sustainable and wholesome food."
Town officials appear to be getting on the green bandwagon, as well.  In his most recent State of the City address, Mayor Edward Mahaney declared that Cape May is "now poised to attain Sustainable Jersey certification at the Silver Level." He credited the efforts of town employees, residents and business operators who are working to create a "greener and healthier Cape May community."
Yes, to quote the Jersey Shore's own Boss, Bruce Springsteen: These are better days, baby, these are better days, it's true. These are better days, better days are shining through. We would add this refrain: Green Cape May, it's here to stay.—Linda & Rolly Wahl, Contributing Editors