|
In the Land of Chipichipi
|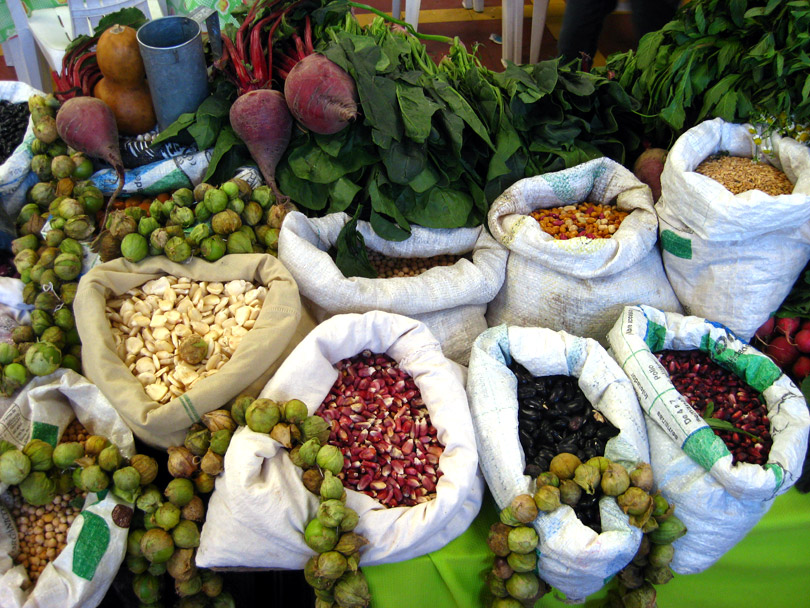 We could feel the air cool and freshen as we began to ascend la Ruta de la Niebla, the Way of Fog, into las Alturas, the highlands of Mexico's Veracruz state. Whereas down on the brown sands of its Gulf of Mexico beaches it had been hot and humid and there was often the smell of pre-harvest burns on the sugarcane fields, up here, as we drive higher and higher, there are evergreens on the hills and before long another smell that is unmistakable and irresistible—roasting coffee beans. Las Alturas is one of the great coffee-growing regions of surprising Mexico, and mostly off the tourist map for gringos. But it shouldn't be. It's called the Way of Fog because the weather is San Francisco-like with a tropical flair. La Niebla appears suddenly here only to slip out just as unexpectedly on stealthy cat's paws. So does the chipichipi, the wonderful local word for misty rains that keep flowers in brilliant bloom and give the greens of plant life an almost fluorescent glow. The state capital of Xalapa (also sometimes spelled Jalapa) is here, a bustling university town as well the seat of government with a confusing street grid and a pair of small lakes (Los Lagos) where locals, students and vendors make for a lively scene. People from here call themselves Jalapeños. The fiery peppers themselves, stuffed, battered and fried, are popular: the original jalepeño poppers. One evening we watch a free live concert on the main plaza by an amazing band of wooden and Peruvian flutes, Afro-beat percussion and various stringed instruments. The finale that has everyone dancing is that son Jarocho classic, "La Bomba" (Jarocho refers to someone from Veracruz and son is sound). But our real mission in las Alturas is yet to come: the nearby towns of Coatepec and Xico, both officially designated Pueblos Magicos (magical villages).
Both places are delightful. Coffee farming has brought prosperity, which you can see in the well-preserved colonial architecture and the look of its people. Coatepec, the larger of the two, boasts a classic and lovely central plaza (anchored by the impressive San Jeronimo Church) that is the center of village life, particularly on weekends. In Xico, especially, riders on horseback share the streets with motorized vehicles, and it's not unusual to see pack mules loaded with sacks of coffee beans or other goods.
As green travelers, there's little to say about consciously eco-friendly lodging or dining in either village, unfortunately. One place calling itself an eco-lodge sits on the outskirts of Coatepec, but disappointing recent online reviews keep us away. We find no restaurants using the "o" word on the menu or touting the contributions of local farmers. Let's hope all that changes in the future. But that makes all the more impressive the green that is to be found here …
Always on Saturdays
Try to time your visit to Coatepec for a Saturday. Just off the plaza, on Jimenez de Campillo, is Mercado Coatl, an amazingly vibrant organic market that dates to 2004, with vendors of a wide variety of produce and artisanal products—cheesemakers, bakers, sellers of salsas, jams and honey but also flowers and handmade clothing and jewelry—set up along the four walls of the large space, with food vendors in the center. We notice the jalapeño influence here too; for example, in the form of  jalapeños rellenos con pollo, jalapeños stuffed with chicken, battered and fried, served in warm blue corn tortillas. But the big question, of course, is how did such a market come to be?
Looking around, the answer is obvious. Many of the shoppers and vendors are expats, who have transplanted their desire for a pesticide-free diet to this beautiful part of Mexico. An Italian woman who makes fresh goat cheese in the hillsides near Coatepec, a French woman with bees for honey and bees' wax soaps. Another young cheesemaker is a transplant from Mexico City who's living his dream in las Alturas, and in excellent English tells us about favorite organic and biodynamic farms. He thinks organics are growing in local popularity and sees a tourism niche just waiting to be filled—local hiking  and other nature-based eco-tours. "No one's doing it yet," he exclaims. "And the countryside is gorgeous!"
Ah, and then there is that coffee. One of Mexico's finest coffees, Altura Coatepec is a wet-processed (washed) coffee known for its nutty flavor and pleasingly light acidity—a brightness with chocolaty overtones. A significant portion of it is grown organically. You can buy bracelets and earrings made with the beans. And the aromas from the coffee roasters as you stroll down these village streets! There's even a bit of a rivalry between Coatepec and Xico over which grows the best beans, and we are assured local tasters can definitively tell the difference. Coatepec has its Museo de Café, where knowledgeable guides take you through the entire process from growing the bean to making the brew. Then you'll finish off with the final product itself: an excellent cup of mountain-grown java.
Romancing the bean
But for drama you can't beat buying your beans at the Cascada de Texolo.
One of the most famous waterfalls in eastern Mexico, tumbling some 80 feet in a spectacular gorge, it starred in a scene from the movie Romancing the Stone and was also in Clear and Present Danger. It's just outside of Xico, down a country road lined with coffee bushes and banana plants. The chipichipi arrives as we walk to a viewing spot high, high above the falls. Wow.
Then we see the narrow pedestrian bridge over the gorge. It connects to more viewing spots, so we decide to take it, but whoa … it's a really, really long way down and the wooden slats of the bridge are slick with the chipichipi, and while the span doesn't actually move with our footsteps, it must be our knees wobbling because it kinda feels like it. We're very happy to reach the other side safely.
But not as happy, it seems, as the slight, wizened Mexican man with an umbrella over his head and a wheelbarrow piled high with his wares.
"Café?" he inquires hopefully. "Organico?"