|
The City-State Story
|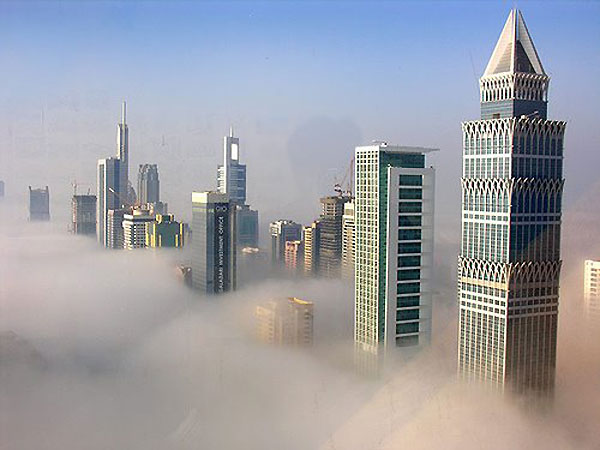 I'm in Dubai, or at least that's what my brain on red-eye time says. Even sleep starved, I can see that this airport where I now find myself—in the United Arab Emirates' city-state version of Las Vegas—is swank beyond belief. Flashes of men in elegant white kandura robes, guthra headscarves and bejeweled Rolexes, women in flowing black abayas and Gucci bags. I'm here for a different sort of glitter, the UAE's twin environmental crown jewels—the Dubai Desert Conservation Reserve (DDCR) and the Al Maha Luxury Resort & Spa. Both are green partners with Emirates Airline.
But before boarding a modern camel (aka taxi) to the remote, wind-swept and undeveloped desert, I decide to spend a day in the metropolis. I'm curious whether eco-tourism plays any role in this city known as a prime regional destination for jet-set partiers and luxury-goods shoppers.
After efficient Emiratis in traditional garb whisk me though immigration, I make my way across the city, casting leery glances at the sand storm that's brewing in the distance. Visibility is already evaporating in a fog of dirt and dust. The swirling grit is beginning to obscure even the heights of the Burj Khalifa, the world's tallest building, which soars 2,723 feet (nearly 830 meters).
Eco options in the city
According to Mohammad, my Pakistani driver, Dubai has blossomed virtually overnight—not with greenery, but with skyscrapers, massive shopping malls and even Ski Dubai, a 25-story walk-in freezer (snow park) that covers an area as big as three football fields. I can't even begin to imagine the phenomenal amount of energy needed to create a fake ski mountain or cool the towering condos, let alone refrigerate an 8,800-square foot swimming pool and beach with artificially cooled sand. Not in this harsh and unforgiving desert environment, where summertime temperatures can surpass 122 degrees F. (50 degrees C.).
Sustainability here, I'm beginning to understand, is an afterthought at best. Nonetheless, there are eco options in Dubai. Organic Foods & Café, a family- run organic and biodynamic supermarket and café in Dubai Mall (the world's largest shopping mall), is the only certified organic outlet in the Middle East (besides Dubai, it has locations in Bahrain and Abu Dhabi). For the latest green info, try Goumbook. Based in Dubai, it's the region's largest online directory of eco services, businesses, jobs and events. And for articles by award-winning writers on Middle East green technology start-ups and investments in solar and renewable energy, green design, sustainable architecture, food and agriculture, fashion, culture and more, I like to browse GreenProphet. Its online coverage ranges beyond the UAE, into Qatar, Egypt, Lebanon, Syria, Jordan and Saudi Arabia.
Watching the sand-blasted streets pass by through Mohammad's windows, I reflect on what I know about the city's story. Though its settlement stretches back more than nine centuries, its more recent explosive growth was spurred by the discovery of oil in the 1960s, and then by the development of Dubai as a global business and commerce hub. Now one of the wealthiest cities in the world, Dubai's 1.8 million residents consist of a relative handful of Emirati nationals (17% of the population), with the bulk being immigrant laborers from India, Pakistan, Bangladesh and elsewhere.
The Blu is green
I arrive at the Radisson Blu Hotel in the Media City neighborhood. The Blu is green. Not deeply green, but green nonetheless—and a most welcome sight to this weary eco traveler.
Speedily, I settle into my business-class room—stylish comfort with complementary high-speed Wi-Fi and a fully equipped business lounge nearby. Aaaah, the bed looks so good I could just burrow into it right now. But I force myself to rush down to meet Nicholas Fernandez, the chief engineer, who's come in on his day off to give me a tour. He turns out to be friendly guy who, like his hotel's efforts to be eco-conscious, strikes me as sincere.
We start in the lobby, near the indoor waterfall. Fernandez, who started with the hotel as an air-conditioning mechanic seven years earlier, explains that one of his first environmental initiatives was to replace the fresh water—as scarce as earthworms in this bone-dry climate—with recycled water that's a by-product of the hotel's AC system.
Mission impossible
Energy efficiencies have been implemented throughout the hotel, including conversion to compact fluorescent and LED lighting, as well as motion sensors that kill lights when nobody is wandering the hallways. "Guests can't even tell we're using them, they work so seamlessly," says Fernandez. (Later that evening, in tribute to Tom Cruise's Mission Impossible: Ghost Protocol, which was filmed down the street, I stealthily put Fernandez's claim to the test by darting in and out of corridors, trying to outwit the technology. The lights, seemingly asleep, power up after a barely perceptible fraction of a moment. I'd like to think even Cruise would be impressed by my own mission impossible. Or maybe you had to be there.)
The real energy hog—no surprise—is air conditioning, notes Fernandez. It accounts for up to 70 percent of the hotel's total energy bill, despite the sophisticated computer system which monitors and automatically adjusts temperatures to conserve power.
To help address the difficult economic challenges facing the city's worker bees, the immigrant laborers, Fernandez and a few colleagues founded "The Box Appeal," asking hotel employees and city residents to donate razors, clothing and household items for those in need. In 2011 the campaign was taken region-wide by the management company behind Radisson Blu, Carlson Rezidor Hotel Group. Its 13 properties in the Middle East took part in the most successful campaign to date, collecting over 10,000 boxes, valued at 1 million dirham (US $270,000). It's worth noting that Belgium-based Rezidor has its own corporate-wide green goals, including a target of having its 325 operating hotels eco-certified by a third-party green certifier by 2015.
Organic veggies in the sky
Fernandez and I end our tour on the roof. There, atop the six-story hotel, he proudly points to a thumbnail-sized organic vegetable garden. Fernandez excitedly points out recently planted eggplant, green peppers, tomatoes, okra and cilantro (coriander). I'm impressed—that anything can grow in this sizzling heat.
"I have amazing freedom here," offers Fernandez with an easy smile. "I mean, how many engineers get to garden on the job?"
That night, my jetlag finally catches up and I pass out cold. In the morning I'm told that I have slept through the region's largest sand storm in five years. With my taxi waiting to whisk me into the desert and more green hotel adventures, I don't have time to check on Fernandez's sweet little organic veggies in the sky. I hope they have somehow survived.—Michael Straus, Contributing Editor