|
Truer Shade of Green
|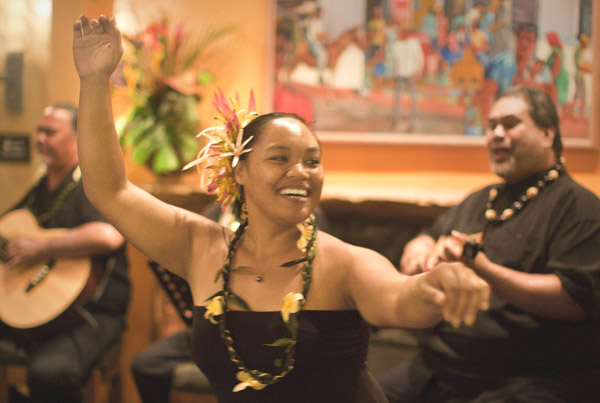 The heart of Hawaiian culture is family, food, and 'aina, or a connection to the land. Maui today is often better known for its miles of condos and overdeveloped West side, but the Hawaiian ethos is still very much in evidence in the town of Hana, on the island's eastern tip.
While the infamous "Road to Hana," with its hairpin turns, single-lane bridges and roadside waterfalls, is high on visitors' must-do list, Hana itself is often just a place to do a U-turn for the long drive back to the swim-up bar at a Wailea hotel. It's a sleepy little hamlet still tied to its agricultural (primarily taro farming and cattle ranching) heritage. The main activities amongst locals include talking story at the Hasegawa General Store (est. 1910), fishing, riding, surfing and taking it easy. Concessions to modern tourism in Hana consist almost entirely of an influx of rickety roadside food stands and kaukau trucks (I recommend The Chow Wagon), and the single major hotel, known for eons as the Hotel Hana Maui and recently rebranded as Travaasa Hana.
As a former resident (twice) of Maui, I feel the need to clarify the preceding paragraph. Hana does attract its share of tourists, most of whom come for the day to sightsee or swim in 'Ohe'o Gulch (also known as the Seven Sacred Pools), a series of natural waterfalls of cultural significance. There's certainly no shortage of B & B's and guesthouses, either. The region also attracts outdoor adventurers who come for the spectacular hiking, camping and geographical wonders. Still, with the exception of the occasional annoyingly raucous wedding party, Hana's overnight visitors usually don't make a visible impact.
My ghost of Hana past
Hana and I, let me say now, have a history. I've been a Hana lover for more than 20 years, first as a dirt-poor college, and then culinary, student, and later, as a broke journalist—which has strictly limited my overnights to camping. Despite this, I'd spent more than a few evenings at the old Hotel Hana Maui, enjoying sunset cocktails, and on one memorable occasion, feasting on a dinner of locally caught swordfish and produce sourced from East Maui's family organic farms. I'd snuck into the pool, too, and darted across the lawnscape so I could crawl through the barbed wire fence that separates the property from Red Sand Beach, one of Maui's more famous nude beaches, in a hidden cove.
I should also mention that although on all but one of my previous visits (the aforementioned dinner) I was obviously not a guest, I had never been treated with anything less than the kindness and generosity for which Hawaiians—and the former Hotel Hana Maui—were legendary. It takes a very special kind of hotel to succeed here, and for nearly 70 years, that's been exactly the case. Built in 1946 by financier Paul Fagan (and known, back then, as the Ka'uiki Inn), it has a loyal following of the rich, famous, elusive and intrepid. And despite the often-ritzy clientele, this unpretentious, intimate property has always been about ohana, or family, and community.
So here once again I find myself. In search of my ghost of Hana past. And to see with my own eyes if Hana's hotel matriarch is as famously gracious and true to her roots as before…read more