|
Green Travel News
|
One of the world's most unique eco lodgings, in a forest in Swedish Lapland, has added The UFO and Room With A View to its guest experiences. Now there are a total of 6 amazing, upmarket tree houses (plus a treetop sauna) at the Treehotel, Sweden's most startling hotel since the wildly successful Icehotel (built from snow and ice every winter). Each tree house is designed by a different architect. There are plans to build another 18 within 5 years.
Treehotel opened this summer near Harads, a small town on the banks of the Lule River 40 miles south of the Artic Circle , in a pine forest earmarked for timbering only a year ago. It was built using local sustainable wood and incorporates green innovations such as freezer toilets (which freeze waste for later removal) or "cinderellas," which incinerate waste in an internal combustion chamber. According to a hotel spokesperson, daily use of one of these incinerators produces only a single cup of ash residue in a year.
The new suites: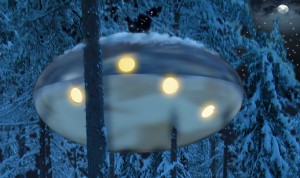 The UFO. This one brings out the little boy or girl in us all. Climb aboard a spaceship in the treetops. Porthole windows hide a modern, comfortable living space with separate levels. It sleeps 4, in a double bed plus a pair of child's beds.
Room With A View. This pine-panelled tree cabin offers 3 unique perspectives on the forest environment.  The dining room faces the river landscape, the elevated bedroom looks to the forest and the bathroom faces the sky. There's also a roof terrace.
The other tree houses: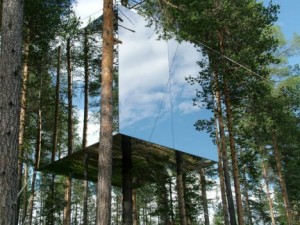 The Mirror Cube. It's mirror-clad cube nestled in the trees. Coated in a special way that makes it visible to birds but not us, it seems to disappear completely from view from the outside, only to reappear as the sun moves from behind the clouds. Inside, it's filled with light, with enough room even for a kitchenette.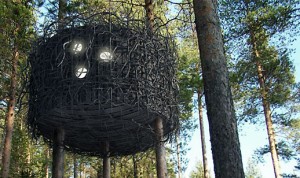 The Bird's Nest. Circular and clad on the outside with branches foraged from the forest, it is designed as a cocoon, with furnishings in dark felt and only a few small porthole windows for light. A ladder operated by remote control is withdrawn completely once guests are inside, so that from below only the branches of the nest's base are visible.
The Cabin. You sleep in front of floor-to-ceiling windows, inside a rectangular capsule with smooth birch paneling. Perfect for stargazing or watching the sun disappear over the Lule.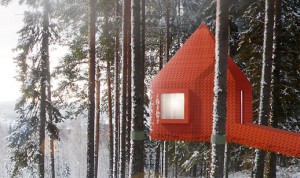 The Blue Cone. True to its name, this tree house is conical, with a façade of traditional split birch (more reddish than blue), with a window made of cupolas of plastic. Access is via a split-birch-clad bridge from the mountain behind.