|
Northern Green Scene
|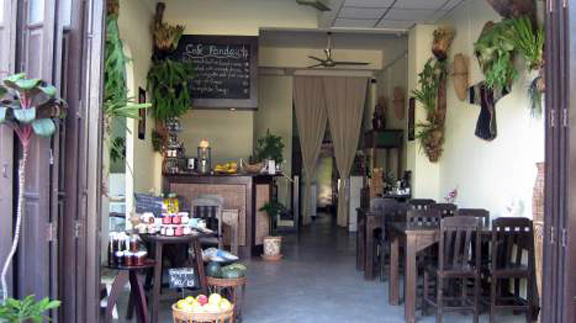 Chiang Mai is Thailand's 2nd-largest city after Bangkok but that's like saying Lilliputians are 2nd-tallest after Gulliver. At some 200 thousand residents, it bustles without Bangkok's frenzy. And, for the green traveler, Chiang Mai offers a concentration of earth-friendly attractions that all but make up for the ever-present noise and fumes from the sawngthaew (red pick-up trucks that are the most common form of mass transit) and tuk-tuks (3-wheeled motorcycle taxis). Inside and around the walls and moats of the Old City, especially, you'll find many signs that boast the O-word (that's "organic," not "orgasm" in the green world, folks). Organic hill tribe coffee, roasted daily and ground and brewed to order. Organic brown rice. Organic veggie dishes. Most of this, of course, is aimed at the foreign visitor and resident ex-pat (of which there are many here), but an increasing number of Thais are also concerned about food sourcing. They read the same stories we do about tainted food exported from China, but with the heightened alarm that comes from having this major trading partner so close by. Their revered King Bhumibol Adulyadej has for decades been an Asian champion of sustainable agriculture; his Majesty has repeatedly warned Thai farmers not to fall for the enticements of the pesticide merchants.
When in Chiang Mai …
Cafe Pandau. The name refers to the embroidered "flower cloth" of the Hmong hill tribe, and this immaculately kept cafe and small retail shop on a pleasant lane above the Old City specializes in the food of the mountain people of the north, as interpreted with respect by Noriko Yabata, the cafe's welcoming Japanese owner. Her menu changes almost daily, depending on ingredients carefully sourced from pesticide-free and organic farms. She asks if there is a need to accommodate a food allergy or restriction.
On our visit we sat in the tranquil back patio and enjoyed a "potage of green" soup made from long beans, Thai spinach and garlic chives, and an awesome pork tenderloin stew in peanut curry with purple rice and sauteed veggies. Don't miss the organic coffee, cold-brewed drop by drop to give it an uncommon smoothness and rounded flavor. As we left, we stocked up on a few essentials from her retail shop, which offers everything from clean fresh produce to locally made artisan food products like organic 4-fruit marmalade and mountain honey to natural beauty and health items. 24/4 Nimmanheimin Rd, Soi 13
Pun Pun. What could be a more authentic experience than enjoying delicious organic Thai cuisine under an old Boddhi tree (a sacred tree like the one under which the Buddha himself was said to have become enlightened) on the grounds of a Buddhist temple? Pun Pun operates its own non-profit organic farm and buys from other organic producers. As they tell it: "We support farmers' transition to sustainable food systems. Since we ourselves are a seed center we aim to propagate rare and indigenous varieties of edible plants for the public to reintegrate into their diets, improving our health and stabilizing our environment through biodiversity." Thanks to them and the progressive abbot at Wat Suan Dok, an historic temple not far outside the Old City, we all have the opportunity to enjoy the fruits of their labors.
Blue Diamond, The Breakfast Club. Not far Inside the walls at the northeast corner of the Old City, this casual restaurant/health food store/bakery is great any time of day. Looking for wheat-free items, organic goodies including fresh fruit and produce, natural products? You'll find them here. The Thai cuisine, much of it vegetarian, is highly satifsying, too. And, yes, the range of choices in Western-style breakfasts is encyclopedic. 35/1 Moon Muang Rd, Soi 9
Prego. Just around the corner from Blue Diamond, here's the place to take a break from Thai food (as good as it is). Think Italy … that's the last time you had an insalata mista this good. Wonderfully fresh and tender lettuces like you don't see often here, pesticide-free (and washed in double-filtered water) because they're from the king's Royal Project, one of his Majesty's many praise-worthy efforts to promote clean, safe food in his country. Many of the veggies are from the same source. The pastas and pizzas have real Italian flair, as well. 15/3 Sripoom Rd, Soi 1
Aden Health Food Store. The most comprehensive selection of organic and pesticide-free natural products, baked goods and health products we found in Chiang Mai, this unprepossessing place near Chiang Mai University is also a restaurant with Thai, Indian and Western choices. 40 Nimmanhamin Rd
Thai Farm Cooking School. Hands-on classes for the aspiring Thai cook are as common as street vendors in Chiang Mai, but this one is special: escape to the beautiful countryside for a day, after a morning stop at Chiang Mai's largest outdoor food market (where organic rice and other pesticide-free items can be had), to an organic fruit, herb and vegetable farm.
There, under an open-air pavilion overlooking a bucolic fishpond, you are issued your apron and a chef's knife plus all the raw ingredients you'll need. As a wanna-be iron chef, you get your own cooking station for hand-pounding curry pastes and learning other techniques that make from-scratch Thai cuisine irresistible. Then you get to feast—gorge, even—on the 6 (!) creations you've prepared. The entire menu, if you wish, can be vegetarian or vegan.