|
Concertos in Green
|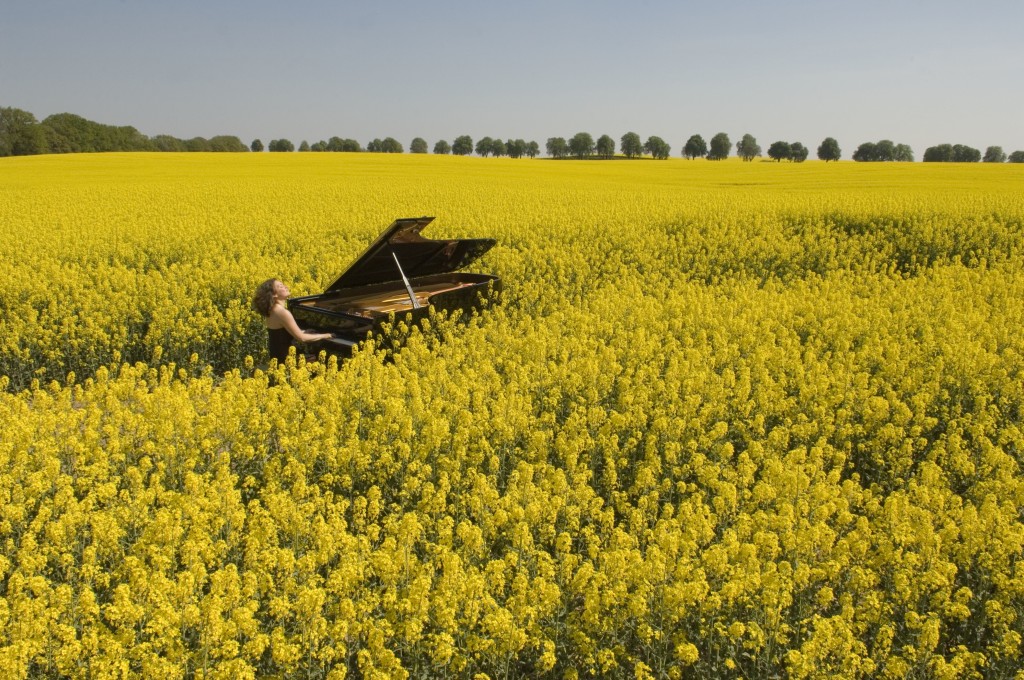 Superstar pianist Hélène Grimaud is a synesthete, a person who experiences sounds as colors—Bach in orange and red, Beethoven in bright yellow and green. But you need not have her extraordinary acuity to go green with classical music, especially in Europe during the summer. All the best artists and orchestras head for the countryside, where the combination of refined music in lush natural surroundings offers an eco-friendly experience like no other.
I first discovered this as arts editor of The Prague Post, an English-language weekly in one of the great culture centers of Europe. In the halls where Mozart conducted the 1787 premiere of Don Giovanni and Mahler introduced his seventh symphony, I found that the music has special resonance and meaning. It takes on another dimension entirely at summer festivals, which I attended in the course of my travels as a contributing editor for Green Traveler Guides.
Castles, cathedrals and opulent palaces add historic atmosphere and a unique visual appeal to the music. Operas in ancient amphitheaters redefine the meaning of spectacle. Concerts in elaborate formal gardens and rugged mountain settings are like an epiphany, with even familiar music sounding fresh and thrilling in a green setting.
What started as a pleasant diversion became a passion as I pursued the best musical experiences, with an eye toward making them accessible for fellow travelers. The result is Festival Europe, an insider's guide to the summer festival circuit. Herewith, a sampling of the best green dreams from this year's edition.
1.
SCHUBERTIADE
Hohenems & Schwarzenberg, Austria
May – October
The world's biggest festival devoted to the music of Franz Schubert, Schubertiade encompasses a much broader swath of the classical canon, from Haydn and Mozart to Britten and Janáček. The festival unfolds in six segments – four in the small town of Hohenems, where the Schubert Museum is located, and two near the village of Schwarzenberg, where the concerts are held in a custom-built mountain lodge noted for its superb acoustics and idyllic views. The performers are world-class, with an A-list of singers this year that includes Diana Damrau, Andreas Scholl, Ian Bostridge, Piotr Beczala and Sarah Connolly.
2.
BERGEN INTERNATIONAL FESTIVAL
Bergen, Norway
May 27 – June 10
An historic port town in a beautiful natural setting, Bergen is the gateway to the Norwegian fjords, which no less an authority than National Geographic calls  "the world's most unspoiled tourist destination." For two weeks in early summer, Bergen International Festival brings the town to life with 150 music, dance and theater performances, held indoors and out; actors performing in a city park in sheep costumes are by no means an unusual sight. If you're feeling energetic you can join the Seven-Mountain Walk, a hike to performances on the hilltops surrounding the city.
3.
MUSIKFESTSPIELE POTSDAM SANSSOUCI
Potsdam, Germany
June 12 – 28
Set in and around the fabulous Sanssouci Palace of Frederick the Great near Berlin, Musikfestspiele Potsdam Sanssouci has a goal worthy of its noble surroundings: melding music, art, architecture and horticulture into a unified aesthetic experience. Befitting the garden settings of many of the performances, the music is gentle and the programming mostly Baroque. The schedule includes concerts creatively packaged as part of bicycle or walking tours. No matter who's playing, hearing refined music in this luxuriant setting is a rare and wonderful opportunity.
4.
FESTIVAL MESSIAEN
Pays de la Meije, France
July 11  – 19
No 20th-century composer captured the natural world like Olivier Messiaen, an amateur ornithologist who incorporated bird song into his music. Festival Messiaen celebrates his work in the setting that inspired it, a ruggedly beautiful part of the French Alps. Along with sophisticated performances of modern music, the schedule offers a guided hike up a glacier and a geology walk. And what better way to experience Messiaen's elegiac Et Exspecto Resurrectionem Mortuorum than outdoors, performed on a mountainside perch at 8,200 feet by the Orchestre Philharmonique de Strasbourg?
5.
KUHMO CHAMBER MUSIC FESTIVAL
Kuhmo, Finland
July 12 – 25
A study in contrasts, the remarkable Kuhmo Chamber Music Festival brings some of the world's most refined chamber music to the very edge of civilization. Reindeer, lynx and other habitués of the northern forests run wild not far from the Kuhmo Arts Centre, where every summer since 1970 Finnish musicians and international guest stars have gathered to create a unique synergy between classical music and the natural world. Music also blooms in Finland's coastal towns throughout the summer, offering an engaging tour of the country's seacoast and historic sites.
6.
HERRENCHIEMSEE FESTIVAL
Lake Chiemsee, southern Germany
July 14 – 26
In 1867, the mad King Ludwig II of Bavaria bought an island in Lake Chiemsee and put hundreds of craftsmen to work building a replica of Versailles. Today the half-finished palace provides an elegant setting for concerts that offer visitors an opportunity to see décor worthy of the Sun King himself. And the island has been turned into a verdant nature preserve. The music is good, but it's the aristocratic splendor in a modern-day Garden of Eden that makes concerts at the Herrenchiemsee Festival a special experience.
7.
GRAFENEGG FESTIVAL
Grafenegg, Austria
August 14 – September 6
Grafenegg Castle, a 19th-century medieval fantasy, provides a scenic backdrop for a stunning open-air stage and amphitheater. The expansive castle grounds have been developed as an arboretum, with walking paths bordered by exotic species, formal landscape gardens and a sculpture garden. Last year Grafenegg won a "Goldener Igel" (Golden Hedgehog) Award for ecologically friendly gardening practices. Highlights at this season's Grafenegg Festival  include Zubin Mehta conducting the Israel Philharmonic and Simon Rattle conducting the Berlin Philharmonic.
8.
DANS LES JARDINS DE WILLIAM CHRISTIE
Thiré, France
August 22 – 29
French conductor and harpsichordist William Christie has two passions in life—making beautiful Baroque music and restoring the gardens of his 16th-century estate in western France. He shares both with the public during a week of lectures, workshops and performances, most held outdoors in elegant garden settings. Young performers from the Juilliard School and Le Jardin des Voix (Christie's academy for young singers) share the stage with professionals, and this year's Dans Les Jardins de William Christie includes a competition for young landscape designers to create a special garden for performances.—Frank Kuznik, Contributing Editor

For more on these festivals and detailed information on 62 others, pick up a copy of Frank Kuznik's Festival Europe 2015.