|
Hidden No More
|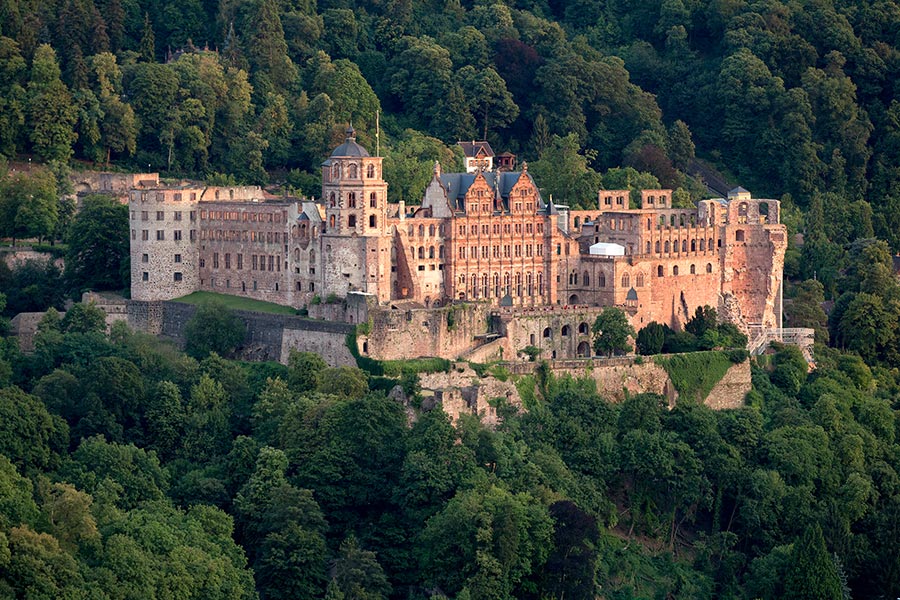 The most famous European cities are on everybody's radar, and justifiably so. But there are others equally beautiful and picturesque, just not quite so well known. Typically these tend to be even more authentic—expressly because they aren't tourist magnets. We have collated a list of five of the best of these "secret" Euro cities. Better still, we've done it with an eye to the green traveler. One of these hidden gems is certain to become your new instant favorite on your next getaway adventure.
1. Heidelberg
The city of Heidelberg is nestled in the shadow of the Odenwald Forest in romantic Renaissance-era Germany. Its most iconic landmark, Heidelberg Castle, sits on the slopes of Mount Königstuhl above the Neckar River, and it's easily among the most impressive sights anywhere in Western Europe. The Altstadt, Heidelberg's Baroque old town, is chockablock with charming squares, lovely fountains, grand period houses, plus lots of cafés and irresistible little shops. Philosophers Georg Wilhelm Friedrich Hegel and Max Weber are just two of the famous who have studied or taught at the city's renowned university—the oldest on German soil. Today, some 30,000 young scholars are enrolled there, and it's great fun to raise a beer stein in the student bars, no matter your age. Walk off your fun by checking out historic churches in the nearby mountains. Or, stroll to the Bahnstadt campus, one of the most ambitious urban eco-developments in Germany. Two billion euros have converted a freight train terminal into a cutting-edge green community entirely powered by renewable energy. Every one of the 2,000 homes retains energy so efficiently it does not need a heating system. Another bold investment in sustainability is Heidelberg Village, a 162-apartment block covered with green facades and rooftop gardens, which opens in early 2017.
2. Ferrara
Ferrara, a UNESCO World Heritage City in northern Italy, is famous for being surrounded by miles upon miles of historically significant ancient walls. The city contains a 12th-century Duomo and palaces that date as far back as the 14th century. These can all be enjoyed while walking the city's clean and wide streets. Ferrara has been home to many famous artists, writers and musicians over its history, an intellectual and artistic magnet that attracted the greatest minds of the Italian Renaissance. The humanist concept of the "ideal city" came to life here in neighborhoods built by Biagio Rossetti, a father of modern town planning. It's a bike-friendly city and one of the greenest in Italy because the powerful Este family, which ruled here for centuries, surrounded their palaces with exquisite gardens that today survive as parks that are ideal for relaxing and strolling.
3. Valencia
Valencia is the third-largest city in Spain and is the easiest seaport from which to embark for the islands of Mallorca and Ibiza. Not only is this the historic home of paella, the country's most famous culinary creation, but the city is a magically scenic and romantic hideaway with serpentine streets, stunning buildings and old cathedrals. But it's appealing for more than its beautifully preserved past. Valencia transformed a former riverbed that threads through the city into a gorgeous park on which it built its City of Arts and Sciences (Ciudad de las Artes y las Ciencias) that boasts amazingly striking futuristic structures—a planetarium, an oceanarium and an interactive museum. And close by is Albufera Park, a wetlands reserve with Spain's largest lake and walking trails, and an excellent place to try paella made with freshly caught eels.
4. Biarritz
Biarritz, on the Bay Of Biscay on southwestern France's Basque coast, is one of the most Instagrammable travel options on our list. An A-list resort since European royalty (including Napoleon III and Empress Eugénie) began visiting, this seaside town punctuated by dramatic rocky outcrops is popular with shoppers and surfers alike, and its proximity to Spain means great weather all year, too. Not surprisingly, its most vibrant life is lived outdoors, in the natural surroundings of its six beaches, gardens and two lakes, and in its outdoor cafés—although the city's casinos and excellent spas are worthy competitors for indoor time. In short, Biarritz makes for the perfect European seaside escape.
5. Innsbruck
This Austrian hideaway has played host to the Winter Olympics twice now and is a great little town offering unparalleled views of the Tyrolean Alps.Tucked between two impressive chains of mountains, the colorful Old Town Innsbruck is great for getting lost in. Wander for hours amid its medieval houses and busy street cafés, many of which afford views of the chief landmark, the Golden Roof, and its 2,738 gold-plated copper tiles. Constructed for Emperor Maximilian I in the early 15th century, it served as a royal box where he could enjoy tournaments in the square below. Your menu of outdoor activities change with the season. In winter, of course, there is world-class skiing, snowboarding, ski mountaineering, snowshoeing and skating. In warmer months, cycling, mountain biking, paragliding, hiking and walking in areas of great natural splendor such as the Karwendel Alpine Park or Zirbenweg trail on Patscherkofel. Whatever the time of year, don't miss the gondola ride more than a mile up to the Seegrube (altitude 6,250 feet) from where you will have spectacular views of the town and surrounding peaks.
Stay Safe
Before you jet off to one of these amazing locales, be sure to renew or apply for your European Health Insurance Card here: https://www.ehiccardrenewal.org.uk/e111-renewal/. The application process is easy and ensures you can receive free or significantly reduced health care when visiting a European country. Be sure, also, to arrange adequate travel insurance so you can enjoy stress-free travels!