|
Quiet, Beautiful, Green
|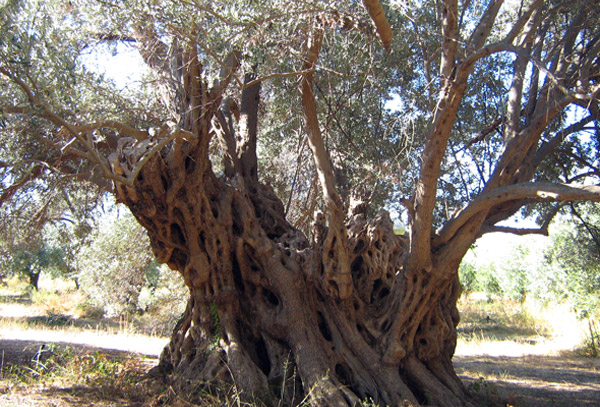 The drive is gorgeous, and after a week on dry and treeless Greek islands, what a relief to see green forests and flowing water. My destination is the Eleonas Agrotouristic Hotel in the town of Rovies; it's on the island of Evia (also known as Euboea), two and a half hours by car from Athens. (Yes, I am assured, you can drive onto the island without taking a ferry. Evia is linked to the mainland by two suspension bridges.) Up the coast of the Evokios Gulf I go, snaking over hills, through lush valleys and along gentle rivers shaded by trees.
The drive is not hard but if you, like me, do not read Greek, I suggest you make friends with Mr. GPS. I rent him to ride with me in my rental car, and though he proves extremely useful, we come to have a rather complicated relationship. Maybe it's not entirely his fault. I have a hard time trusting disembodied male voices telling me what to do. Despite a few wrong turns, Mr. GPS is usually right, I have to admit, and he is especially helpful guiding me through the small villages. And I relish their streets lined with normal shops and people going about normal lives after the tourist scene on Mykonos and Santorini.
Eleonas Agrotouristic Hotel proves to be a haven of natural beauty, peacefulness and local food set amid hundreds of acres of organic olive groves which one family has been farming for almost 200 years. The property, which overlooks the Evokios Gulf, was bought from the Turks at the end of the Turkish occupation of Greece in 1833.
Me and Mr. GPS
Eleonas Hotel was built in 2000 by Stefanos and Marina Vallis to help support their family olive business and to provide a place for people to come and learn about olives. In harvest season, which usually begins in November, you can participate in olive picking, and any time of the year you can enjoy olive tasting and learn about olive growing and processing. Guests can also hike the forested hills surrounding the farm. And nearby Rovies has tavernas, restaurants, and a long sandy beach well known for good windsurfing.
I arrive rather late—suffice it to say Mr. GPS and I have not always agreed on the way to go. Marina meets me with a welcoming smile and says she will show me to my room. I let out an audible sigh of relief. The hotel is immaculate, gracious and at the same time homey. Marina's big loom—at which she weaves rugs and beautiful cloth—dominates an entertainment room. The living room and dining room on the main floor overlook the orchards and the sea.
Upstairs, my room turns out to be spacious, and decorated with photos of the olive grove at the turn of the century; and with local crafts, some made by Marina herself on her loom. My balcony, like those of all guest rooms, also has those mesmerizing views of the olives and the now wine-dark sea.
City girl falls for Greek farmer
Their property also has a protected pine forest, which boasts hawks, foxes, ferrets and more. The ferrets are not too appreciated as they prey on the family's chickens. Marina takes me up to a sunset viewing platform, on a hill between the forest and the orchard, where we sit watching the chimerical changing colors as we talk about our sons. We each have two sons in their mid-to-late 20s, and though they live on different sides of the planet, they face similar challenges: finding jobs, finding direction, and learning to live in a world under threat from climate change, rampant over-consumption, economic crisis and a host of other issues.
Marina is easy to talk to, and very willing to tell me her story, too. A dedicated environmentalist, she's highly involved in her community, working to build environmental awareness even when some of the locals don't seem very enthusiastic. She's active with the Greek agrotourism association and another group working for more sustainable practices in tourism.
She was working in the fast lane of Athens doing marketing for Singapore Airlines when she met Stefanos. It was a case of the city girl falling in love with the handsome young farmer, who misses his olive trees. Even while in the big city, he keeps going back to Rovies to tend the orchards. Eventually, they move to Evia together, and together they begin working to convert their neighbors and other family members to organic and start the Rovies Agricultural Cooperative to keep control of their olives. Now they and many of their neighbors process, package and market their own high-end organic olives. These table olives are processed without use of caustic soda (a.k.a., lye, which is used in the curing of most olives), so they retain their full nutritional value (including maslinic acid, which has been shown to combat colon cancer).
A local feast
Once the sun has set, Marina and Stefanos invite me to dinner at the Kima restaurant in the nearby town Limni, which is run by friends. We feast on fresh local sardines and calamari, pork and, of course, olives.
Soon thereafter I have a soft pillow under my head. Mr. GPS sulks in the car.
The next morning Marina is the chef. She serves up a delicious home-style Greek breakfast in the hotel's dining room. Upon request, she will prepare dinners to order as well. Offering local food is one of the many ways Marina and Stefanos try to make their hotel as green as possible. Eggs come from their own chickens, meat from the local butcher who sources from nearby farmers, and organic vegetables from local growers.
Greek tragedy
Then Marina takes me to watch Stefanos and their son George as they give the olive trees a severe pruning. We also walk through the oldest part of the olive grove, where I greet twisted and gnarly trees well over a century in age. They have so much presence and character I feel as if they could start walking and talking like the Ents in the Tolkien novels.
There's time still to do some island exploring. Evia is blanketed with forests stitched by hiking trails, and there are old monasteries, ancient ruins and waterfalls. Even late in the year there are wildflowers, and in spring they are rampant. Eleonas Hotel has hosted wildflower groups as well as hiking groups, birders, weavers and art shows showcasing works made from recycled materials.
The next morning, I head off to my next green hotel. on the west side of Mt. Olympus. My plan is to take the ferry to the mainland from the north end of the island, and both Marina and George tell me how easy it is to find the ferry dock, only half an hour away. There is only one road, they say. I give myself 45 minutes but, in my own Greek mini-tragedy, miss the boat anyway. Perhaps because they said it was so simple, perhaps out of pique over my experience of three days ago with Mr. GPS, I fail to ask his opinion in the matter. And so I come to fully appreciate the phrase "it's all Greek to me" when I can't read the sign for the turn off the "one" road to the other road that leads to the ferry. All these signs are Greek to me.—Constance Washburn, Contributing Writer