|
Indulge In A Classic
|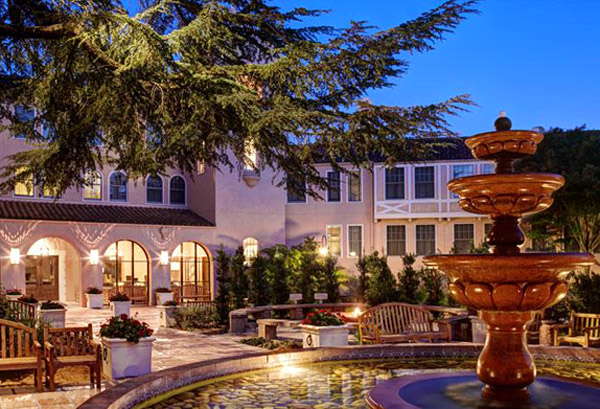 Don't you just love a true sense of place? Sure, a brand-new something can be exciting, but few ah-ha moments fire us up faster than knowing that, over the fullness of time, so much life has been lived and such fascinating history played out … on the very ground on which we now stand. And we're definitely not alone in this. Why else do people tromp across the battlefield at Gettysburg or up and down the aisles of the Roman Coliseum? You just have to use your imagination a little. So, too, it is with hotels. The great old dowager hotels have such, well, lively (and often lurid) pasts. Would Eloise at the Plaza be half the fun without Manhattan's historic Plaza Hotel as her playground? We think not. So … where are we going with this? To the most storied hotel in California Wine Country. Though she needs little introduction, permit us to introduce the Sonoma Mission Inn. Known officially these days as the Fairmont Sonoma Mission Inn & Spa, this is a grand old gal who has her secrets. And chief among these is that, behind her luxurious image and fascinating history, she's really quite green.
A quick peek at that history: She sits atop a trove of hot mineral water, which Native Americans knew well because their "sweat house" stood over these sacred healing grounds for a very long time. These hot springs—a constant 112 degrees—became the chief attraction of the Boyes Hot Springs Hotel on this same site in the early 1900's, and the cream of San Francisco society made it the place to "take the waters." The story goes that the word "jazz" referring to America's gift to music originated at this predecessor hotel. While the San Francisco Seals, the local baseball team in 1913, were in spring training there, a young pitcher was asked by a sports reporter what he did to that baseball to make it act the way it did. The pitcher replied, using a term not heard before in polite society: "I just put some jazz on it." A band in rehearsal in the same room overheard the comment and decided it was the perfect term for what they were playing.
Then, in 1923, that hotel burned to the ground. But it was only four years later, in 1927, that the current inn opened, designed as an architecturally correct replica of a California mission. The Navy commandeered it during World War II as an "R&R" retreat for sailors and marines (lucky them!). Major renovations beginning in the 1980's and completed in 2000 made the Inn the very special destination it is today. 
The 'green' Fairmont flag
The "green" Fairmont flag is the other key reason why the Sonoma Mission Inn is not your ordinary luxury lodging experience. Since its founding in 1884, Fairmont Hotels & Resorts has heralded its "enduring connection to the land and communities where we do business." Nearly a quarter century ago, it launched its industry-leading Green Partnership program, a comprehensive approach to minimizing their hotels' footprints on the planet. Unlike many of its keenest competitors, Fairmont believes that promoting its environmental stewardship will attract guests, not scare them into thinking a hotel can't possibly offer both quality of experience and an eco-consciousness. Because it can, and Fairmont most definitely does. We invite you to click on the Green Partnership Program link on the Sonoma Mission Inn's homepage to read the long list of specific eco-actions being taken there.
She spreads across several well manicured acres just a short drive from the officially designated "Slow City" of Sonoma, just off busy Highway 12 on the way to Glen Ellen. Arriving is like exhaling a deep breath, a moment to shake off the stresses of modern life and relax as generations before us have. Not Downton Abbey, exactly, but close enough as you enter the great hall disingenuously called the Living Room—beamed ceiling, tile floors, impressive fireplace before which massifs could comfortably laze. The original guestrooms—"Heritage rooms"— flank this common entry in two stories on both sides, but we're in one of the Wine Country Junior Suites that's a short stroll past the pool along paths edged in lawn and flora.
Ours has a fireplace surrounded by marble and a sitting area with a couch and chairs, plus a luxe marble and limestone bathroom with a Jacuzzi tub for two and separate shower; there's also a balcony with table and chairs. We notice that the room service menu includes Fairmont's Lifestyle Cuisine Plus, catering to guests with specific diet-dependent conditions such as diabetes, heart disease and gluten-free, as well as unique dietary preferences including, macrobiotic, raw and vegan diets. Go ahead, spoil us.
A soak for the ages
Speaking of which, we have time before dinner to visit the Willow Stream Spa. No wonder it's been awarded honors from magazines like Travel + Leisure, because if there's a more impressive spa environment in northern California, we haven't seen it. It's big—40,000-square feet (3,700-square meters), with both outdoor and indoor lounging areas for before and after treatments. Even if you don't opt for a spa package (one includes a hour-long tarot card reading), do like us and go for the bathing ritual in the spa's natural thermal waters. Inspired by bathhouses throughout the world and bathing practices of ancient times, this experience includes an exfoliating shower, a warm therapeutic bath (the Romans called it theTepiderium), a hot pool with Jacuzzi jets (Caldarium), a mega shower, eucalyptus steam room, traditional dry sauna, cold plunge shower and a relaxation room.
All in a classic Greco-Roman setting that could have you wishing you'd packed your toga. Hail, Fairmont!
Is your favorite way to relax on the golf links? They've got you covered. A few minute's drive away is Sonoma Golf Club, on 177 acres of rolling terrain graced by giant oaks, lakes and vistas of the Mayacamas Mountains and vineyards. Designed for the Inn in 1928 by Sam Whiting (who did San Francisco's prestigious Olympic Club Lake Course), the historic course was privatized in 2001; but staying as a guest of the Inn grants access. 
Top-rated dining
Though there are other sustainable fine dining choices nearby, where to dine is an easy choice. Right here. Santé Restaurant, the Inn's fine dining option, is among the top-rated restaurants in the greater Bay Area (Condé Nast Traveler: "it's worth a special trip just to eat here"). This is fancy food (with little extras from the chef like a deviled quail egg topped with caviar) and fancy prices to match, but worth it if you're looking for a dining memory that lingers. Appetizers like a white asparagus "demi-deuil" (warm glazed white asparagus spears on a black truffle and frisée salad, with white truffle velouté and black truffle gastrique). Entrees like sweet butter-poached Maine lobster with sweet potato spaetzle, brussel sprout "petals," braised red cabbage and a lobster bisque sauce. 
The kitchen sources fresh and sustainable fish, organic eggs and butter, local produce, meats and poultry. Wines lean toward local and biodynamic. At the end of our leisurely meal, after a lovely "compressed" caramel apple tart served with vanilla bean buttermilk blanc manger, apple cider ice cream, crystallized apple and graham cracker "dust," we are handed a going-away present of Bordeaux-style canelés, a decadent, custardy treat baked in a fluted mold coated in bee's wax (from hives on property); caramelized and shiny-crisp on the outside, meltingly creamy inside.
As we greedily devour our canelés, we realize that since our check-in at Fairmont Sonoma Mission Inn, a truly unique luxury green lodging in California Wine Country, we haven't left the property even for a few minutes. We realize we could happily do the same the next day, and maybe even the day after that. As tempting as the pleasures may be of the dozens of nearby vineyards, charming Sonoma Square, Jack London State Historic State Park and all the other places that make this destination a magnet for pleasure seekers the world over, we are happy to stay put here, right where we are, where the echo of history meets a thoroughly modern vibe of earth-friendly elegance.