|
Ubud's Green Yoga
|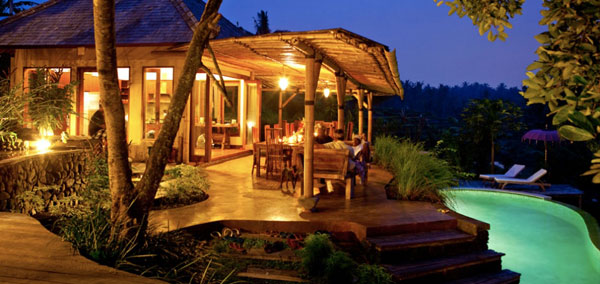 I've been a big Michael Franti & Spearhead fan ever since my friend Leah practically begged me to purchase the Everyone Deserves Music CD in 2003. So I am not surprised in the least to thoroughly love Franti's new green Soulshine Bali yoga retreat—it's just a short stroll beyond the the artist community of Ubud, in Bali, Indonesia.
Nestled near verdant rice terraces that edge the Agung river and surrounded by coconut palms, this peaceful "villa, retreat oasis and café" offers a welcome respite from increasingly crowded Ubud town itself, where busloads of Eat, Pray, Love tourists gather daily to scan the horizon for Julia Roberts.
After the staff warmly welcomes me with a cool and refreshing glass of coconut water, my day starts with a fabulous vinyasa flow yoga class in the huge open-air studio. All limbered up and after a dip in the infinity pool, I chill out with a fresh coconut, fruit salad with raw muesli and a small pot of deliciously rich Balinese coffee. It's all included, and it's all good. Deep exhalation. I sink into blessed serenity, and the hours somehow slip by. Almost before I realize it, the day has disappeared into the shadows. Evening brings a two-hour Taoist meditation class, where I sit practicing my inner smile while John, the Javanese instructor, becomes my interior traffic controller at the intersecting runways of the physical, emotional memories and Taoist philosophy.
Franti groupies, take note
Afterwards, I drift up to my room. Yellow plumeria blossoms adorn nearly every surface along the way, from the banister railings to the origami swan-shaped bath towels on my bed. I sleep in the Sunset Room, aptly named and an indelibly lovely perch from which to savor this perfect day. Coincidentally, it's the room that Michael sleeps in when he's in town. For all you Franti groupies out there—if the carvings on the teak headboard, dresser and wall ornaments are any indication, the man is deeply into geckos.
Soulshine emerged from a longtime creative alliance and partnership between Franti and Carla Swanson. After filming and editing many of Michael's music videos and his pro-peace documentary I Know I'm Not Alone, Swanson directed her creativity toward the creation of this retreat. It encompasses accommodations for up to 26 people, with grounds that include tropical gardens and several ornate ponds. As a guest, you are welcome to pluck fresh fruit from an abundance of mango, jackfruit, banana, mangostein, rambutan, papaya and coconut trees.
Green building principles guided the retreat's construction (example: reclaimed wood for all outdoor decking). Green living is the day-to-day norm, with organic food sourced from local farms and the retreat's own garden, organic cotton bed linens, and filtered drinking water provided to encourage guests to forgo the all-too-pervasive disposable plastic water bottles.
Soulful local support
Franti and Swanson also give much-needed support to local community organizations, most notably the incredibly successful Bumi Sehat Natural Birthing Clinic (which provides thousands of consultations every year to reduce Indonesia's high rates of maternal and child mortality), and the not-for-profit and holistic Pelangi School.
I can see somebody wanting to linger here for just the eco-friendliness, the food, the gorgeous natural setting—but do yourself a favor: dive bliss-first into all the soulfulness this place offers. My only disappointment about Soulshine is not discovering it earlier.—Michael Straus, Contributing Editor