|
An Eco State of Mind
|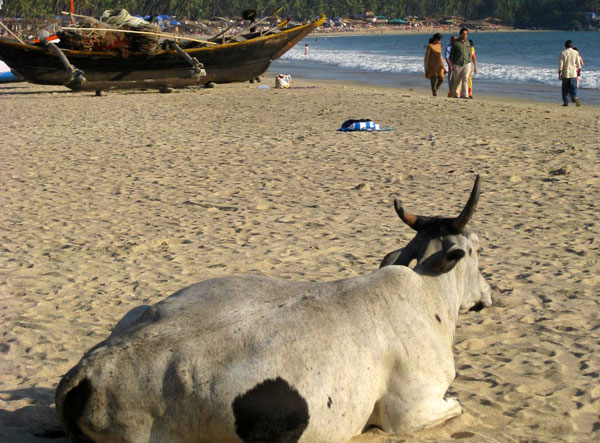 If your notion is going to Goa for a short green vacation, be forewarned: it's the Hotel California of India—you may never leave. Believe me, I know.
Goa's soft embrace almost feels a world apart from India's numbing extremes and jarring contrasts. Think of this predominantly coastal state as the Asian subcontinent's Hawaii, where sipping on the liquid center of a fresh coconut follows a morning swim with dolphins in the warm embrace of the Arabian Sea.
As recently as 1961, Goa was a Portuguese colony, a Christian outpost in an otherwise Hindu and Muslim nation. In contrast to my previous stop in the ancient city of Varanasi, where millions of Hindu pilgrims come to splash in the Ganges River as a purification ritual, Goa's pilgrims are of a decidedly different religion, one largely focused on yoga, drum circles and all-night dance raves. Granted, Goa has changed a lot since its heyday in the 1970s and 1980s when this was one of the top destinations for the world's counter-culture. It's been discovered by sun worshipers escaping Siberian and European winters as well as by India's rapidly growing middle class. But there remains a shanti (chill/mellow) quality to easy-going Goa. During the season of gorgeous weather (roughly November–March), it's still a unique escape.
Life's a beach
It doesn't take long to figure out why. Here, life's a beach. And the assignment becomes: find the perfect ribbon of sand to call one's own. I accept the challenge. Happily.
I begin by scouting a dozen or so beach communities, each with a distinct flavor—from hippie-chic Arambol and Little Russia Morjim, to the packed-like-sardines Calangute beaches and British-tour-package-overrun Candolim. As I pass through villages on Goa's north coast, I'm struck by the churches and storefronts bearing family names like Gonzales and Alvarez.
My beach-hopping continues on, in the spirit of exhaustive research, for some weeks. Until I finally decide that the vibe I like best is to be found back at Arambol, where the backpacker's adventurous spirit melds with, say, a Burning Man by the sea. Competing for my attention here are long stretches of golden beach (shared by human and bovine sun-seekers alike), a plethora of soulful activities like yoga, tai chi, reiki massage and ayurvedic healing, swimming with the dolphins, kite surfing and hang gliding. Sunset drum circles complete the day, with fire dancers, jugglers and purple-blue ripples of surf lapping the shore. Nighttime brings concerts, performances, dance raves (some going till the wee hours).
Beyond tourism, a sobering reality
Behind the scenes, and easily hidden from glazed-over tourist eyes, is a somewhat more sobering reality. Beyond tourism, Goan wealth derives from iron ore mining, which has minted new millionaires and even billionaires practically overnight; alas, the new-found wealth creates new levels of political corruption unprecedented even in India. Laws and regulations buckle under the its weight such that even locals question whether laws are really laws when everyone knows who and how much to pay off.
Goan corruption—as in much of India—appears to compete with tourism as primary culprits in the degradation of the ecology. Environmental impact reports? Construction permits? Enforcing the ban on selling plastic bags? Fat chance. There's inadequate infrastructure to handle garbage—including the zillions of plastic water bottles that tourists consume. Most bottles are simply burned, or illegally dumped by the side of the road in the middle of the night by otherwise reputable-seeming establishments.
Add to this rather bleak picture a strong housing boom, dwindling fresh water supplies and inadequate waste-water treatment.
Sleeping green
Ah, but back inside my tourism bubble…. Where does a green traveler sleep? Goa is awash with affordable accommodations (though more expensive than other less-touristy regions of India), and many near the beaches are seasonal—that is, they are completely disassembled before the monsoons strike. They're made of canvas and natural materials, and so are somewhat green by default.
Otherwise, you're pretty much limited to India's eco-conscious chains such as Taj, which has several moderately priced Vivanta by Taj properties in Goa, plus the five-star resort Taj Exotica in Benaulim, south Goa.
In my view, though, the real Goan eco-tourism standouts are those where local owners are simply trying to live their lives in accordance with their values. Amid the restaurants and resorts whose "eco" or "organic" claims crumble under the slightest scrutiny, you can find local (and ex-pat-run) gems that are as green as they are uniquely charming.
Conscious magic
One is called Yoga Magic. Forgive my New Age-esque descriptor, but Yoga Magic is, in a word, conscious. It's as if owner Phil Dane—a former high-profile rock'n'roll music producer from London—has a transcendent ability to express beauty and harmony in the smallest details. There's simply something about Yoga Magic that feels like a conduit for a greater spirit.
It's open from mid-November to mid-April each year. Surrounded by rice fields and coconut palms just a couple of miles inland from Anjuna's beaches, Yoga Magic casts a spell from dawn till dusk. Shortly before first light, masala tea is delivered to my luxurious-yet-down-to-earth Rajasthani hunting tent, which is unlike any I've previously experienced. It's not just the über-comfortable bed; I'm also in love with the private, outdoor bathroom, open-air shower, and even the hand-crafted composting toilet (OK, so I'm already tired of Eastern-style squat toilets, but my approval goes beyond this: I also spot the use of solar power on the property, and Dane's efforts to create this self-contained eco-system are noteworthy in India).
Parting the white canvas tent doors, I'm greeted by a spectacular sunrise, crickets, cormorants and dogs howling—there are always dogs howling in India. It's time for early-morning yoga, in a hand-crafted, open-walled studio made of mud and dried cow dung. From an altar, Ganesha the elephant god and a photo with the clear-eyed gaze of Osho (aka Bhagwan Shree Rajneesh) gazes down at us. Katie from London leads a gentle, hour-long yin yoga session.
Rebuilding fertility
Afterwards, all systems go, I traipse cross the lawn to the indoor-outdoor café to consume copious quantities of a fabulous breakfast buffet. House-made buffalo yogurt, fresh pineapple, pomegranate, papaya, grapes, watermelon, freshly baked muesli, and local honey.
I strike up a conversation with Josie and Daisie, two British permaculture volunteers who are rebuilding soil fertility on the property, an effort to restore the local ecology after years of abuse by previous land-owners.
The rest of the day is filled with meditation, a second yoga class, and lazing by the pool discussing WikiLeaks with Hans from Düsseldorf. I pass on an Indian cooking class, but by the time dinner rolls around, I'd somehow worked up an appetite again.
Hole-in-the-wall sustainability
Back in Arambol, I happen upon a hole-in-the-wall eatery where the food is delicious, cheap and clearly made with love. I was initially drawn to Singh Star—you can't miss it as you come into town—because of its chalkboard menu proclaiming "organic and ayurvedic thalis" (a thali is essentially a sampler plate, consisting of rice usually served with dal—lentils—and a selection of vegetables, fish or meats).
After persistent questioning of the Punjabi owners (recently relocated back to India after a dozen years in Manhattan), I am convinced they really do try to source local ingredients grown without chemicals. Nothing is certified as organic because the market for such produce is still very much in its infancy. At Singh Star they make their own curd (yogurt) daily. My friend Vlad (a Ukrainian-born Aussie who recently hitchhiked across Iran) claims it's the best in town. Gurdish, who is Singh Star's fabulous hostess, offers private cooking classes on request, and she graciously allows me to Frankenstein my thali with my personal favs, including her chana masala (chickpeas) and ayurvedic parantha (fried nan bread with secret vegetables cooked in).
Don't be shy: ask for free second helpings.
Wilderness gem
A short drive from Goa's coast, where the three states of Goa, Karnataka and Maharashtra meet deep in the Western Ghat mountain range, my friend Chiara and I discover a gem of a wilderness retreat, aptly named Wildernest.
On the way, our worn-out rental car barely manages the poor roads—traffic thick with dump trucks hauling iron ore—until it finally gives out. Fortunately, it over-heats at a police check-point, where we exchange roadside support for giving a lift to the local police chief, who needed help transporting illegally confiscated booze from a previous motorist.
Finally, the vast mining-caused destruction of the landscape gives way to richly forested mountainsides, then to the Swapnagandha Valley (about 2,500 feet above sea level), home to some of the world's most extreme biodiversity. Here, a miracle of ecological conservation awaits.
An unlikely trio
Wildlife biologist Nirmal Kulkarni sits in a sturdy army jeep, awaiting our arrival at the intersection of the so-called highway and the I-think-we'd-be-better-off-in-a-Sherman-tank path to the eco-lodge. We bounce and shudder along the rocky road, past the guard station to a small cluster of 16 guestrooms and other buildings.
Wildernest is truly a remarkable success story that has brought together an unlikely trio—Kulkarni; merchant marine and captain Nitin Dhohd; and Baba Dhohd, an internationally accomplished chemical engineer—to preserve a sliver of pristine wilderness. Its 450 acres are home to 140 species of birds and 30 species of mammals. This eco-outpost attempts to raise awareness about this amazing wildlife habitat—and about the environment in general—in the villages of this Mahadayl region and beyond. On an herb walk, Kulkarni points out a handful of the 150 species of medical plants, including amruta (used for treating cancer) and engli (to treat diabetes). There's also a medicinal plant nursery on Wildernest's grounds, and Kulkarni and his partners plan to document this traditional knowledge.
After an easy trek to an idyllic waterfall (where, of course, my fellow hikers and I plunge into the bracingly chilly waters), I laze by the infinity pool. Infinity it is—the view drops off into a breathtaking 100-mile panorama to the Arabian Sea. That evening Chiara and I gorge on the excellent Indian buffet of local delicacies.
A personal commitment
Our visit ends, all too soon, with a glorious morning hike. Kulkarni leads us past the ecological research station they've recently built on the ridge, regaling us with tales of training former snake charmers (a profession made illegal in the 1990s) to become snake researchers.
What could top this? Green Goa, we've learned, is more than eco-friendly lodging and food without pesticides. It's a state of mind, and a personal commitment to leave this beautiful, blessed corner of India no worse, and maybe even a little better, than you found it.—Michael Straus, Contributing Editor