|
5 Star Eco-Consciousness
|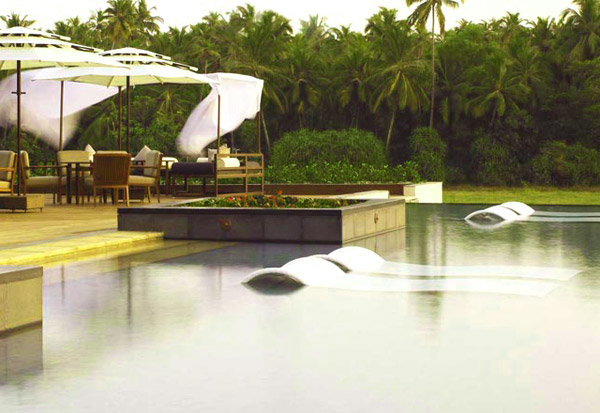 While northern Goa's post-hippie-yet-perfectly-hip beach communities (including Arambol, Vagator and Anjuna) have pretty much everything I'm looking for in tropical Indian vacation spots, the one less desirable quality is the increasing quantity of tourists. Fortunately, just a couple hours' drive away in south Goa my friend and I find a shanti (tranquil) weekend escape at the 5-star Alila Diwa Goa resort in the hamlet of Majorda.
With sister locations in Bali and more coming to India, the Alila Diwa marries, with seeming seamlessness, the rare combination of elegance, environmental stewardship and social consciousness. But it's when the security guards welcome us with a basket of Mentos candies that I know I've come to the right place.
Architect Tony Joseph, who designed the hotel prior to its sale and rebranding as India's first Alila property, sought to preserve open space, fresh air and forest with old growth trees. Indeed, they still talk about how he threatened to break the legs of anyone who wanted to cut trees.
Peacocks consorting with hens
The resort, with low-slung, three-story buildings across many lush green acres, feels intimate, so much so I was surprised to learn that there are 153 rooms and suites—which includes the separate, exclusive Diwa Club building completed in 2012.
The landscaping is indeed a gift that keeps on giving, with expansive rice paddies, coconut groves and a feeling of rural seclusion enhanced by banyan, tamarind and mango trees, some two centuries old.
Wild peacocks consort with chickens on the Alila's lawns. The hens surprise me, until I learn they belong to families in an adjacent village—and when I say adjacent, I mean intertwined. Turns out that when land was originally purchased for the hotel development, some locals refused to sell; as a result, one of the hotel's lawns actually surrounds a villager's home (sweet deal—he doesn't have to mow his own grass!). And those hens are effectively free-range organic, as the Alila doesn't use any chemical pesticides for grounds-keeping.
 Soaking while soaking in the view
We, like many guests, are nonplussed at first to discover the hotel isn't directly on pristine Gonsua Beach; the hotel property is set back 500 yards to comply with coastal zone requirements. This is no small matter in India where such laws are often—and, it seems, too easily—ignored. No worries. Be shanti. The warm waters and long, gently sloping shore of the beach are easily accessible via a free five-minute shuttle, with bicycles or a 15-minute walk.
Back at our room, I realize I must be getting old, because I'm paying more attention to bathrooms. Here, the bathroom walls open up with sliding doors, so I can soak in the view while I soak. But more impressive on the eco-end of things is the toilet's plumbing, which pipes in recycled water, thereby reducing the resort's consumption of precious fresh water.
"Change my linen" cards, often ignored by housekeeping anyway at most hotels, have been done away with altogether, and replaced by a linen change every second day. And on warm evenings, just sliding open the balcony doors to appreciate natural air conditioning automatically shuts off the AC—yet another nifty eco-feature that deserves to be seen more often at other eco-savvy resorts.
Alas, the Alila still provides plastic water bottles, but only after exploring options to replace them with reusable glass containers (one of the few hotels that's made rare progress with glass bottles is The Langham London). The Alila management reluctantly shelved the initiative after a feasibility study determined that the project would simply be cost prohibitive.
Separate vegetarian kitchen
As hunger sets in, plenty of dining options temp us, including the Spice Studio, an elegant option with an open-air design, arrayed around a magnificent old banyan tree. We choose instead to feast at Vivo, a more casual, all-day dining affair which has a separate pure-vegetarian kitchen. There, I devour some of my favorite Indian dishes like freshly prepared masala dosa and steamed idli rice cakes with coconut chutney. Though my eyes are never bigger than my stomach (it's close, though), I am happy to learn that leftovers don't go to waste—they go to compost.
Out back near the kitchen loading dock, a large cylindrical contraption continuously consumes and transforms about 650 pounds of kitchen waste each day, spitting out perfectly cured compost at the other end, which is given to local farmers. Installed in early 2012, management is already planning to upgrade the equipment to handle landscaping trimmings and waste.
Among the numerous hotel amenities are an infinity pool with breathtaking views, a spa with Balinese-sourced natural products, and a gym at which I try to distract myself from my treadmill huffing and puffing by gazing though the floor-to-ceiling windows overlooking the rice paddies.
Green certification ahead
We consider kicking back and watching a film in the Alila's large screen theater, but our visit coincides with Goa's fledgling International Jazz Live Festival. The show features a local legend, Elvis Lobo, and half-a-dozen acts from India and Europe. Alas, Elvis Rumion, Goa's other musical icon (yes, there are actually two Goan rockstar Elvises!) has skipped this year's event, held poolside at the nearby Baywatch Resort.
The Alila is gearing up for Earthcheck certification, which is expected to take a couple of years to complete. Based on what I've seen during this stay, I'll be surprised if they don't pass with flying green colors.—Michael Straus, Senior Editor
Photos of pool and terrace room courtesy of Alila Diwa Goa; all other photos by Chiara Nath, Claylab.in.