|
North to Nirvana
|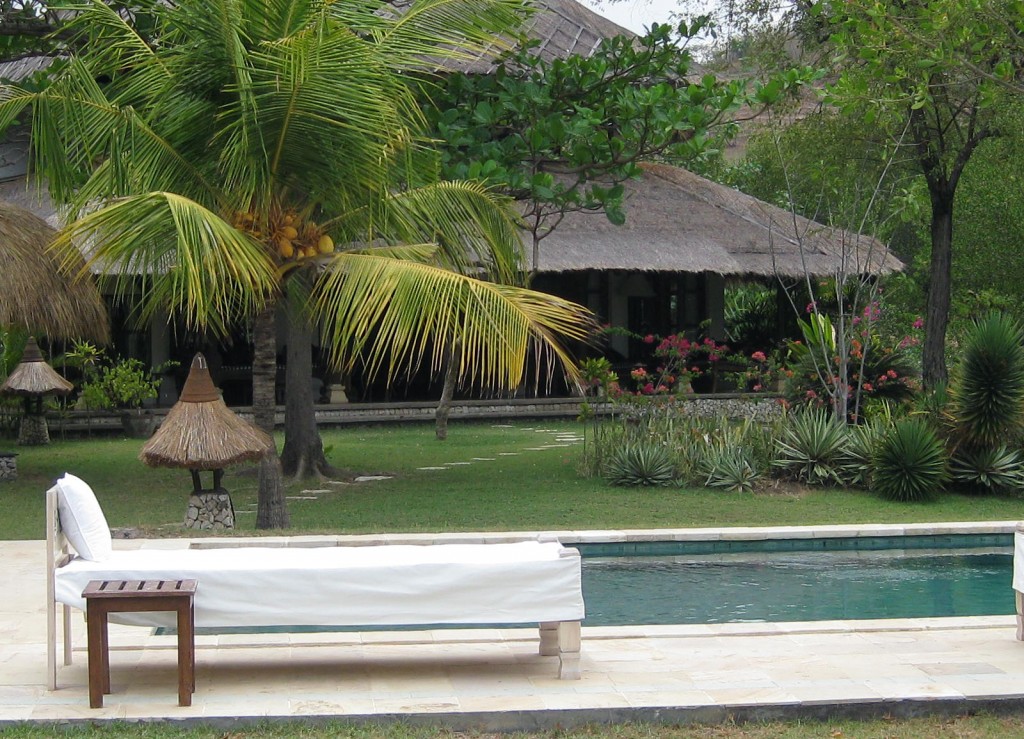 Northern Bali is one big ahhhhhhh compared to the anthill of activity to the south. But with its slower pace and uncrowded vistas come a lagging sensibility about the benefits of green living. Yet there are bright spots. One such is the seaside village of Pemuteran, where local fishermen regularly used dynamite and cyanide to harvest their catch. Damage to the local reef (aided also by El Niño) was severe. But then, spearheaded by village dive shop operators, a bold recovery effort was begun, using a little-tested method of stimulating reef regeneration (normally a very slow process) through use of electricity at an extremely low voltage. It's working.
An equally impressive village project is a green sea turtle hatchery at dive operator Reef Seen Aquatics, which buys newly laid green, olive ridley and hawksbill turtle eggs from villagers who find nests on the beach. Hatchlings are nurtured until release in the Bali Sea. This island, unfortunately, is one of the world's biggest sea turtle predators; until recent efforts to curb the practice, as many as 30,000 turtles were caught and slaughtered yearly, some for ceremonial purposes, the rest for the meat and shells.
Pemuteran has another bright green spot: Puri Ganesha Villas. Built on 400 meters of coral beach, its 4 villas are the epitome of a stress-free indulgence in eco-conscious luxury. One UK publication called Puri Ganesha "the most come-as-you-are spot in 5-star Bali." Each 2-story villa, thatch-roofed and modeled on a traditional Balinese village meeting place known as a wantilan, is antique-filled, has its own swimming pool, and comes with a staff of 2. No plastic bottles or even straws here! Excellent cuisine (including fantastic dishes like Balinese betutu chicken with jackfruit curry and many vegetarian and even raw options like beetroot carpaccio with cashew hummus) is sourced from local farmers and offered as a "green menu." Drinking and cooking water comes from a pure volcanic spring in the mountains. The resort was first in the area to recycle—everything left as trash is hauled miles away to the regional hub of Singaraja. Villa lighting is romantically subdued, never mind that low wattage bulbs are earth-friendly, and fridges are CFC-free.
Diana von Cranach, the Auntie Mame-ish Brit who a decade ago used her superb interior design skills and 200 Deutschmarks (she was just divorced from a German economist) to start realizing this tropical fantasy, says she hopes to bring solar power to Pemuteran in the near future.
A way to help Pemuteran's kids
Meantime, she and her now Balinese husband, Gusti, have their hands full. She's about to publish her second cookbook, this one devoted to raw food recipes; she leads week-long explorations of Balinese cooking and cuisine called Rice & Spice Adventures. Gusti is heading up a program to send local kids to junior high school. More than 80% of households in Pemuteran live below the poverty line, and cannot afford to school their children past the free primary level. Guests at Puri Ganesha and anyone else can directly aid a child with a scholarship donation of approximately $360US a year, which pays for junior high admission fees, uniforms and shoes, textbooks and supplies, a small amount of pocket money, and a bicycle for transport to and from school; donors get information and photos about their sponsored child, plus progress reports. When we visited, Gusti and Diana were planning to go even further by hiring a special teacher for the scholarship kids to make certain the investment pays dividends in learning. This is a splendid opportunity to help a young Balinese reach his or her full potential knowing that your money is well spent and goes directly for the intended purpose.