|
Green Adventure Touring
|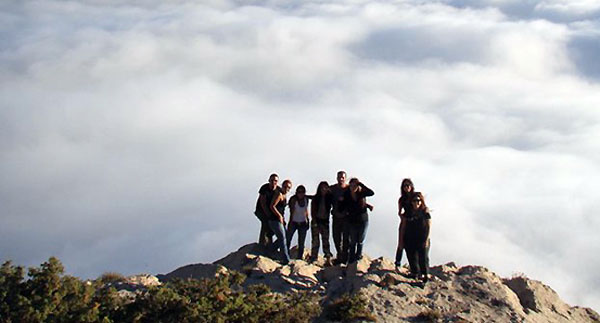 Why go to Lebanon? Let's start with the spirit and optimism of the Lebanese, despite a recent history that's horrible beyond imagining. Or Lebanon's seven millenia of history. Then there's its fantastic street food, from silken hummus drizzled in rich olive oil to tangy stuffed grape leaves. And the renaissance of Lebanese wine. Cosmopolitan Beirut, known as the "Paris of the Middle East," is well worth the trip, and in fact is where many travelers spend their entire visit. But not me. I'm here to explore perhaps the most eco-friendly environs of this fascinating nation—the historic mountain town of Ehden and the Horsh Ehden Nature Reserve, Lebanon's largest national park.
Located a couple of hours north of Beirut, and thirty minutes southeast of Tripoli, Ehden has the feel of a ski resort in summertime. Indeed, spring and summer are the best time to come here, when the weather is mildest at 4,500 feet above sea level. During the coldest months, many of Ehden's 10,000 residents escape to Zgharta, Ehden's sister city down the mountain, for a more hospitable climate.
As temperatures climb, however, the migration is reversed, and tourists begin to flock to Ehden. The town comes alive.
William's massive backyard
Locals and out-of-towners alike converge on Al Middan Square, the heart of the action. Once a horse-racing scene, the square these days is home to an eclectic melange of cafés and restaurants.
On this warm spring day, my guide is William Antar, a tour leader with Ehden Adventures. A 21-year old outdoorsman, William eagerly shares his encyclopedic knowledge of his massive backyard. Horsh Ehden, established in 1992, lies on the northwest slope of Mount Lebanon, and in the distant shadow of Kornet el Sawda (Black Peak), the highest mountain in the Middle East. Lebanon's first national park, Horsh Ehden is a richly diverse, mountainous terrain of nearly 2,500 acres. It extends over four valleys with areas of karst containing many caves. It's home to the famous Cedars of Lebanon as well as to more than 2,000 species of flora (including dozens of medicinal plants) and fauna such as the white stork, great spotted cuckoo and Syrian woodpecker—more than 150 recorded bird species in all.  Most prized is an extremely rare pair of endangered Bonelli eagles, which are endemic to the region; only eight pair remain worldwide.
Founded in 2005 by local outdoor enthusiast Chafik Ghazali, Ehden Adventures caters largely to escaping urbanites and has become northern Lebanon's leading outdoor adventure organization. It offers a vast range of activities, from trekking, camping and horseback riding to snowshoeing, paragliding and caving. I opt for a great day of hiking, rock climbing and absailing (skipping weekend warrior activities like ATV riding and paintball games—though I do fly across an empty parking lot on an urban zip-line strung from the top of a three-story building to a beat-up Toyota pickup).
Winding down on Al Middan
Ehden Adventures recently set up Ehden town's only recycling program, placing collection bins in schools, restaurants and on Al Middan. "People throw stuff everywhere," sadly notes William. "We want to educate kids from an early age about collecting, separating and recycling."
After our day's adventures wind down, William and I head over to Al Middan's Platanus Café, where we join his co-workers for a cup of kahwa (Lebanese coffee) and a local delicacy—cubes of raw lamb meat from Samir Ghaleb's nearby butchery.
When you visit Ehden, be sure to leave time for other excursions. These most certainly include a stop at St. Antonios Kazhaya Church, built in 1820 and home to the oldest printing press in the Middle East. Adjacent is a walled rock cave and its special stone believed to have mystical healing properties.
At nearby St. Gergess Church, you'll find the mummified remains of Youssef Bay Karam, the "hero of Lebanon." And fans of Lebanese-born Kahlil Gibran, artist, poet and author of internationally acclaimed The Prophet, shouldn't miss the museum in his nearby hometown.
And if, somehow, the natural high of Horsh Ehden and the nearby high-country attractions aren't enough for you, stay tuned. Next I'll be descending back to sea level, to sleuth out the best green delights of sprawling, fascinating Beirut.—Michael Straus, Contributing Editor