|
Green Travel News
|
Environmental consciousness is gaining ground in Europe's huge music festival scene, which attracts tens of millions of revelers every summer at scores of events that celebrate music, art and community. Given the impacts these vast crowds have on land and resources, the Green Operations Award—the "Green Oscar" of the European festival community—now honors events with the best eco-innovations.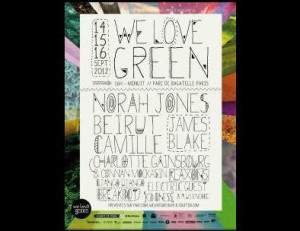 The  award for 2012 went to We Love Green, the three-day festival in Paris, which captured the judges' hearts with its commitment to solar energy, 100% composting and advocacy for organic farming.
Of the 18 festivals nominated, other finalists included Way Out West (Sweden), Maifeld Derby (Germany), and Portugal's bi-annual Boom Festival (where biodiesel, solar and wind energy powered 25% of the festival, sustainable bamboo construction techniques literally took center stage and permaculture demonstrated how to create edible landscapes while conserving water).
The award is the brainchild of the Go Group (Green Operations Europe), an independent, green steering committee founded by Yourope (the European Festival Association) and the UK's Bucks New University.—Michael Straus, Senior Editor