|
Sonoma's Slow Pleasures
|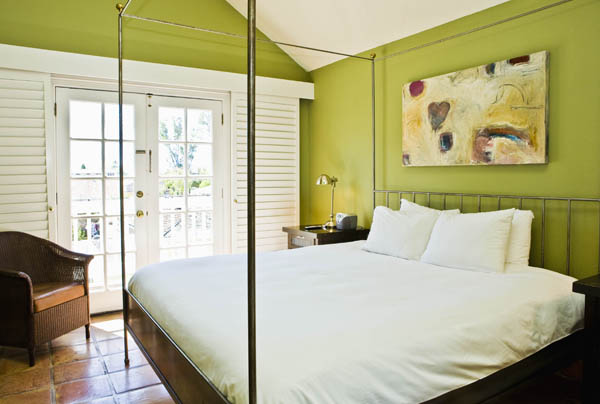 There are many reasons to visit the town of Sonoma. Wine tops most lists, of course, as this is iconic California Wine Country, if more down-home than nearby Napa Valley. History lives on here, at Sonoma State Historic Park and Mission San Francisco Solano de Sonoma on Sonoma Plaza, the largest town square in the state. Nature is also close at hand, in the form of parks, lakes, hiking trails. Writer Jack London's estate is but a few miles away, in another state park that preserves his memento-filled home (and the charred ruins of his ill-fated dream, Wolf House). Sonoma is America's first Slow City, a recognition by the Slow Food organization of its timeless appeal, and in particular its environmental policies, support for local food cultivation and preparation, conservation of traditional artisan products.
From the moment you arrive in the sprawling, tree-shaded plaza, you do feel like savoring life here, slowly and well. You want to linger. To make a memory of Sonoma's seductive charms, with a satisfying farm-to-fork meal, a local "green" wine, a good night's healthful rest. If possible, to enjoy these traveler's pleasures in the easiest, slowest way, all under the same roof.
It is possible, at El Dorado Hotel and its lauded El Dorado Kitchen.
Clean, contemporary interior design

In a renovated historic building, they anchor the northwest corner of the plaza. From the street, you imagine creaking rocking chairs and an old-fashioned boarding house atmosphere. Inside, though, the hotel's handsome common areas are clean and contemporary in design. Many of the 27 guest rooms (including 4 bungalows) feature four-poster beds and all are outfitted with stylish bed linens and modern gadgetry like iPod docks and flat screen TVs. Each room has French doors leading to a private balcony with views to the plaza or garden courtyard.
Tip: book a garden-facing room to avoid street noise.
Green features in the hotel include the use of  "Green Sealed" non-toxic cleaning products in guest rooms and public areas, eco-sensitive guest bath amenities, furnishings and flooring created from reclaimed natural products, landscaping with drought-tolerant plants, a solar-heated swimming pool and more.
Farm-driven kitchen
Even if you don't book a room at the hotel, be sure to book a table at its award-winning restaurant, El Dorado Kitchen.
Like many of today's best Bay Area menus, this one is "farm driven," showcasing the best of local, organic, seasonal bounty. Think starters such as house-made charcuterie or miso-glazed bone marrow with fig and preserved lemon marmalade; entrees such as duck breast a la plancha with duck leg confit canelloni. His food pairs beautifully with the renowned wines of the region, including those of biodynamic Benziger Family Winery, where he scores veggies grown in that same healthy soil as well. The kitchen works closely with Benziger to foster an appreciation and respect for farming the land. Fryer oil at El Dorado Kitchen is converted into biodiesel fuel, and "to go" packaging is eco-friendly.
The newest addition to El Dorado's appeal is the casual El Dorado Corner Café, further evidence of Chef Everett's commitment to local products. In the morning locally roasted organic coffee is served with sweet treats and in the afternoon simple snacks such as warm marinated olives and grilled sandwiches (try the Rueben with house-made corned beef and sauerkraut) can be had with local craft beers and excellent wine on tap (less environmental impact than traditional bottles at more affordable prices). This is definitely where to sample Everett's truffle fries with parmesan cheese and local wood-roasted oysters. Settle in at a communal table, the window bar or sidewalk table. Better still, linger a little longer with your own impromptu picnic on the plaza green.
Green Traveler Guides, an award-winning publisher and website, is all over the world's best green travel. Reviews, views and more from seasoned travel journalists who won't take you anywhere they haven't been themselves.