|
LEEDing in Central California
|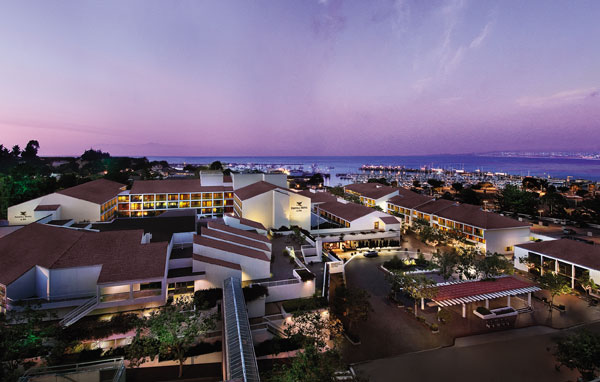 John Steinbeck made Monterey famous as the place sardines got canned, but today it's equally renowned as the gateway to the world's largest marine sanctuary and an amazing abundance of aquatic life. Some 21 endangered and threatened species of sea creatures spend their lives here. Seven species of whales commute in and out during migrations. Monterey Bay Aquarium on Cannery Row is internationally respected for its marine conservation programs and attracts visitors from all over the world. The town had California's first theater, public library, printing press and newspaper. It has long been a nexus of the arts—literary, visual, musical. And its history is rich and fascinating, from the era of the Rumsen Ohlones who hunted game and gathered abalone and mussels on the biologically fertile Monterey Peninsula, to a Spanish and Mexican heritage that began with missionary priest Junípero Serra and explorer Gaspar de Portolà, to its seizure in 1846 by the U.S. Navy during the Battle of Monterey in the Mexican-American War. All this and more brings us to the greenest hotel on the central California coast—Portola Hotel & Spa.
Though there are many lodging choices here, we picked the only LEED-certified hotel between San Francisco and L.A. In 2010 the 379-room Portola was awarded LEED Silver, after this 33-year-old property—adjacent to the Monterey Convention Center and an easy walk to the historic downtown, Fisherman's Wharf, Cannery Row and the aquarium—completed a considerable upgrade and retrofit. It has been honored with other green awards before and since, and we note that shortly after our stay it will host hundreds of tourism industry professionals and sustainability experts from over 30 countries at the Ecotourism and Sustainable Tourism Conference, the premier hospitality industry green event.
This is a hotel that has put sustainability at the heart of its marketing strategy. Has it worked? "We've gotten $2.2 million in business that's directly related to our green initiatives," says Al Hittle, the affable director of engineering. He credits his boss, Janine Chicourrat, the hotel's general manager, for deciding to go after LEED certification, a process created by the U.S. Green Building Council that looks at everything from water conservation to energy-saving TVs. Chicourrat wanted to "find an identity" for the hotel, which had undergone several name changes. Now the Portola's website proclaims its many green initiatives, which includes offsetting 100 percent of the property's yearly carbon emissions (2,200 metric tons of carbon dioxide, equivalent to planting 36,440 fully mature trees, or not driving 9 million miles in a car).
Basking in greenification
There's hardly a corner of this hotel where green hasn't seeped in and made things better. Much of this impacts the guest experience. Our stylish, recently refurbished guestroom has an organic mattress (no nasty offgassing) and hypoallergenic bedding. It's cleaned with nontoxic products—enthusiastically embraced by the hotel housekeepers, says Hittle, because they're taught that green cleaning is safer for them as well as for guests.
"Staff acceptance comes from the top," notes Hittle. "You have to show how enthusiastic you are about it, and encourage participation."
Even if you're not staying at the Portola, you can still bask in its greenification. The 6,000-square-foot, newly renovated Spa on the Plaza is the largest day spa in Monterey County and offers a full salon and 10 treatment rooms with an extensive spa menu that features natural and organic ingredients. At the hotel's Peter B's Brewpub—the first and only craft brewery in Monterey—Brewmaster Kevin Clark tells us how he's saving thousands of gallons of water with a reconfigured cooling system and recycling barley from his brew mash by selling it to young 4-H-ers for cattle feed, but his eyes shine brightest when he mentions his organic hops. These relatives of cannabis are essential to the brewer's art, but they're rarely grown in central California. And organic? Good luck. But Clark partnered with an at-risk youth camp, Rancho Cielo, in nearby Salinas, to grow organic hops just for Peter B's. He also likes using organic fruit and even veggies in his seasonal creations, like the local organic pumpkins he plans to harvest himself for an autumnal ale.
Relationships with organic farmers
Peter B's serves worthy pub grub, but for fancier fare, head over to Jack's, Portola's main restaurant and lounge. It's open all day, every day, and for the past seven years the kitchens at both the pub and dining room have been overseen by Executive Chef Jason Giles. No surprise, he's on the sustainability bandwagon, too. His seafood is chosen in support of the Monterey Bay Aquarium's Seafood Watch, which guides consumers to species not endangered by overfishing or containing unsafe levels of toxins. He says he enjoys the challenge of a diner who's upset that salmon isn't on the menu every night—by extolling the virtues of other local, seasonal fish like black cod. "It used to be a by-catch, but now we know how great it is," he says.
On the evening of our visit, wild salmon was indeed being grilled, but we opt instead for a moist, basil-crusted Pacific sole and Monterey Bay calamari, beautifully crispy and delicious dipped in a serrano chili vinaigrette. Perfect with our salad of organic spinach and sauteed mushrooms topped with a soft yolk organic egg.
Giles has built strong relationships with local organic farmers. One even sells boxes of fruit, produce and eggs to hotel staff. "Today we had 36 boxes delivered," Giles says, not a little proudly. His kitchens have also won awards for their recycling, and he's working to join a city pilot program to compost his kitchen waste.
More green options
Jack's is a special treat, but other casual green dining options do exist on the Monterey Peninsula. Two we recommend in particular. When you visit the aquarium, don't miss the Monterey Bay Aquarium Café & Restaurant. The Aquarium's culinary partner Cindy Pawlcyn brings her "farm-to-table" philosophy to recipes that feature fresh, local and seasonal ingredients, as well as wild-caught and farmed seafood that adheres to the highest standards of the Seafood Watch program. A pioneer in the development of Wine Country cuisine, Cindy has earned numerous accolades since she opened the first of her three Napa Valley restaurants more than 25 years ago. [Note: all but the Express Café are closed for extensive renovation until March, 2013. See the Aquarium Cafe & Restaurant webpage for other area restaurants that adhere to Seafood Watch guidelines.] Our other local fav is just over the city border, in adjoining Pacific Grove. It calls itself Happy Girl Kitchen.
Todd and Jordan Champagne say they began Happy Girl out of the sheer love of food. After working on farms for years and becoming expert "food preservationists"—pickles, jams and such—they opened this charming cannery, café and coffee house dedicated to simple, delicious and farm-driven foods. Stop by for a lovely breakfast or lunch any day. Ella Fitzgerald or someone equally swell will be entertaining you on the turntable from the extensive collection of classic vinyls. The farmstand-style marketplace is redolent of pure organic goodness, stocked with the Champagne's own creations plus other well-curated local artisan products.  Happy Girl also hosts parties, recipe swaps, pop-up dinners—e.g., an upcoming meal by sous chefs from acclaimed restaurants Manresa and Post Ranch Inn—and workshops, all to "empower people to get involved and learn about the importance of what's on their plate."
Are there plenty of green reasons to love Monterey? Yes. Portola Hotel & Spa is certainly one of them, but it's just the beginning. Our advice: see for yourself as soon as you can.