|
Tata's eco commitment
|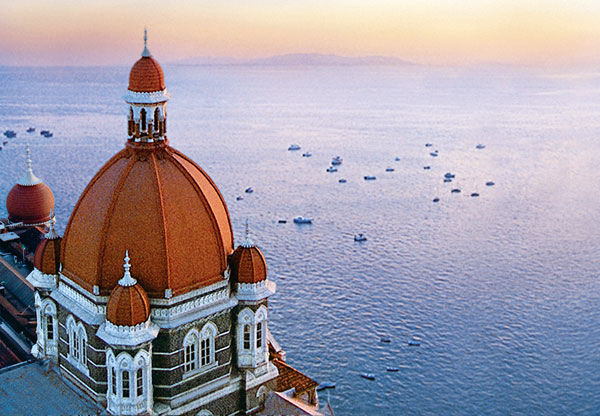 This is a tale of two Tajs. The Taj Mahal Palace and the Taj Lands End. Both are in vast, captivating Mumbai, a city equally well known for unparalleled elegance and sprawling urban slums. Both are luxury hotels of the first order yet could not be more different in style. Yet they do share one other interesting trait—both are green, even if quietly so, without having to be.
And therein lies the tale.
But first let's check in. For I have to tell you that the experience of being a guest at either one of these Tajs—part of Taj Hotels Resorts and Palaces, India's premier luxury hotel group—is something you won't soon forget.
Not merely a hotel
It's surreal. That's the best way I can describe what it feels like being greeted with warm smiles and attentive murmurings at the front desk of the Taj Mahal Palace. This historic landmark on Mumbai's waterfront in the downtown Colaba district isn't merely a hotel, it's a cultural institution, an integral member of the Mumbai community. Since the early 1900s, it's been an oasis-away-from-home for the rich and famous. Now, since the horrific terrorist attack only three years ago, it's also one of the world's most recognizable edifices. I am happy to report it is fully open for business once again.
No trace of the horror, of course, remains. I look without success for any echo as I am escorted by a white-gloved bellman to my splendid room in the Tower wing, which has only recently completed its massive restoration. The faces of staff are serene. I happen to know that Taj went to great lengths to support them, their families and the attack's victims, providing aid, training and resources to speed the community recovery. The women staff members seemingly float in their traditional sari dresses, hand-made in communities of artisan craftspeople whose multi-generational skills are at risk of being eclipsed by modern factories.
The 19th floor Souk restaurant, where I meet up with fellow travelers for drinks, overlooks the iconic Gateway of India and Arabian Sea. Somewhere down there is the hotel's own luxury yacht, for private parties and cruises along the waterfront. All, I muse, is perfect by design. Could it be that this same space spewed billows of black smoke and debris so recently? Impossible.
Now it is my time to turn serene.
Sleek, modern elegance
A few days later, in the Bollywood-hip Bandra neighborhood of Mumbai, I meet the totally-today scion of the patriarchal Taj Mahal Palace. It presents a radically different ethos:  a sleek, modern elegance. This is Taj Lands End. It also overlooks the Arabian Sea. Its staff is steeped in the same "customer as god" service standard, its women glide past in the same gorgeous saris. Its accommodations and restaurants are also on par with the world's leading hotels.
While the Taj Mahal Palace tends to boast of historical A-list guests—George Bernard Shaw and Jacqueline Onassis, for instance—the Taj Lands End lists the 21st-century likes of Gordon Brown and Jessica Simpson.
It comes down to a matter of your own taste, really—which brand of eco-friendly pampering do you prefer, traditional or contemporary?
Wearing greenness lightly
Both these Tajs wear their greenness lightly. You would hardly recognize it from their websites or even during your stay. The Taj Mahal Palace chooses to play up tradition and sumptuousness over anything as "vulgar" as back-of-the-house eco-wizardry. Lands End markets itself as the ideal luxury location for doing business in the city.
Taj Hotels Resort and Palaces—a division of the Tata Group, one of India's largest and most respected corporations—doesn't really need to be "green" to be successful. Their luxury hotels in India and elsewhere are already the first choice of celebrities, the political elite and captains of industry.
Their premier status makes Taj's commitment to sustainability initiatives all the more impressive. Working quietly, Taj is indeed addressing global climate change, green energy, natural resource conservation and community development. Today, 68 of Taj's 92 hotels have undergone EarthCheck environmental review, with 32 achieving Silver certification level.
Cleanest energy mix
Lands End, currently expanding into India's largest hotel, obtains a cleaner mixture of wind, solar and hydro-electric energy than any other Mumbai business. To conserve energy, all lighting in the back offices has been converted to CFLs; on the customer side, Taj has recently started changing over to low-energy LED lights (which, unlike CFLs, will work with dimmer switches, critical for mood lighting). In water conservation, Lands End has reduced fresh water consumption by 30 percent, both by reclaiming and recycling waste water, as well as by installing a number of underground reservoirs to capture monsoon rains. They even have a vermiculture (worm composting) box to convert some kitchen and landscaping waste into recyclable soil nutrients.
At both Lands End and Taj Mahal, hidden in the vast corridors of their laundry facilities, I discover a fully-automated eco-friendly cleaning system, serving up biodegradable and environmentally sound detergents. At both hotels, too, Taj provides a broad spectrum of training programs for staff and community members, and often offers support to impoverished victims of natural disasters, orphans and victims of domestic violence. Their kitchens provide hundreds of free meals each day for patients at local hospitals; while their conference facilities are often donated to community organizations for educational and fundraising events.
Final words
That the Taj Mahal Palace and Taj Lands End trumpet their luxury much more than their leadership role in hotel sustainability tells me two things. One, that luxury trumps green in their customers' minds. And two, that many travelers still do not realize it's possible to enjoy both. The time is coming, if it's not already here, when it will be absolutely necessary for even the most sybaritic hotel to minimize its carbon footprint. I applaud the Taj folks for getting out front, in India and in the hospitality industry, even if quietly.—Michael Straus, Contributing Editor