|
Saybrook Point Inn
|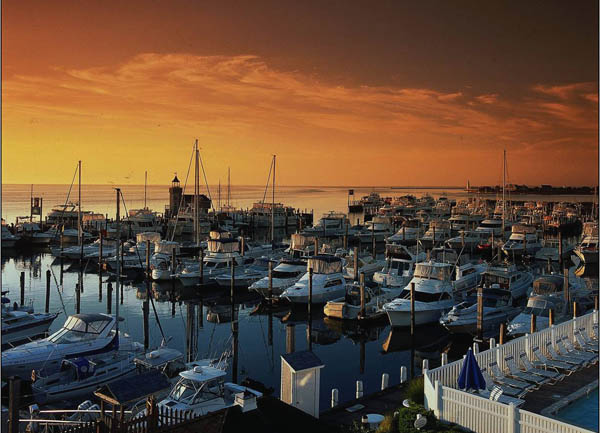 Still think "green" and "luxury" cannot inhabit the same space? If so, we take you now to Saybrook Point Inn and Spa, which puts to rest any doubt whether AAA-Rated Four Diamond resorts can also be role models for eco-friendly hospitality.
An easy two hour drive north from New York City, or south from Boston, this beautifully appointed hotel spa on the shores of Long Island Sound in historic Old Saybrook, Connecticut, radiates quality and sensitivity from the first moment we step onto its blue-striped parking area (blue reduces glare, we are told).
It's not long before we learn what a remarkable green story this historic place has to tell, but first we need to finish ooooing and ahhhing. Our guest room is absolutely stunning. Imagine a setting straight out of the pages of Fine Living magazine. Soft colors, rich fabrics, crisp linens and spacious quarters, along with a million-dollar view that frames the marina and harbor. Regaining our bearings, we think OK, what's green here? In fact, green is everywhere in our quarters, including energy-efficient lighting, motion sensor heating controls, natural bath and beauty products and more. We've enjoyed many upscale accommodations over the years, but the Saybrook tops them all with its combination of comfort, luxury and eco-responsibility.
An impassioned eco-stance
Saybrook Point Inn and Spa is located on 5+ acres and includes 82 beautiful guestrooms, a luxurious spa, a Four Diamond restaurant called Terra Mar featuring "farm to chef" menus sourced from local providers, and a picture postcard marina bristling with white sails, impressive cabin cruisers and blue canvas trimmings. It's also the first full-service hotel in Connecticut to receive the Energy Star rating awarded by the U.S. Environmental Protection Agency for superior energy performance and one of the first hotels in the state to be certified as part of the Connecticut Green Lodging Program. Among other environmental accolades, the Connecticut River Coastal Conservation District awarded Saybrook a special merit award for its contributions to protecting and improving the health of the lower Connecticut River and Long Island Sound.
Credit for Saybrook's impressive clean green scorecard is due in large part to the impassioned eco-stance of Saybrook's owner, Stephen Tagliatela, and the daily diligence of his deeply committed staff. Earlier this year Tagliatela and his management team launched a "Green Meetings Program" in response to the growing demand by environmentally conscious business groups.  He often personally presents Saybrook's green story to meeting attendees, and spearheads many of the resort's ongoing environmental enhancements.
"We feel it is essential to maintain a unified focus on environmental initiatives," says Tagliatela, "and to continually educate the staff to further foster a sense of community and responsibility." To this end, he requires that each new employee sign a "green agreement" pledging to uphold the environmental ethics of the inn.
Green team, green marina
We find living proof of this pledge with every staff member we meet during our stay, each of whom proudly and fervently espouses Saybrook's green mantra. We also learn about the inn's "Green Team," a volunteer group from each department that meets monthly to advance new energy-related and other green measures.
"The goal is to educate all staff members on how they can do their part to protect the environment," Green Team Leader Abbie Coderre tells us. Abbie also oversees the 120- slip marina, awarded the coveted Five Bell rating by Atlantic Cruising Guide. Saybrook Point is the only marina in Connecticut to receive this honor, and one of only seven on the entire East Coast. She says the Guide cited the overall appearance of the marina; its cleanliness, its high environmental and maintenance standards.
Abbie personifies the intense commitment of management and staff to make Saybrook "the finest green resort hotel experience in the nation." From all indications they are well on their way.
Clean green at the Inn and Marina
No detail is overlooked in Saybrook's total commitment to sustainable living and working practices. Here is a partial list of green initiatives.
The Inn:
♦ Saybrook's three swimming pools are filled with salt water—the pool cleaning system converts ordinary salt to a natural chlorine.
♦ All cleaning products are environmentally friendly, purchased concentrated and in bulk, then diluted for daily use; washing machines use ozone instead of bleach and reuse their clean rinse water to prewash the next load, saving water.
♦ State-of-the-art heat exchange system circulates water throughout the hotel to heat and cool; solar panels provide a portion of electric power.
♦ Motion sensors in every room automatically lower temperatures when room is unoccupied.
♦ On-site wastewater disposal system.
♦ Organic lawn care practices, and a watering system with rain sensors; bird houses surround the property, providing chemical- and maintenance-free pest control.
♦ Comprehensive recycling, including selling kitchen grease to local bio-diesel car owners; flooring made from recycled wood products.
♦ A biofueled diesel generator for power in case of emergency.
♦ All paper products except recycled napkins have been eliminated.
The Marina:
♦ As part of the Clean Marina program, a clean boater education program is offered.
♦ In 1996, the resort installed the first pump-out station in the lower Connecticut River, a service provided at no charge to boaters (funded in part by a grant from the Connecticut Department of Environmental Protection).
♦ The marina serves Valvetect marine fuel, which has additives to increase fuel economy. The fuel dock has oil spill containment equipment, and staff is trained in its deployment.
♦ Boaters are provided with complimentary used-battery disposal, as well as waste oil disposal. Waste oil is recycled for heating oil.
A river runs through it
The nearby town of Old Saybrook is the quintessential New England seaside village, recently named by Connecticut Magazine as the #1 small town in Connecticut. Its charm lies in its ocean views, historic homes and gas-lit Main Street dotted with quaint shops, restaurants, art galleries and more than 400 antique dealers within a two mile stretch. One of the oldest towns in the state, it dates to 1635 as an independent colony and incorporated in 1856.
Early in its history, the town became an important center for the coastal trade and for transshipment from river boats to ocean ships. Warehouses and wharfs were constructed during the 18th and 19th centuries to handle the ships and their cargoes, and many of the houses still standing today were built by sea captains or ship owners.
The lower Connecticut River Valley is a popular tourist destination, with many worthwhile places to visit and enjoy nature. Nearby towns of Essex and Mystic Seaport are recommended side trips for Saybrook guests, who list among their favorite attractions the Essex Steam Train and River Boat ride, the Goodspeed Opera House, Mystic Seaport Museum and the Mystic Aquarium.
A vital ecosystem
Situated strategically at the mouth of the Connecticut River, Old Saybrook is steeped in oceanic, wildlife and wetlands conservation. In fact, the surrounding area is one of the most environmentally important regions on the continent. Its network of freshwater and brackish marshes contains wetlands of international importance, and its undisturbed marshes are havens for the shortnose sturgeon, piping plover and other rare species, offering food-rich nurseries and pathways for migratory fish and birds.
The Nature Conservancy, in 1993, designated the tidelands, including the wetlands of Old Saybrook's North and South Coves, as one of the "Last Great Places," 40 biologically important ecosystems in the Western Hemisphere.
The Connecticut River is also one of only 14 presidentially-designated American Heritage Rivers in the U.S., acknowledging its rich heritage, ecological importance and natural diversity.
The Kate connection
"If you survive long enough, you are revered—rather like an old building."– Katharine Hepburn
From the Saybrook Inn's many view portals, we could look across the waters of Long Island Sound to Fenwick, the family estate of the late Katherine Hepburn, the town's most famous resident. Throughout her long and storied life, Ms. Hepburn spent many enjoyable days in Old Saybrook. Longtime locals claim they could see her take regular swims in the waters near her home. After her death in 2003, the town converted one of its historic buildings into the Katharine Hepburn Cultural Arts Center, affectionately nicknamed "The Kate," now one of New England's premier live entertainment venues.
Can you tell we became enamored of Old Saybrook  and its environs? We recommend 2–3 days to explore and enjoy this fascinating area, which leaves just enough time for pampering at the green and glorious Saybrook Point Inn & Spa.—Linda & Rolly Wahl, Contributing Editors