|
Grants Pass to Ashland
|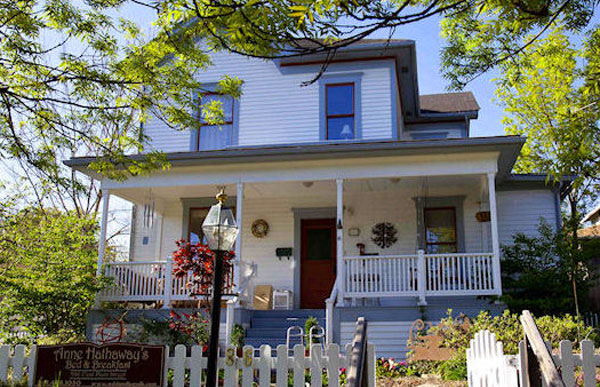 Our journey continues. In our modern-day covered wagon—our new hybrid vehicle—we have been on the trail of charming towns, fascinating locals, natural beauty and a palpable eco-conscious ethic in Southern Oregon. As we made our way up the craggy coast from the state border, then east to Grants Pass, we've seen majestic evergreen forests, wild and scenic rivers and bountiful farmlands, and met many welcoming folks who proudly offer green sleeping, eating and shopping.
Our route now is southward from Grants Pass, but instead of I-5 we take Hwy 238, which is a meandering loop toward Medford and Ashland. We believe getting off the well-trodden path adds richness and texture to travel experiences. And we always leave unscheduled time in our itinerary for serendipitous discoveries along the way.
It's a recommendation from some new artist friends that leads us to the amazing My Way Café, which provides the most memorable culinary experience of our trip. Chef/owner John Bove operates this understated roadside attraction in Ruch, a town so tiny some 10 miles southwest of historic Jacksonville it's unrecognized by our GPS. We are advised to call ahead to make sure the place is open, as John is known to hang the "closed" sign if the food runs out, or the mood strikes. His modestly priced menu features the freshest of ingredients, sourced from local organic farms, ranches and sustainable seafood purveyors, with innovative entrees and side dishes that, no kidding, rival the finest restaurants in our San Francisco Bay Area. He also has a nice selection of Oregon wines and "house-brewed sangria beer" on tap.
John admits he's "not a computer person" and probably will never read this. So when you visit, tell him we sent you.
Rise Up! in the hills
Another spontaneous side trip based on local intelligence is to the remote communal enclave of Full Bloom Farms and Rise Up! Artisan Bread, high in the hills above Ruch. Here we met an impassioned group of young people living off the land in an "intentional community," working together to produce earthy, artisan-style baked goods and certified organic produce. Look for it at farmers' markets, restaurants and natural food stores throughout the region.
Though visitors are rare, we are  welcomed warmly and soon learn that the history of this enterprise began in 2005, when six former San Francisco Zen Center residents who shared a common vision of "supporting each other in their spiritual and ecological intentions" came to these 280 acres of meadow and forest in Little Applegate Valley. Matt Vivrett and Aria Bettinger are the present owners of Full Bloom Farms, certified organic by Oregon Tilth, a non-profit that vouches for more than 1,400 organic operations (its merger with the larger California Certified Organic Farmers (CCOF) will be completed by the end of 2012, when the combined certifiers will be known as CCOF Tilth).
Rise Up! is owned by Jo Ferneau and Rose Demmin and operates from a two-story, octagonal straw-bale building whose kitchen and dining area are used by the families and friends who live and work here. The warm heart of the commercial kitchen is a huge wood-fired baking oven imported from Spain. Residents have constructed several other straw-bale-and-cob houses on this utopian setting, which also boasts two creeks and a swimming pond.
On the wine trail
As we follow the Applegate River through the scenic valley that bears its name, we realize we are on the Applegate Valley Wine Trail that stretches from Grants Pass to Jacksonville. It's one of Oregon's newest appellations, and the warmer and drier growing seasons here compared to elsewhere in the state have fostered more than two dozen boutique producers so far. This terroir is for excellent Chardonnays, Syrahs and Rhone-style red varietals.
Oregon is a national leader in sustainable winemaking practices, with a high percentage of its viticulture acreage designated as sustainable, organic or biodynamic. Even for vineyards that are not officially certified, sustainability is often a conscious priority. In addition to Demeter (biodynamic) and Oregon Tilth certifications, Oregon offers several other third-party eco-rating organizations: Oregon Certified Sustainable Wine (OCSW), Low Input Viticulture & Enology (LIVE), Salmon-Safe and Vinea, The Winegrowers' Sustainable Trust.
No one embodies the winemaking ethos of the region better than Bill Steele and his ecologically renowned Cowhorn Vineyard and Garden. A Demeter-certified grower and processor, he manages his entire operation holistically and sustainably. What does that mean, exactly? Bill tells us that biodynamic farming goes beyond organic, in which the entire farm and vineyard are treated as a living organism. "Our practices focus on improving the vitality of our soils," he says. "Our intention is simply to provide a favorable environment in which all elements of the farm can live dynamically and with vitality. In return, we are rewarded with beautiful, beautiful fruit." The proof is in the tasting. Cowhorn's 2010 Viogner and 2008 Syrah, for example, recently received 90 and 91 points, respectively, from Wine Spectator.
Farmer celebrities
Look for Cowhorn Vineyards' wines and those of other local sustainable winemakers at Southern Oregon Farm to Fork events, extraordinary "farmer-centric" dinner parties produced by Matthew Domingo, whose mission is "to reconnect people to the true source of their food."  Matthew travels throughout the state presenting feasts on the farms that produce the food, prepared by some of the state's most talented chefs—and usually selling out, so book ahead. Each event begins with a tour by the host family, to share stories and their sustainable farming practices. Meals are served on old mismatched china and place settings that Matthew and his wife have collected over the years.
Matthew is famously known for promoting local farmers, ranchers, winemakers, bakers, cheese makers and other artisan food producers as celebrities. He uses his events to showcase these dedicated producers, as well as "the inspiring work of like-minded organizations that support small farms, food security, community resiliency, and greater accessibility to healthy, local food."
It's through Matthew that we meet Jared Rennie, founding owner of  Noble Coffee Roasting in Ashland, where we end our memorable meanderings across Southern Oregon. Located in the vibrant and historic Railroad District, Noble Coffee's focus on freshness and sustainability has made its beans among the most popular in the region. Jared and his team frequently visit their favored Latin American growers. "We're actually teaching them how to get us to pay more for their beans," says Jared, a judge of the prestigious Cup of Excellence international coffee competition. "But it's worth it to be able to offer our customers the best organic products possible."
Ashland's green-certified B&B
Ashland, of course, is also home of the internationally acclaimed Oregon Shakespeare Festival, Ashland Culinary Festival … and so many more reasons for a return visit soon.
By chance, we run into an "old" friend while we're in town—Jo Ferneau, manning his Rise Up! wood-fired mobile pizza oven at the Rogue Valley Growers & Crafters Saturday Market. Not far away is Fulcrum Dining, another popular traveling kitchen that serves up "globally inspired dishes with an emphasis on local products." Fulcrum owners Chad Hahn and Gabrielle Rysula honed their cooking skills at some of Chicago's top restaurants.
We also have the pleasure of spending a night at Anne Hathaway's B&B and Garden Suites, one of the city's greenest lodgings. Innkeepers Deedie and David Runkel have earned Green Inspected status from the Oregon Bed and Breakfast Guild for their green (nontoxic) cleaning, comprehensive recycling program, composting, energy and water efficiencies and more.
The next morning, a tasty, nutritious breakfast features organic local fruits and vegetables from their Community Supported Agriculture (CSA) share with Fry Family Farms, the Growers Market and the Ashland Food Cooperative, Southern Oregon's only certified organic grocery.
Uncle Bill knows his beer
All too soon, it's nearly time to hit the trail again. But not before one more outstanding green experience in Ashland. At the family-owned Standing Stone Brewing Company, we rendezvous with family of our own—our favorite uncle, 92-year-young William Wahl. A longtime Ashland resident, Uncle Bill's a brewing scholar, so we knew the beer would be good!
And it is. Even more satisfying, it's made from 90+ percent organic grains. The food's way better than normal pub grub, too. Aside from beef, chicken and eggs from the family farm, the menu offers fresh produce from the rooftop garden and the Growers Market. Much of it is organic.
But the Standing Stone story gets better still.
Housed in a historic building, the brewery has incorporated eco-responsible practices into literally every phase of its operation. Stainless steel barrels dispense signature beers directly to the table, greatly reducing bottle waste and dishwashing energy. A wine-on-tap program brings stainless steel kegs directly from local vintners like Wooldridge Creek Winery, an Oregon Certified Sustainable Winery (OCSW), resulting in less waste from corks, bottles and labels.
Pedaling to brew
Other green initiatives include rooftop solar panels and an automated system for heating, cooling and lighting. And get this … the brewpub even provides a bicycle to every employee who commits to riding to and from work at least 45 times per year.
More about Standing Stone's green practices.
On the way back home to our own Northern California bubble of sustainability, we agree that very few regions anywhere in the country have Southern Oregon's depth of eco-awareness. Healthy and sustainable lifestyles appear to be the norm, and what a pleasure and inspiration that is to see firsthand. Young and old alike, walking the talk for a cleaner, greener world.
In the words of one of the unforgettable characters we met, an organic fruit farmer in Applegate Valley, "Heck, it's just the right thing to do."—Linda & Rolly Wahl, Contributing Editors