| Oregon Coast to Grants Pass |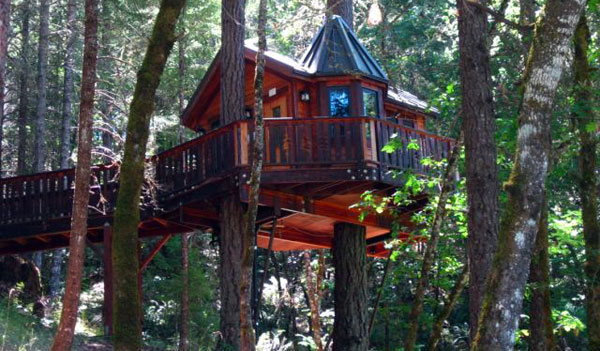 It's an American birthright, roaming toward the distant horizon. This pursuit of happiness is in our DNA. So you will understand why, one recent fine morning, we begin loading up our covered wagon—our new hybrid vehicle. We are heading north. On a green expedition: in search of charming towns, friendly and fascinating inhabitants, natural beauty and a palpable environmental ethic amidst the majestic evergreen forests, wild and scenic rivers and bountiful farmlands of Southern Oregon.
Often called Oregon's "banana belt" for its sunny skies and temperate climate, the region is truly a place apart. Indeed, the citizens who live and work here speak of their beautiful homeland as if it were the 51st state … or so we are about to learn.
We enter the Beaver State from California on Hwy 101. A stone's throw across the state line up the rugged and windswept Pacific Coast, we discover what must certainly rank as one of the most eco-friendly welcome centers in the nation. Tucked harmoniously into the contours of the Crissey Field State Recreational Site, it's a model of green technology.
A perfect entry
Here we meet Jeff Gallemore, a park ranger and longtime area resident, who had a hand in creating this most welcome center.
"Now I'm equally proud to be a steward," Jeff enthuses, as he describes in detail the state-of-the-art solar system, the advanced geothermal heating and cooling system—we're talking radiant floor heating and cooling—plus the sensing devices that control 90+% of the building's lighting, and more.
Jeff leads us outside to see how the facility's green footprint expands into the surrounding landscape, where native plants thrive without supplemental water. He points out rock mulch that's used to retain soil moisture (unlike bark, it never needs replacing). He explains how rainwater is captured and routed through wetland plants, oxygenating and cleansing it.
It's a perfect entry point into Southern Oregon's ecological wonderlands.
B&B up a tree
Our coastal journey continues until we hang a right onto scenic U.S. Route 199, which snakes eastward through giant coastal redwoods and into the Siskiyou Mountains, which are blanketed by one of the most diverse conifer forests in North America. The winding route parallels the emerald green Smith River, whose 300 miles is the longest stretch of free-flowing, undammed river in the country.
About 50 miles from the coast, we come to the diminutive town of Cave Junction, gateway to the Oregon Caves National Monument. Here the National Park Service conducts 90-minute tours through half-a-mile of solid marble while explaining the caves' history and preservation. We are more partial to soaring trees than subterranean depths ourselves, so we are compelled to check out nearby Vertical Horizons Treehouse Paradise. We find a unique bed-and-breakfast, a trio of upscale, custom-built tree houses perched high in live redwoods. All the units are rented when we arrive, but owners Jodie and Phil Moskios happily tell us about their green features: guest breakfasts that include local organic fruit and other items, energy-saving measures, recycling and plans to install solar for power backup. The main thing, says Jodie, is "getting people more in touch with nature. A lot of people have forgotten what it's like."  To that end, they offer a slew of outdoor activities, including catch-and-release fishing, bird watching, gold panning and even lessons in technical tree climbing. "We don't even scratch the bark," Jodie proudly tells us.
Back on the highway, we motor onward 30 more miles, to the vibrant, eco-conscious and culturally hip city of Grants Pass, dubbed by Mother Earth News one of  the 12 great places you've never heard of.
From Grant to Gable
Located on the legendary Rogue River and flanked by green forested mountains, this classic river town grew from a stagecoach stop in the 1860s into a favored vacation haven for actors, artists and writers, including Zane Grey and Clark Gable. How did it come by its name? It honors General U.S. Grant's success at the Battle of Vicksburg.
We found the city brimming with art, music, crafts, historical preservation and a community-wide penchant for supporting local farmers and products. A prime engine behind the buy-local movement is THRIVE, a non-profit that brings citizens and businesses together for "a more socially, environmentally and financially sustainable economy in the Rogue Valley." Among many other things, THRIVE hosts Rogue Valley Local Foods, an online farmer's market where farmers post their freshest products online and consumers order by credit card for pick up throughout the valley.
Of course, there's nothing like a "live" farmer's market and the Outdoor Growers Market is said to be second only to the Rogue River as the city's most popular attraction. It's also the largest open-air market in the state. Every Saturday morning from mid-March to Thanksgiving, growers and artisans congregate to showcase the freshest produce, meats, seafood, poultry products and baked goods from around the region. According to Marti Fate, the market manager, as many as 200 family farms operate in Southern Oregon, three quarters of whom bring their products to her market at various times. We marvel at the breadth and scope represented. Most of the purveyors we meet speak passionately of their sustainable philosophies and practices. Many invite us out to their farms for a first-hand look.
Growing new farmers
That's how we meet Mary and Vince Alionis, owners of Whistling Duck Farm in the beautiful Applegate Valley just south of Grants Pass. For more than two decades their 22-acre, certified-organic farm has been a lively synthesis of their skills, knowledge and talents. We learn from others that Vince and Mary are luminaries in the Southern Oregon organic farming community, selflessly sharing tips and insights, especially with new farmers.
"We in turn have learned so much from them," says Mary. "Many of our interns and employees start their own farms, here and throughout the U.S., including a wonderful community farm program for at-risk youth in New Orleans."
We take it as a privilege to get a guided tour from Vince through his salad greens, gourmet garlic and other root crops, brassicas, leafy greens, tomatoes, peppers, melons, squash and small fruits. The new barn built in 2011 provides drying space and storage for gourmet garlic seed and winter crops, and features a solar system that offsets power used by the on-site farm store and other operations.
Old School organics
Another notable grower in the region is Sam Pennington, patriarch of Pennington Farms, also in the Applegate Valley. Headquartered in a renovated barn, his 90-acre farm and bakery is a true family operation, producing a delicious variety of jams and jellies sweetened with organic agave and what they like to call "old school style" baked goods, including a thousand handmade turnovers a week.
Like many other organic growers in the region, Sam eschews official organic certifications and says simply that he is doing what is right to produce fresh, healthy food. "Considering the scope of our sustainable practices, we would probably qualify as a biodynamic farm," he insists. "But we don't need someone else to tell us we're already doing right." One example: He recycles all cardboard from boxes used to ship his jars by turning it into hardy mulch that retains moisture and conserves irrigation water. "The worms love it," he says simply, and they enrich his soil.
We always seek out restaurants that grow their own food. So we are delighted to find Summer Jo's, a perennial local's favorite on the edge of Grants Pass with an award-winning wine list that is also a certified organic farm and artisan bakery. We're talking Pacific Northwest pizza (smoked salmon and capers on a white cream sauce) to duck confit with cherry compote and seasonal veggies. Owner Nancy Groth uses sustainable farming techniques to maintain soil fertility, control pests and prevent disease in growing most of what's on her menu, including grains. What she doesn't grow, she sources from local organic farmers. Summer Jo's meats and poultry are equally selective: grass-fed, hormone-antibiotic-free. GMO-tainted oils are not found in her kitchen.
Romping on The Rogue
No visit to Grants Pass is complete without a Rogue River experience, especially on a hot day. Sure, the greenest option would be kayak or canoe, but we want to see more of this epic waterway than our paddling can give us in a few hours. So we go river boating courtesy of Hellgate Jetboat Excursions. This fun and well-run operation hosts some 85 thousand visitors each year aboard custom-built, propeller-less boats pushed by a hydro-jet that glides inches above the water's surface. The company works with the U.S. Bureau of Land Management to ensure they don't disturb river habitats. During our 3-hour, 36-mile round trip, trained pilots offer an entertaining account of local wildlife and history, while also providing a few exciting, and wet, moments.
Just north of Grants Pass off Hwy 5 we discover the charming Flery Manor B&B, a seven-acre labor of love by John and Marla Vidrinskas. The couple rescued the property from bankruptcy in 1995, then planted scores of trees and lush vegetation to attract native wildlife and more than 50 bird species. They also installed lovely gardens, ponds, pathways, a gazebo, and even an art studio for traveling artists. The result is a true Walden experience. All of the Flery's five guest rooms are elegantly appointed, providing natural bath products and energy-efficient lighting and heating, as well as creatively recycled furniture, fabrics, fixtures and  more.
Marla's three-course, organic breakfasts are legendary—several of her signature dishes have made it into national food magazines—and showcase produce hand-picked from her garden. Our own breakfast is superb. Besides being a gourmet cook, Marla is also an accomplished painter, and her work is on display throughout the home. John applies his skills as a former Hollywood set designer in rebuilding and restoring Flery's furniture, faithful to the renew-reuse-recycle ethos of the property.
At this writing, the Flery Manor is offering a special "Green Getaway" that gives guests the opportunity to "own" a bit of this restored paradise—by planting a tree with their names on a plaque next to it.
Even the Holiday Inn
Almost everywhere we look in the Grants Pass area we see more encouraging evidence of a spreading green consciousness. Even the local Holiday Inn Express has signed on to a program called Green Engage. "Our journey to become more ecologically friendly and operate a green and sustainable hotel is just beginning," General Manager Doug Bradley tells us. "But we're excited about the future of green business in Oregon, and look forward to setting an example for what hotels can do to help preserve our environment for future generations."
Cruising our Southern Oregon trail from the Pacific Coast to Grants Pass has been an amazing adventure. Best of all, our sleuth for green has only just begun. Next up: Grants Pass to Ashland.—Linda & Rolly Wahl, Contributing Editors