|
Leela Palace & Green Leaf
|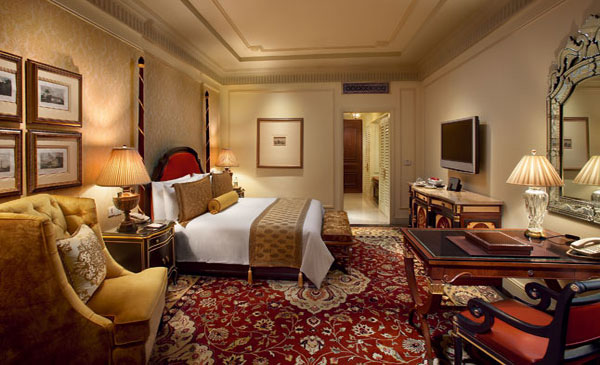 India is continual contradiction. She is constant surprise. Hotels back in America have only recently begun to integrate energy conservation into their design and construction, yet here in New Delhi I find two new hotels that are not only very green but have been designed with the prestigious LEED (Leadership in Energy and Environmental Design) certification standards. Even more intriguingly, they did so taking two distinctly different paths.
I have arrived in India's capitol city in the lowest tourist season, no doubt due to the thermostat throbbing past 45 degrees Celsius. For those of you firmly entrenched in Fahrenheit, this translates to hellishly hot. Despite my self-concept as a rugged, bring-it-on traveler, I want nothing more than to retreat to an air-conditioned hotel room to await the slight reprieve of evening.
I know, I know. It takes a lot of energy to cool hotel rooms. Indeed, according to EarthCheck, air conditioning can suck up to half of a hotel's overall energy use. And that's why, during this Delhi stay, I recommend wallowing in the cool green comfort of the Leela Palace or Green Leaf hotels. Both were built from the ground up, opened in Spring 2011 and cool their air in highly energy-efficient fashion. But there the similarities end. One is an over-the-top luxury oasis, the other a modern, few-frills mecca for cost-conscious travelers.
The Leela fantasy
I'm sitting in Qube at the brand-new Leela Palace Kempinski New Delhi, transfixed by dozens of shimmering mushroom-cap chandeliers oscillating between rich blue, green, fuchsia and red. Eventually I turn my attention (much to my neck's relief) to their brilliant reflections in the 30-foot-high, windowed walls separating this ground-floor restaurant from the immaculately landscaped garden courtyard just beyond. The restaurant is packed. But I wonder how anyone can focus on food in the face of this grand display. It's a Disney Fantasia. My mushroom quesadillas sit untouched.
Leela Palace—260 guest rooms, a luxury spa and 4 restaurants in the heart of the upscale Diplomatic Enclave neighborhood—is Delhi's first from-the-ground-up luxury hotel in nearly 30 years. Seamlessly merging old-world elegance with modern aesthetics, it's easy to lose yourself in the opulence of India's most expensive hotel ever built (at an estimated US$370 million).
What drew me to the Leela, however, wasn't my incredibly spacious room's iPod-controlled flat screen LCD television (which was cool), amazing breakfast buffet (do yourself a favor and sample the South Indian dosas), or the possibility of floating through the city in a sparkling white Rolls-Royce Phantom (included with rental of the 420-square-meter—4,500+ square-foot—Maharajah penthouse suite … which, alas, will have to wait for a future review).
What LEED luxury means
Rather, I was intrigued by what Leela's environmental design (at the time of writing, The Leela is undergoing review for LEED Gold certification) actually means in a hotel in which luxury can't be sacrificed for the greener good. Simply put, I discover that it means the real eco-show happens behind the velvet curtain, out of guest view.
Journeying to the catacombs deep beneath the luxury suites, I find a computerized nexus that monitors and controls every heating and air-conditioning unit above. Programmed in advance, or overridden with the touch of a button, the AC is shut down or lowered in unused rooms—the goal is to reduce energy consumption by 3–5% over each previous year. The hotel is powered by a gas-fired generator, and this generator's heated water and steam by-products are used in the heating/air-conditioning system. The in-house water treatment plant recycles 100 percent of used "gray" water for landscaping irrigation and non-potable needs, such as toilet flushing. The toilets themselves have a flow setting, adjustable to maximize flushing efficiency while reducing water consumption.
And on and on….
In 1999, C.P. Krishnan Nair, chairman of the Leela chain, was named to the United Nations Environment Programme (UNEP) Global 500 Roll of Honor, which recognizes environmental achievements of leaders and organizations internationally. Leela has six other luxury hotels in India, and in the coming months, the new Leela Palace in the city of Chennai, is slated to receive LEED Platinum certification, the highest possible ranking.
Green Leaf's low-tech green
Meanwhile, in the southern suburb of Jasola—home to high-rise office buildings and the massive Apollo hospital, Green Leaf Hotel has become Delhi's first—and India's only second—hotel to qualify for LEED Platinum. Unlike luxury eco-competitors, Green Leaf has taken a decidedly low-tech approach to earth-friendliness: it has focused on building materials.
Ironically, it's absolutely worth visiting Delhi in the middle of the worst heat wave if only to appreciate Green Leaf's eco-design. Entering its lobby, adorned spartanly with potted plants, the first thing I notice is how much cooler it is than outside—I guess by as much as 15 degrees Celsius (27 degrees Fahrenheit). Not so surprising … until you realize this common space is completely without air conditioning! Owner Vikram Bahri proudly points to an exposed section of wall, where fly-ash bricks—made from converted waste debris from coal-burning factories—provide the excellent insulation.
Bahri, a Harvard MBA who owns a commercial construction company specializing in green building and is president of Green Buildings India, created the 18-room Green Leaf as an eco-materials and design concept showcase—which becomes apparent to me get during a walk-through of the hotel.
Zero waste: scaffolding into furnishings
Bahri proudly claims nearly zero waste in the hotel's construction. Wooden scaffolding has been transformed into wooden slats under the mattresses, and even into desks, tables and chairs. Often- discarded steel rods and broken piping now coasts smoothly underhand as railings and banisters in the stairwells and surrounding the large, four-story interior central courtyard. Topsoil carefully preserved during excavation has been returned for landscaping and potted plants. Recycled bricks supplement the fly-ash bricks to give added strength to the structure. Solar heaters on the roof provide hot water for the hotel; a glass wall in the basement conference center supplies (occasionally excessive) heat and light.
Building materials were domestically sourced, with the exception of double-paned glass windows to help keep rooms cool (from Germany), CFC-free air-conditioning units which use low-powered direct current to dramatically reduce power consumption ( from Japan) and bamboo flooring panels (from China).
The hotel's guest rooms, which include some two-room suites, are stylish in a minimalist way and a good value, with conveniences such as Wi-Fi and in-room dining. There are also conference facilities. The Green Leaf is just minutes away from the newly built and smooth-running metro rail system.
LEEDing the way
Before my trip to New Delhi, I asked a friend who owns eco-hotels in southern India for green recommendations in India's sprawling capitol. He simply smirked.
Still, this city has come a long way from its days on the world's most polluted lists, even if green accommodations in Delhi are scarce. Now the Leela Palace and Green Leaf hotels offer business and leisure travelers alike truly remarkable yet vastly different choices in LEED-certified comfort.—Michael Straus, Contributing Editor