|
A New Era Dawns
|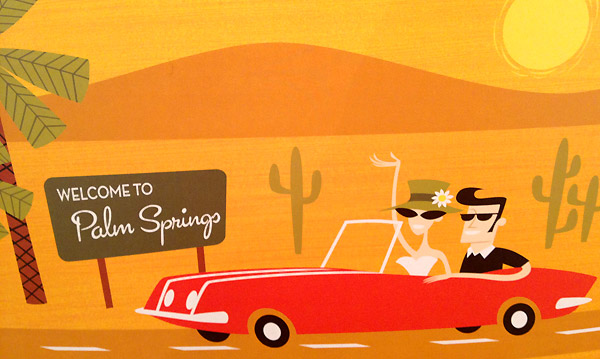 Palm Springs, someone says. What comes to mind? All that Rat Pack and Old Hollywood history, of course … Jetsons-like interior design … an outdoor-indoor lifestyle that takes advantage of 330+ days of sunshine …  and architecture spanning Spanish colonial to Fifties minimalist modern. There's the Walk of Stars downtown where sidewalks embedded with "golden palm stars" honor dead Presidents, show biz personalities, literary types, civic pioneers and others who called this desert resort home (or at least "second home")—from Bob Hope and Liberace to Bobby Thomas ("golf cart purveyor and golfing mentor"). In what other town can you stroll cactus-and-citrus-tree-lined residential streets to gawk at the house where Zsa Zsa Gabor (age 95) still lives and another where Elvis and Priscilla Presley honeymooned or Kirk Douglas and Dinah Shore shared a backyard tennis court? In short, the whole point of Palm Springs, or so it has long seemed to us, is being trapped in time. And playing golf. Even its vibrant gay scene—Palm Springs is billed as "America's Great Gay Oasis," and today there are more than 25 LGBT resorts plus many gay bars and restaurants—has not succeeded in dragging (no pun intended) the place into contemporary trends. As evidence, we submit the typical Palms Springs menu. Food & Wine lamented recently: stuck in the era of "steak and béarnaise cuisine." Okay, so what about those of us who insist on green living and organic, locavore eating? Can we green travelers feel at home in retro Palm Springs?
The answer: yes, enthusiastically. To our surprise and delight, the old P.S. gal looks simply marvelous in green.
It's all happened in the past five years, and this makeover has been led by two young tastemakers. One, Tara Lazar, is a native; her partner, Marco Rossetti, is from Milan. In 2008 they opened Cheeky's, a wildly popular breakfast and affordable lunch spot in the hip Uptown Design District where the menu changes weekly to take advantage of what's in season from local, sustainable farmers, the eggs and coffee are organic, the fish is wild caught. The New York Times loved the "devils on horseback" sandwich (dates, prosciutto, Gorgonzola and watercress on a baguette), but we couldn't resist the all-day breakfast menu, especially the parsnip pancakes with homemade applesauce and sour cream and the just-spicy-enough huevos rancheros with Peruano beans, and guacamole. Oh, and an order of sweet potato fries just because.
The success of Cheeky's with both locals and visitors led this dynamic duo to follow with two more stellar restaurants. In 2011 came casual but stylish Birba, with wood-fired pizzas and northern-Italian comfort food and the same conscientious food sourcing, including produce from within a 100-mile radius, as Cheeky's, which is right next door. Pizzas can be made with gluten-free crust and include several "white pizzas" that do not have tomato sauce. Except on weekends, Birba opens as the desert sun begins to wane, and most seating is al fresco. The inviting bar dabbles in mixology (the lemongrass rickey, a signature drink, is crafted from gin, fresh lemongrass, lime and Amarena cherries) and serves all Italian wines. Then, most recently, about a block away, there's Jiao, an upmarket take on Asian street food—clay pots, Vietnamese pho, yummy salads like tea-smoked pork belly with grapefruit, fennel, cilantro and black vinegar. Again, sustainable sourcing, an invitingly designed space with both indoor and outdoor seating, very reasonable prices.
You have to understand what a sea change in the desert this was. "We had Sambo's and Louise's Pantry, and they were institutions," to quote Tara on her food memories. "And then we were stuck with places that made food from the back of a Sysco [the massive restaurant food service] truck."
Not content with leading the way in green cuisine, they have also turned their inventive, sustainability-seeking eyes to lodging. The result: The Alcazar Palm Springs, a classic arrangement of adobe and terra-cotta-tile-roof rooms that wrap around a lovely pool edged by cushy loungers and big umbrellas. The location is perfect: just behind Cheeky's and Birba, in easy walking distance to the Design District and the center of downtown. Originally built in the 1950s on the grounds of a former clinic owned by Dr. Pepper (yes, the originator of the soft drink), the property was in disrepair when they bought it, but by applying the same formula as with their restaurants—design-driven but minimalist—they transformed the place into one of the few eco-friendly lodgings in Palm Springs. And one of the most affordable, with rates starting at just $79 in the off season.
Our room, a poolside king, had a fluffy white duvet, a mini-fridge, ceiling fan, free WiFi and local calls on the in-room phone and green bath amenities. Walls, ceilings and floors were painted a Santorini white—like sleeping inside a sugar cube, as one reviewer put it. In other words, quite sweet indeed. Other rooms have views to the mountains, fireplaces, private terrace and in-room Jacuzzi tub. The pool just beyond our door is chlorine-free saltwater. Townie cruiser bikes are yours to borrow. There's a cozy business center, and in the mornings Intelligensia coffee, from growers committed to healthy environmental and sustainable social practices, awaits for guests by the check-in desk, along with fresh croissants from Cheeky's.
"Everything we do, we try to keep it low impact," notes Robert Hunt, the general manager who came to the Alcazar from running a W Resort in Puerto Rico. He cites the green cleaning products used by housekeepers and water-conservation measures. He's hoping to add LED landscape lighting in the near future.
The compound is gated, the landscaping is vivid yet soothing against the backdrop of the pool and white adobe, and you feel as if you're in a private enclave for the fortunate few. And so you are: the Alcazar is a sustainable, stress-free alternative to the big hotel chains and resorts.
Yes, we did venture forth during our stay. A few eco-friendly highlights:
Another sustainable restaurant—Workshop Kitchen + Bar is an industrial-chic space in the Design District where chef/owner Michael Beckman (who studied at the Paul Bocuse Institute in Lyon, France, and apprenticed at a 3-star Michelin restaurant in Burgundy) has created a seasonally based "Americana" approach showcasing local farms that is playful and creative. Try the braised oxtail shepherd's pie and the shaved brussel sprout salad with pomegranate, hazelnuts, pecorino and aged balsamic and oil.
Desert explorations—Even if it's hot, a leisurely hike through Tahquitz Canyon's 1.8-mile loop is like a stroll through the Garden of Eden. Indian Canyons is managed by the Agua Caliente tribe and has 100 miles of hiking and equestrian trails through the desert. And near the airport, you can't miss (and can tour) the vast wind farm in the San Gorgonio Mountain Pass—more than 4,000 separate windmills that provide enough electricity to power Palm Springs and the entire Coachella Valley.
Get high—the Palm Springs Aerial Tramway takes you 8,516 feet above sea level to the top of Mount San Jacinto State Park, an alpine forest with 54 miles of scenic trails. The Swiss-made tram cars slowly rotate like a revolving restaurant, giving everyone 360-degree views. In winter you can visit snow and ice here, or stay snugly in the visitor center and have a drink at the bar. We meet a group of red-faced hikers, all in their 70s, who'd just finished a four-hour trek and say the summit on this day is 7-degrees F., plus wind chill.
Date sex, anyone? — It's in Indio, about 24 miles from Palm Springs, but Shields Date Garden is one of those roadside attractions that you don't find every day. Since 1924, when Floyd and Bess Shields came to the California desert and started this date farm, its been a sustainable operation—no chemicals or pesticides have ever been used and most of the varieties grown here are available as certified organic. And where else can you see a film on the sex life of the date? Order a thick, rich date shake and take a seat for the next screening.
Here's our bottom line: There's new energy in the desert, and a hopeful share of it is beautifully green. And unlike the Palm Springs of yesteryear, we're not talking golf course fairways or the limey pastels of its retirees' Bermuda shorts.