|
Certified Green History
|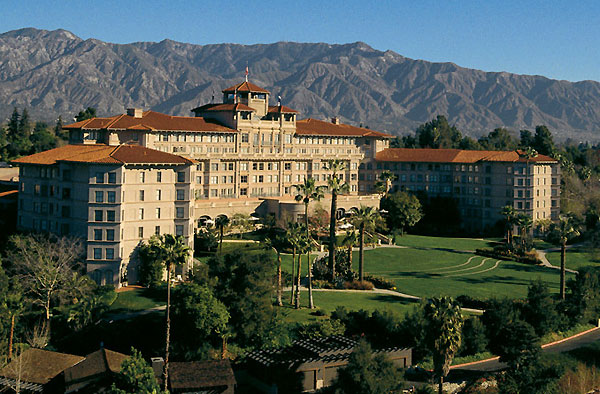 As I walk past the Rolls Royces, late model Porches and BMWs on my way into the Langham Huntington, I can't help but wonder whether this impressive luxury hotel can really get its green on. I'm only a few minutes north of downtown L.A., but in gestalt time it's a million years. This is Pasadena, best known for the Rose Bowl and Tournament of Roses Parade, and for quiet, leafy neighborhoods kinda like they had been airlifted in from Charmville, Ohio. The Huntington, originally built in 1907 in Spanish Mission Revival style, is nestled among equally impressive private mansions, replete with faux marble columns and perfectly manicured lawns.
For the past five years, the hotel has been run by Hong Kong-based hotelier Langham Hotels. Along with sister properties that include the Langham London (the first of Europe's grand hotels) and Hong Kong's Eaton Smart Hotel, the Langham Huntington boasts eco certification by EarthCheck, one of the world's leading environmental auditors of hotels, resorts and the hospitality sector. In 2011 the Langham Huntington was awarded EarthCheck Silver Certification.
My room is predictably wonderful. Tasteful period furnishings framed by heavy draperies. Italian marble bath and Frette linens. This among all Los Angeles hotels reflects grand European luxury, which has been a Langham hallmark since 1865. (I didn't make up that last sentence—it's from the hotel's website—but who am I to disagree?) The Langham was ranked No.1 among 58 Los Angeles-area luxury hotels by U.S. News & World Report, edging out such classics as the Beverly Hills Hotel and Hotel Bel-Air.
Nonetheless, five-star hotels often hide their sustainability behind a curtain of extravagance, and so to learn about some of the many—and often significant—challenges involved in taking a historic landmark such as the Huntington over to the green side, I turn to Steve Landon, their director of engineering and green team champion. Landon—a self-described "grease monkey" who enjoys the challenges of "thinking outside the box"—leads me on tour of the 23-acre property. With his decade of hotel management experience and insights, I appreciate this rare "back-of-the-house" peak at Pasadena's crown jewel at the base of the picturesque San Gabriel Mountains.
One thing I learn is that this Huntington isn't as old as it looks. The original hotel closed in 1985 after the main building ceased to meet new earthquake codes, then sat vacant until all but two historic ballrooms were demolished in 1988. A new building, almost exactly replicating the original, opened in March, 1991. When Langham took over, the company invested $2+ million in property upgrades that included eco-friendly features such as tank-less water heaters, double pane windows for guestrooms and low VOC paint.
Our first stop is the massive HVAC (heating, ventilation, air conditioning) tower. It's highly energy efficient. It's also remarkably, unexpectedly quiet. Steve explains that, in order to address neighbors' noise complaints, he switched out the standard turbine fan with a submarine-like propeller, which had been expressly designed for quiet operation. The vendor now uses this Langham installation as a showcase.
Steve points to the spot where, last winter, a massive winter storm leveled six 100-year-old cypress trees. After clearing away the mess, he transformed part of the plot into an organic garden, which is tended by David Féau, executive chef of the Huntington's fine dining restaurant, The Royce. Chef Féau grows herbs and fresh vegetables here, and also tea leaves and escargot (snails). Additionally, all the hotel's restaurants use a high percentage of locally sourced food and products.
Continuing our stroll, we pass by the Olympic-sized swimming pool, which Steve tells me may soon convert from chlorine to saline purification, a better choice for guests and the environment.
The city of Pasadena, which has received kudos for progressive environmental policies, provides local business with incentives for eco-upgrades. Recently, the Huntington took advantage of this to install waterless urinals in all public bathrooms. Hard to believe, but true: each unit conserves about 40,000 gallons of water annually, compared to their conventional counterparts.
These water savings means cost savings, of course, and they illustrate the win-win game—better for the environment, better for the bottom line—of many green investments. The hotel's recycling program, he notes, went from the cost to revenue column almost immediately. (The Huntington also partners with a local non-profit to recycle hotel amenities like partially used soaps and shampoos from guestrooms.) Steve hopes to get the go-ahead soon for $100,000 for energy-efficient LED lights, which he predicts will pay for themselves in energy savings in less than a year.
Even in the decade since the Huntington was rebuilt, more efficient building materials and design concepts make it a lot easier to be green. Older hotels like the Huntington must rely on the ingenuity of their employees as well as important government incentives to ratchet up the eco-level. Often, these earth-friendly upgrades are totally invisible to the guest. As Steve tells me at the end of our tour, "We don't make our guests do the green work, but it's all happening behind the scenes."—Michael Straus, Contributing Editor