|
Greening in Conch-a-ritaville
|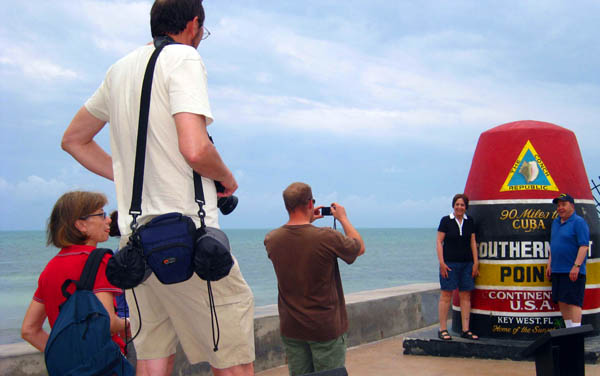 It had been a while. Been years, in fact, since last we ventured as far south as you can go in these United States. To the the capital of the Conch Republic, Key West. And it is with no small measure of relief and pleasure that we can report the following as fact: 1) the gypsy roosters and chickens still strut and peck their way along the streets of old town (despite various civic attempts at their eradication), and the Hemingway Home still has its 6-toed cats (one even has 7); 2) more than a few Conch cottages continue to stoutly resist gentrification; and 3) you have arrived at the very greenest spot—in thought, word and deed—in the entire 126-mile string of the Florida Keys.
Like a lot of folks, we love Key West. A place to be reckoned with ever since the Spaniards dubbed it Cayo Hueso (Bone Key). In the late 1800s this was the richest city per capita in the entire nation—95% of Florida's revenues derived from its cigar, sponge and wrecking (marine salvage) empires. We love its character and its characters, we love that it loves to be, well, a little different from your average tourist trap. Hemingway, Tennessee Williams, Jimmy Buffett, John James Audubon, Boog Powell, Shel Silverstein, on and on—a little burg that can attract that diverse roll call of emigré-lovers has got to be something special.
But you probably know all that. What you may be wondering, though, as we were, is how the green traveler fares in one of the country's (if not the world's) most famous party towns. Not all signs are encouraging. Near Mallory Square and the historic harbor, all is now Disney-ed up, its former sun-battered, salt-bleached charm lost. Up to 4 cruise ships arrive a day here now, to disgorge their passengers onto lower Duval Street. "They're like magpies, aren't they," a 20-year local tells us. "Go after anything that glitters." Today's Duval has way too many chain stores. Even the legendary Strand Theater is made over as a Walgreen's. Nevertheless, good green parrotheads that we are, we go in search of that lost shaker of salt. And once we get off Duval, there it is … a liberal and heartening sprinkling of green.
Our lodging favs
If you do a Web search for green lodging in Key West, you'll come up with a surprising number of hits—hotels, inns and B&Bs that claim green practices. We checked them all out, but narrowed our recommendations to a handful. Why? The most common reason for X-ing out most of these places is simply this: they didn't meet our standard of green and great. Best for the planet … and you. Our top picks range from the island's largest hotels to a 6-room hideaway.
No question about it. Tops on our list is a walled botanical paradise on quiet Angela Street, close to Duval but a world apart. The aptly named Gardens Hotel.  Not only because in 2007 it became the first in Florida to be designated a certified green lodging by the state and is a member of the Green Hotels Association. This place is drop-dead gorgeous—the "prettiest hotel in Key West," rhapsodizes the New York Times. It's included in the best-selling 1,000 Places to See Before You Die. As long as we live, we'll remember lazing away that warm afternoon by the lovely pool, chilled drinks at hand, butterflies and birds flitting from flowering bush to flowering tree, geckos darting across the flagstones, soft breezes sighing against our skin. This lushly landscaped acre+ property was once the largest private estate in Key West. A wide range of rooms (and a stand-alone cottage just made for honeymooners or other celebrants) feature outdoor verandahs, marble baths, fine Bahamian plantation furnishings. Breakfast is included, a relaxed affair served al fresco; it's made to order with as much local sourcing as possible. All this acclaim and luxury come at a price, but low season rates do start as low as US$175.
The Gardens was recently upgraded to a Two Palm designation by the state's Department of Environmental Protection, which runs the green hotel certification program, in recognition of stepped-up energy conservation and pollution prevention. These include solar-heated water for the laundry, a water filtration system that eliminates use of plastic bottles of water, in-room recycling baskets, composting, nontoxic room cleaning except in exceptional cases, rain catchment used for grounds irrigation. In the main 1870s building, renovations are being done using green materials.
The best little secret in Key West
Our next pick calls itself the best kept secret of bed-and-breakfasts in Key West. We even love its mysterious address: Zero Whalton Lane. The lane is a short and shady dead-end that's easily missed off Duval, near the intersection of Truman Avenue (U.S. 1). This is Andrews Inn, a cluster of small, island-style buildings around a deck and a small "A"-shaped pool. Palms, hibiscus and star jasmine create the sense of a secret garden. Years ago, we just happened to wander into Andrews, and immediately we were entranced. By its intimate scale, its laid-back and very welcoming vibe. The inn's specialness was only underscored when we learned that it sits directly behind the Hemingway estate. From our bathroom window we could peek into Papa's backyard, where descendants of his own famous 6-toed cats frolicked. It was perfect, in a totally unpretentious way. On this return visit we are delighted to find that little has changed at Andrews except for the better. Current owners Tom and Nancy Coward have a One Palm designation from the state's green certification program, and their 6-room inn has been featured on the Travel Channel as one of the top 5 green lodgings in the Keys. We especially like Pamplona, an upper-floor room with a view to the Hemingway pool and gardens. A generous continental breakfast using local sourcing is part of your room rate, which can begin below US$200 even in high season. If you'd prefer having a kitchen, Tom and Nancy also offer 4 equally eco-conscious options in nearby guesthouses.
More choices. Victorian-style La Mer Hotel has only 11 elegant rooms. (We're fond of #410, a corner room mini-suite.) Its next door sister, Dewey House, has 8. Together they are Key West's only AAA 4-Diamond boutique hotels, as part of the 272-room Southernmost Hotel Collection—4 properties not far, yes, from the marker that proclaims itself the southernmost point in the continental United States. This group has been recognized by the state as the largest independently owned green lodge in the Florida Keys. All 4 properties have received the One Palm designation. Our other pick here is the newest wing of the Southernmost on the Beach, completed only last year (dozens of plants and trees were saved and replanted in the process). Ask for an oceanfront king room (638 is an end unit with a wraparound balcony that feels like a berth in a luxury yacht). The pool here is solar heated, the laundry is eco-friendly. When you check in, the front desk explains the keycard-activated cooling in your room.  To adjust your thermostat, you insert your key in the slot near your door. When you leave the room, the thermostat goes to "efficiency mode."
Finally, we favor another historic property, even though it's the Florida's Key's largest resort. Casa Marina first opened on the island's biggest private beach in 1920, designed for railroad tycoon Henry Flagler by the architects who did the New York Public Library and other classics of the era. President Warren G. Harding arrived, and over the years so did Gregory Peck, Ethel Merman, Rita Hayworth and many more. After a recent $43 million overhaul, this splendid 350-room showplace joined the Waldorf-Astoria Collection. Here, too, there's keycard-activated guest room cooling. Its rain catchment and on-site water treatment supplies room showers as well as grounds irrigation. Room cleaning is eco-friendly. Overall, the resort holds a One Palm designation from the state but is working toward that next palm.
Great green eats
Hungry? Head for The Cafe. It's on Southard, just off Duval. This in-the-know spot showcases local and organic, with inventive daily specials, pizzas, stir frys, salads and more; it's all vegetarian and vegan plus very good seafood. The house-made veggie burger is awesome. The bar offers a great selection of micro-brews and organic wines. On Fleming Street, Help Yourself Foods is the real deal, serving made-from-scratch natural and organic cuisine using no refined sugar, refined grains or unhealthy fats. Best of all, the stuff is delicious. We love the Key West coconut curry—a spicy slew of veggies, mung bean sprouts and cashews, with a choice of brown rice or quinoa. No Moo ice cream (made with cashews, coconut and agave) comes in 4 yummy flavors. At breakfast, go for the house-made granola with coconut milk (or organic cow's milk). On Mondays, from 5 pm–7 pm, Help Yourself hosts an organic farmers' market in its parking lot. Charlie Wilson, owner of Help Yourself, writes on green isssues in the Key West Weekly.
Other tasty green options: Sugar Apple Natural Foods on Simonton Street is not only the natural grocery in Key West, it's also a vegan café. Green Republic on Fleming Street offers "fast, healthy food with flavor" that's easy on the environment. Cooking yourself? The new Waterfront Market (owned by Earth Origins Supermarkets) on William Street has the best selection of organic produce and other organic products, as well as a great fresh seafood.
Green goin's & doin's
It's easy getting around green in Key West. Old Town is highly walkable. Many accommodations have bicycles for guest use, and there are lots of rental shops. Or rent an electric car (like a fancy golf cart). Hail a ped-a-cab. Key West Transit buses are powered by biofuel. Getting there can be green, too. Pickup is free at Miami's airport for a 3+ day rental at South Florida's only all-green rental car agency, Hybrid Auto Rental Center.
Here's a website that details many more Key West green options.
Finally, when you're ready for a break from sampling rum runners at Sloppy Joe's or prowling the local artists' collectives, here's an off-the-beaten-path tip that's green as can be. In the Dr. Nancy Foster Florida Keys Environmental Complex, an unprepossessing structure in a rather barren area of the former military zone now known as the Truman Annex, you'll find the Florida Keys Eco-Discovery Center. Admission is free. The Center's interactive exhibits, high-definition movie theater and sweet little gift shop all celebrate the Key's magnificent ecology, land and sea, and why we need to preserve it. There's even a mock-up of Aquarius, the only undersea laboratory dedicated to marine science, operated since 1993 in the Key West National Marine Sanctuary by NOAA, the National Oceanographic & Atmospheric Administration.