|
Lake Chapala Paraíso
|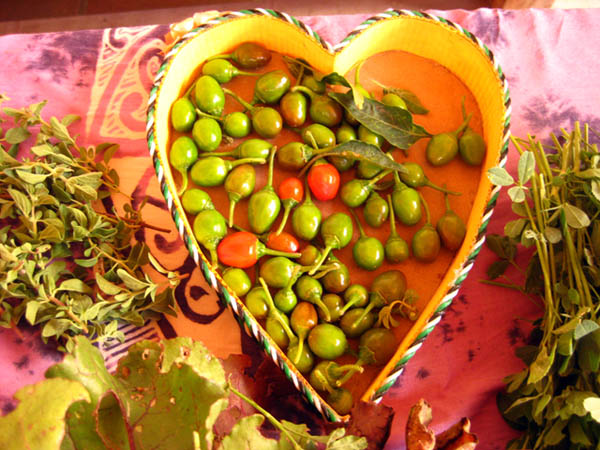 The air in early June is brittle, hot and dusty, but the shrill serenade of the rainbirds heralds the change that's to come. Rainbirds are not birds at all, actually, but the local name for thousands of huge cicada-like insects that faithfully appear each year at this time, brilliant green to satisfy the Mexican love of color. We see the Mexicans and resident foreigners in our village nod knowingly and smile, for they know the rainy season is very nearly upon Lake Chapala. Here, in the high country of the state of Jalisco, Mexico, the clear and vivid blue skies will soon give way to towering piles of thunderheads and violent slashes of lightning. Torrents of water will descend. The surrounding mountains will turn from dull to greens to rival the rainbirds'. Everywhere new life will spring from the earth. All things will be washed clean of their layers of the fine grit of the dry season, and will be renewed.
We are in Ajijic (ah-hee-HEEK), a cobblestoned village at lakeside that's attracted travelers and transplants—artists and artisans since the 1940s, and now mainly retirees—for as long as anyone can remember. So many condos and homes for more gringos are under construction here and in nearby villages along Lake Chapala's north shore that you are tempted to think that the collapse of the North American housing market somehow missed this place of sunshine and year-round flowering gardens.
Ajijic, with its influx of Americans and Canadians and a cosmopolitan nudge from nearby Guadalajara, has a burgeoning green scene among its residents. Green travelers, though, will have to hunt to find it. We found no great green lodgings for visitors, at least when it comes to hotels, inns or B&Bs. Our recomendation: a short-term rental house or condo with a kitchen. Many expats rent their homes for short-term stays (or even offer them for free in return for petsitting) when they return north to see family or go off adventuring themselves. By checking Craigs's List (under Guadalajara) or vacation rental sites, you may find one that is solar-powered or has other green features (lots of solar-heated hot water and pools here). Some restaurants do use a few organic items, but you won't find a big effort to promote local, organic or sustainable.
Yummy village green
A bright exception is the tiny El Buen Karma, at 11B Calle Hildago just off the central plaza. Two sisters recently relocated from Guadalajara, Rocio and Margarita del Castillo, are trying hard to do it right, and we wish them success. "This is just like what we cook at home for our families," Rocio tell us. "Healthy food that tastes good." Lucky families, we think, as we take our first spoons-full of a delicious blended vegetable soup accompanied by a moist, house-made rye roll.  It only got better with a panini tuna melt that included thin slices of apple, sun-dried tomato and arugula, plus a tasty side salad starring the del Castillo's own marinated veggies. Other lunch options, all modestly priced, include eggplant or "coronation" chicken paninis, vegetarian or chicken burritos and quesadillas. Ask about the weekly specials, too. Come early to have an organic coffee and to try their whole-wheat flour pancakes with bananas and nuts, served with a house-made syrup; Mexican-style eggs; or a breakfast burrito. They also create yummy smoothies (with organic soy milk, if you wish) and the Indian-style sour-sweet yogurt drinks known as lassis. While you're there, check out the selection of beautifully made dresses and other clothing in the back of the restaurant—they're the designs of another remarkable del Castillo sister, who works with Mayan embroiderers in Chiapas. El Buen Karma is open Wednesday–Sunday from 10:30 a.m.–4:30 p.m., and the del Castillos hope to begin staying open later on the weekends for early dinners.
Where to find organic
The green picture becomes considerably brighter when it comes to food shopping and organic sourcing. Every Wednesday from 10 am–1 pm, there's a sweet little organic tianguis (market) that's a great place to buy directly from farmers and artisanal producers, some of whom drive long distances to attend. We're talking beautiful organic fruit and veggies, baked goods, yogurt and soy products, handmade soaps, eggs (including quail eggs), even organic chicken. We buy gorgeous squash blossoms and tender young zucchini from Rancho La Salud, from San Juan Cosala just east of Ajijic; the farmer, in perfect English, tells us he's certified organic by a German certifier. Other farmers here are not certified but follow organic practices. This is also the place to network with green-minded locals. A group called Green Transition in Action has sign-up sheets for the next organic farm tour or "potluck with a purpose"—with a couple dozen other folks, we learn how to build a simple solar oven using cardboard, aluminum foil and duct tape. The market is the La Huerta event space on the Carretera, just west of Ajijic.
Another Tuesday organic market vendor of special note is based about half-a-dozen miles west of Ajijic, at the Carretera and the turnoff north to Jaltepec: the ACÁ Centro Ecologico. It both grows and teaches organics. Founded by a couple of Canadian women, ACÁ is a non-profit organic farm and eco training center that "develops and teaches sustainable organic farming methods to foster self-sufficiency, address pollution issues and improve nutrition in Mexican communities." There's a country store there that sells the fruits of these labors—depending on availability, 5 types of lettuces, arugula, kale, mustard greens, chard, baby beets, sweet potatoes, heirloom tomatoes, 28 different herbs and more. The center also works with local families to sustainably raise turkeys, chickens and rabbits, and these are often available too; so are other artisanal products like pickled okra and honey. Area restaurants are among ACÁ's best customers, as are a few retail locations, where the center's wonderful produce is sold under the Great Greens label.
One such location is the Lake Chapala Society in the heart of Ajijic. Another is Superlake, a supermarket owned by a local Mexican family,on the Carretera in San Antonio Tlayacapan, the next village east of Ajijic. Here's also the best place to stock up on a wide variety of  Mexican and imported organic goods. Organic coffee, for example. Our fav: organic medium roast from Chiapas by Café Grano, which also has a cozy coffee shop and retail outlet in Ajijic. In the frozen food area, look for Kalina's Foods for Health, prepared entrées and baked goodies like wheat-free brownies made from organic and natural ingredients. A few doors down from Superlake, Vinos y Licores Paz is a sizeable wine and spirits store that stocks organic tequilas. (Jalisco is the home of tequila, and the pueblo magico of Tequila itself is northwest of Guadalajara.) We especially favor the tequila reposado from 4 Copas, the world's only certified organic tequila made entirely from blue agave.
Peyote inspirations
Ajijic also boasts its tiendas naturista—health food stores. Best is Prasad, on the Carretera across from Plaza Bugambilias. Kalina's products are sold here, too, as are a decent selection of imported organics, supplements, health and beauty products. Another option is Vital, at #18 Marcos Castellanos, owned by a doctor of natural medicine. At both locations, look for the excellent gluten-free bread baked by a local German lady. At #234 Carretera, heading from Ajijic toward Jocotepec, Alles Heil Kraftig is a homeopathic pharmacy that also offers good natural products, including traditional Chinese and other alternative medicines.
When it comes time to shop for a Jalisco memory, look for the intricate creations of the Huichol (WEE-chol) people. This is among the most culturally rich and intact of Mexico's indigenous communities. Yes, they use peyote, the hallucinogenic cactus fruit, in their spiritual ceremonies. How else do you explain these mind-expandingly colorful crafts and paintings made with tiny beads or yarn pressed onto wooden molds coated with beeswax or sap? They're exquisite. Buy them directly from the Huichols who display their wares at the edge of the central plaza on most days, or from several galleries and shops in the village.
For more treasures, check out Guadalajara, Mexico's 2nd largest city, with an impressive centro histórico and the Tlaquepaque district's charming pedestrian walkways and plazas with 300 stores offering arts and crafts. The furnishings and ceramics, in particular, are amazing—and so are the female mariachis (this is the original home of the mariachi, but it's still nearly always los hombres who carry on the tradition) in the nearby restaurants. Easy day trips can take you to even higher elevations (Ajijic's at just over 5 thousand feet above sea level) in the movie-set pueblos of Mizamitla and Tapalpa, set amid pine forests.