|
Ubud's Organic Pioneer
|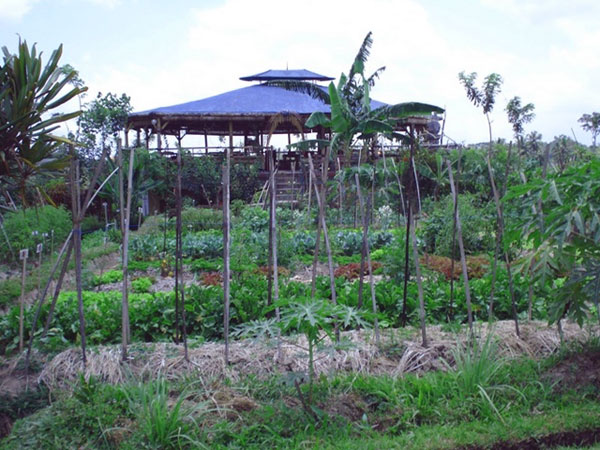 The sun is setting over Ubud's rice paddies, but I'm simply incapable of walking past a hand-painted farm sign proclaiming "organic" without stopping to investigate. Bali's energy, as I've come to appreciate, opens doors to magical experiences. This mystical May evening proves to be no exception—in this case, with the twin gems of Sari Organic Farm and Warung Bodag Maliah (Overflowing Basket Café).
Following a narrow ledge in the middle of bright green rice shoots, I approach a large, traditional thatched-roof home surrounded with coconut and palm trees. I'm careful to keep my $1.75 flip-flops from skidding out from under me. (This happened to me in Burma last year, sending dozens of Ma hill tribe women, toiling in the fields dressed in their stunningly colorful traditional garb and heavy silver jewelry, into hysterical fits of laughter. I'm determined to delay an encore performance).
Organic farmers fascinate me, especially in Southeast Asia. Here, farmers embracing the agricultural traditions of their ancestors—and bucking dependence on petroleum fertilizers and dangerous poisons—often face a difficult, lonely path. In the span of just a few decades, millennia of traditional farming practices have been junked.
Nila Wati's journey begins
Nila Wati sits on the kitchen floor of her open-sided home, cleaning shallots with her mother, slowly filling large wicker baskets in front of them. Is this your farm? Yes, please take a look around, she replies slowly, kindly. Before I can wander outside, monsoon rains spew from the sky as if a faucet has just been cranked open. I stay, sit, and soon Nila's story, like the shallots in her hands, begin to reveal their treasure, layer by layer.
Born and raised in the poor Balinese village of Kintamani, Nila—at age 14—moved to the island of Java, to the massive Indonesian metropolis of Jakarta. On her own.
"I wasn't scared—I wanted to learn, to see the world," she says, the mischievous glint in her eyes unmistakable. "I only learned to read Bahasa Indonesia [the official language] at 18, but by that time I already spoke Bahasa, Java and Sumatra." We talk in English.
Sari Organik is born
For many years she worked at the market at the Jakarta bus station. She lived there, too. "It was," she recalls, "not an easy life." Slowly, however, she took her next steps, exploring many Indonesian islands and beyond—unusual even in today's Bali, where many villagers still divide the world into Bali (home) and Indonesia (the rest of the world).
After a stint as a boarding school cook in Singapore, Nila returned to Bali in 2000 to support her mother and start a new life. Interested in growing food but lacking experience, she noticed that rice farmers were now using a white powder—she thought it was salt, but it was petroleum-based fertilizer. Big yields, less work, she'd hear them boast, but she knew it was too good to be true. On a small piece of land that had been gifted to her and Oded, an Israeli expat friend and business partner who would later become her husband, she started a small organic garden. It was just for their own use. She planted green beans, lettuce, spinach, herbs—all grew beautifully.
Encouraged by another friend who wanted to buy organic produce, Nila and Oded expanded, naming their burgeoning farm: Sari (Essence) Organik. That's the sign that led me here today.
Growing the market
But growing the food was easier than growing the market. It wasn't even a price issue, Nila notes, just that nobody knew or cared about organics. More often than not, she would give away produce to friends and neighbors, or even compost it.
But she persisted. She saw what the chemicals were doing to the paddies. They once teemed with fresh-water eels and snails, which she cooked into delicious curries as a child. The snails have disappeared altogether. Eels are only now slowly slinking back into her organic fields but "nothing like 40 years ago." Birds that had formerly flocked to the rice fields for a feeding frenzy have also begun to return. "But they don't go near the non-organic fields."
In 2005, Nila traveled to California and Oregon, and was deeply inspired by the organic markets. "I especially loved the Oregon markets—all these farmers coming with goat cheese, fresh tomatoes, amazing fruit—all growing without chemicals, everything homemade." Nila's exuberance reminds me of my own mother, who also loved shopping at farm stands in my native northern California. "I hope that Bali could be like this, coming back to our old traditions."
Marrying organics with cooking
Back in Ubud, Nila wanted to set up a local organic market, but knew that she didn't have the status in the community for anyone to listen. So, Oded (male, a businessman, a Westerner) agreed to float the idea, and soon a small group of organic-inclined farmers established the very popular Ubud organic farmers market, now held every Saturday and Wednesday.
But still the farm was not making it. So Nina and Oded decided it was time to marry Nila's love of organics with cooking.
A restaurant? In the middle of the rice paddies? You're crazy! their neighbors chided.
From Home Depot to Overflowing Basket
They began building it with their own hands. When funds ran low, they moved to New York City for a few months, where they earned enough cash, mostly by remodeling bathrooms in Broadway theaters, to finish construction.
Nila was the only woman on the construction site, carrying heavy materials balanced on her head, just like the women I see down the path now as Nila and I continue to talk in the gathering dusk.
"Other customers at Home Depot were so shocked to see me—a short Asian woman—carrying lots of heavy sheet rock on my head." She laughs. "They all took photos."
A star is born
In 2006, they opened the Overflowing Basket Café.
From the heart of Ubud, it's a good 20-minute (occasionally precarious) walk or scooter ride along those same narrow ridges I had flip-flopped. And yet, from anonymity to stardom, the Overflowing Basket Café is often overflowing with diners eager to try the sumptuous delights they've read about in magazines and websites spanning the globe.
"Nila is one of Bali's true success stories," glows Joel Singer, a New York artist expat whom I meet at the café. He eats here often—that is, when seats are available. "You often can't even get a table without a reservation—common back in Manhattan, but certainly not here in Ubud!"
Set in a traditional Joglo-style Javanese open-sided building, the restaurant sports a tall, peaked roof, split-level seating with chair and floor seating, with lots of bamboo furniture and fixtures. I luck out with the best seat in the house—a table on the lower level closest to the growing rice tendrils, where I'm even closer to the chirping crickets, the glow of fireflies, a xylophonic staccato of gamelan tunes from far across the paddies.
An eclectic, organic menu
It's an eclectic menu, inspired by Nila's own culinary explorations.
During her 2004 trip to Israel, she discovered hummus and baba ghanoush, pita and schoog (Middle Eastern hot sauce), and worked for many months to perfect them. (Important culinary note: I am a huge fan of schoog, and Nila's version is better than any I've had in Israel or elsewhere.)
Tonight, I overhear folks raving about the warm tofu feta salad, but I opt for longtong, a fabulous curry with large chunks of homemade tofu and tempe, carrots, bok choy, squash, potato, tomato, green beans and cauliflower, served with brown rice cooked in banana leaf. On another night, I would definitely go for one of the pizzas (including a non-dairy option on fresh focaccia) or soups—raw vegetable, Thai, borscht, cashew chowder and gazpacho—all served with homemade whole-grain bread.
I'm also tempted by the odd-sounding cocktails, including the Green Frog (wine, orange, celery, apple, beer and lemon) and the Honeymoon (wine, egg yolk, ginger, lemon and honey.) Nila handcrafts many specialty wines each year, from dragon fruit, rambutan, coconut, ginger; she also makes three types of rice wine. Instead, I go for a healthy Green Cleanser—a frothy blend of broccoli, apple, celery, lemon and honey with an apple slice on top. All cold beverages are served with reusable bamboo straws, which are washed, sterilized and stored in the freezer until their next drink.
Increased organic demand
The success of Overflowing Basket has led to increased local demand for organic produce, both by individuals and other restaurants. Sari Organik has grown almost tenfold. Nila also sources organic product from other nearby farmers.
Farmers now flock to Nila, wanting help in transitioning their land back to organic and assistance marketing their produce. "I want farmers who grow organic with heart, not just for money, money, money," she tells me. (She stopped buying from one farmer whom she caught using chemical pesticides when he thought nobody was looking.) When she decides to work with a farmer, she also guarantees that she'll purchase everything he grows.
It's a remarkable evolution, considering that just a few short years ago she was throwing away unwanted organic produce from her own tiny plot of land.
Teaching life skills
Recently, Nila opened her second Ubud-area restaurant, Uma Alas (Jungle Rice) in the nearby village of Mas. It specializes in traditional Indonesian (including Bali, Java, Sumatra, Jakarta and Batawi dishes from her childhood) using wild-harvested vegetables, edible leaves and bamboo shoots as well as local organic produce.
Uma Alas is attached to the Bali Global Ashram, a community center which houses, feeds and teaches 160 high-school-aged orphans and children from poor families. Nila provides on-the-job training for the students, and jobs for graduates. She currently employs 15 of them.
"I'm teaching them to have many skills—bartending, waitressing, cooking. I want them to be multifunctional. It's especially important here, where people are being very narrowly trained. I want them to be connected with each other, to be able to support each other."
Next for Nila
When I ask what projects are on her radar, Nila barely hesitates.
"I'm not thinking about business for business's sake, but about generating revenue to continue funding community projects. For example, there's so much fast food here—but it's not good food; it's our junk food. I want to teach young people how to cook, how to make fresh healthy food, so that they don't need to use packaged foods. It's very important."
When in Ubud, do brave the trek to Sari Organic Farm and Overflowing Basket Café. See for yourself what a delicious, healthy difference one green hero like Nila Wati can make. For you, certainly, but also for everyone who calls Bali home.—Michael Straus, Contributing Editor