|
Canada's Western Wine Country
|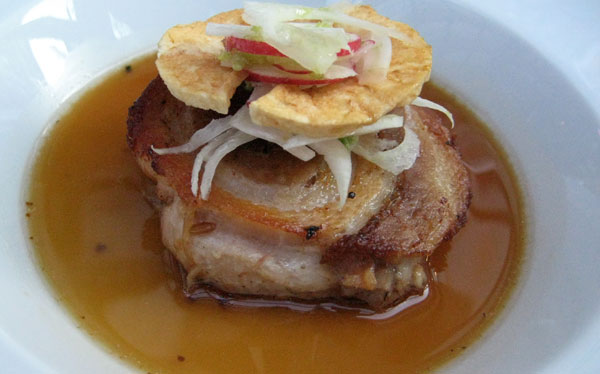 Western Canada's British Columbia is home to native people called the Okanagan, who lived well for eons in the beautiful valley that today bears their name by foraging berries and roots, hunting the abundant wild game that drank from the clear waters of spectacular Lake Okanagan, and fishing the nearby salmon runs. And so it is entirely within that tradition that, on a warm night of summer, we come to the lakeside city of Kelowna ("grizzly bear" in the Okanagan language) to spend an evening with a modern-day hunter-gatherer. His name is Mark Filatow, owner, chef and sommelier at the green Waterfront Restaurant & Wine Bar.
This is Canadian wine country, one of the nation's two primary wine regions (the other is Niagara Falls). More than 20 wineries—several of them organic or biodynamic—edge Kelowna, with well over 100 in the Okanagan Valley region. Fruit cultivation here dates to the late 1800s, when apple orchards dotted natural terraces above the lake formed during the post-glacier period. Lately, apples have given way to grapes, which thrive in the dry, sunny climate. For that matter, so do the many retirees who have settled here, and the vacationers that choose to spend leisure time in this scenic area about midway between Vancouver and Calgary.
One of Mark's exceptional skills is the hunting and gathering of local wines, then pairing them with local foods. In 2001 he was accepted into Canada's prestigious Sommelier Guild, making him one of few chefs in the country with this level of expertise.
A 'live off the land' approach
It only takes a few minutes in Mark's company to appreciate his zest for all things food and wine. He takes pride in basic cooking skills learned from his grandparents and honed by formal culinary school training and kitchen experience at several leading restaurants in Vancouver and Kelowna. Seven years ago Mark opened his intimate restaurant in Kelowna's downtown Cultural District.
His approach is classic "live off the land": fresh, local, organic ingredients. Naturally raised meats and poultry. Seasonal menus that perfectly suit the grapes grown in the valley.
Area farms that supply the restaurant are proudly gathered on the website. One of these is "chef's own backyard."
Award-winning—and green
Mark and his high-energy culinary team share an amazing array of accolades—including being named best Okanagan restaurant three times by Vancouver Magazine and an "Award of Excellence" from Wine Spectator Magazine for five years running. On the green front, Waterfront has been acknowledged by the Kelowna Chamber of Commerce as a leader in integrating green practices into their sustainable business model.
"We compost, raise our own fresh vegetables and ranch eggs, recycle corks, and support a growing network of small organic farmers and ranchers throughout the Okanagan," says Mark. "We also promote local wineries through our extensive wine list. Local wine releases account for about 60–70% of our wine list. We are constantly on the search for great wines that represent the best of our area—wines with limited production you won't find anywhere else."
Pairing unique wines with Mark's food is what makes Waterfront so special. On the busy Saturday night we visit, the place is packed with an enthusiastic, young and lively crowd of mostly locals. We ask Mark to select a tasting menu to showcase local wines with regular dinner menu choices—nothing any diner that evening couldn't order themselves.
Heavenly Okanagan pairings
Here what he selects for us …
We start with a sparkling wine aperitif: Blue Mountain Odyssey, Brut 2008, from a Okanogan Valley biodynamic winery. It has crisp, apple-tart flavor with a nice finish.
Appetizer #1: local organic greens layered with house-smoked salmon dressed in a honey-dill vinaigrette. Fresh summer flavor with an oh-so-delicate salmon sweetness.
Wine #2: Nichol Vineyards 2010 Pinot Gris, Okanogan Valley, made from organic fruit. Very crisp, dry finish, fruit flavors, pink tint. Delicious!
Appetizer #2: crispy side pork (i.e., pork belly) braised in apple cider with very fresh, shaved spring vegetables. The pork is absolutely melt-in-your-mouth. Incredible texture and taste.
Wine #3: Quails Gate 2008 Chardonnay, Okanogan Valley, also made from organic fruit. Minimal oak in the style of French Burgundy. A perfect friend to the crispy pork.
The meal continues
Main course: local organic chicken with morel mushrooms, summer squash and roasted potatoes. The chicken is so tender it can be sliced with a spoon. A sublime reduction sauce requires extra bread to clean our plates.
Wine #4: Tantalus 2008 Pinot Noir, Okanogan Valley. Sustainably grown. What an ideal pinot noir should be: beautiful ruby in color with a fruity aroma without being sweet.
Dessert: Grand Marnier strawberry tart. House-made and scrumptious.
Wine #5: Quail's Gate 'Botrytis Affected' Optima 2006, Okanogan Valley. A perfect accompaniment to the tart, it offers heavenly sweetness without overdoing it. Nice acid bite followed by lingering finish. This is a wine made from moldy grapes. Yes, moldy grapes. Here's how Quail's Gate describes this unique wine: "Handpicked in late October, the Totally Botrytis Affected (TBA) Optima grapes were foot stomped in the picking bins to ensure juice contact with the skins before pressing and fermentation. These soft-skinned grapes were thoroughly dehydrated from the 'Botrytis Cinerea' mold. This harmless fungus pierces the grape skins causing the fruit to shrink and raisin, leaving the remaining juice naturally sweet." This form of botrytis is sometimes called "noble rot," and it's truly something special.
An Okanagan memory, green and great
During the two-plus hours we spend dining, we notice that very few tables turn and there is no sense of having to rush. We can only imagine how relaxing this place must be early in the week, when the staff really has time to spoil you and share their food and wine expertise. (Ask for tips on the best green wineries to visit.)
All in all, it's a truly memorable dinner—and a fantastic introduction to the wines of the Okanagan. We've discovered that Kelowna's Waterfront Restaurant and Wine Bar is not only green, it's great. And now we're ready for a postprandial waterfront walk.—Roger Archey, Contributing Editor