|
Eco Masai Mara
|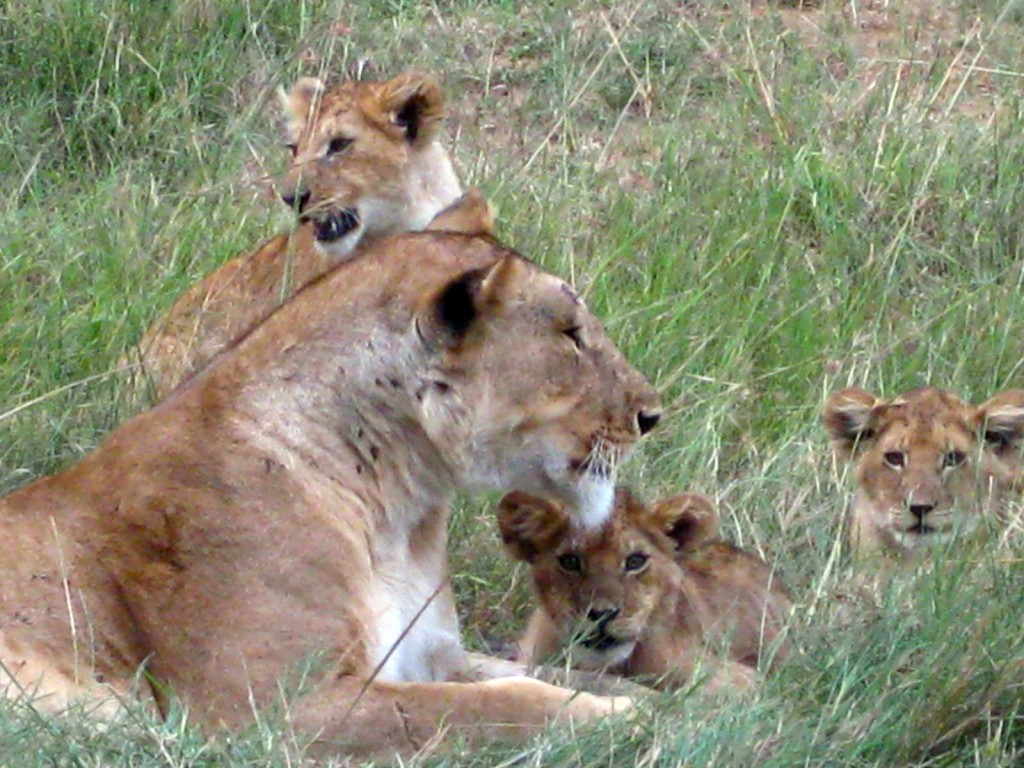 How can any green traveler resist this call of nature? Flying into the private airstrip for Bateleur Camp at Kichwa Tembo (head of the elephant) you reenact the famous final scene from Out of Africa by skimming over the very same glorious Kenyan plains, the zebra and giraffe and gazelle still grazing contentedly amid the thorn trees.
Bateleur Camp (named for a majestic African eagle) is no backpacker affair. It is a pair of intimate camps of just 9 tented suites each that evoke the style and romance of safaris of the 1920s and 1930s. Here they spoil you with the unique pleasures of a lavish welcome cocktail "picnic" set under the shade of an acacia in the bush, a welcome surprise on your dusty journey by jeep from the airstrip to the camp; and a sundowner cookout on a dramatic promontory that is "attacked" by Masai warriors shouting full-throated war cries. The tented suites come with personal butlers, are antique-filled, have polished wooden floors and real bathrooms; from their decks you overlook the genuine Animal Planet, the game-filled sweep of the Masai Mara. The open-air dining and sitting areas are even more elegant in a classic gin-and-tonic, Hemingway-on-safari way. And it only adds to the thrill that you must be escorted back to your tent after an evening's satisfying repast by a sharp shooter. He shoulders a rifle that will stop a leopard. (Never fear: your safari fee includes medical evacuation insurance!)
How did we end up here, you might ask? There are so many safari operators to choose from in Kenya. We wanted one that was both green and great … an experience both unforgettable and sustainable. Our choice: &Beyond
Responsible Luxury

Until recently they called themselves Conservation Corporation Africa—CC Africa for short—and they're widely recognized as among the world's pioneering eco-tourism companies. The name change is a nod to their widening scope beyond Africa, into India. They call what they do "responsible luxury" and their code of ethics encompasses care of the land, care of the wildlife, care of the people. We urge you to check out the comprehensive sustainability section on their website.
At Bateleur, you'll find green practices like the use of earth-friendly cleaning products, energy-efficient lighting, organic gardens (the chefs make excellent use of them, and pride themselves on catering to food restrictions or preferences), decor and furnishings of natural materials. Many of the staff, including our game-drive ranger, are from the Masai tribe, a traditionally nomadic people now settled nearby. You'll have the chance to talk one-on-one with young Masai warriors about their culture and worldview. But the most impressive contribution that &Beyond makes to its local communities is through its &Beyond Foundation. We meet a young man named Julius Mokita who grew up in a nearby Masai village. Now he is &Beyond's community development officer in Kenya. He's clearly proud of that, and eager to tell the story of how the foundation, funded by guest contributions, has constructed classrooms in village schools. We visit one of these, the simplest of cinder-block structures, with a scarcity of desks and shared books, and meet the headmaster. But Julius has big plans: he wants to help drill a well and do other things to qualify it to become a government-recognized boarding school—so that students will no longer have to walk up to 7 hours a day to and from class.
Another priority is teaching his fellow Masai, who traditionally subsist almost exclusively on the milk and blood of their cattle, how to cope with changing times. He shows us new beehives (Bateleur buys the honey) and a poultry pen, and tells us that so far 28 Masai women have been taught to grow organic vegetables—despite challenges like marauding elephants in the gardens. And then there's the new latrine, paid for by the foundation and built by the ladies of tribe, that will take the place of the forest in their routine of daily hygiene. Before we leave the village, these same ladies spread out a small bazaar of their artisan crafts and jewelry on blankets for our consideration.
And how about what we came to Bateleur to see? We quickly realize that the tables are turned completely. We are on the inside, in the safety of the camp and our safari jeeps, and the wild animals, so, so many of them, are on the outside, observing us. It's a memory that will never, never dim.
Green Traveler Guides is an award-winning green travel website and e-book publisher.