|
Mexico's Greenest City?
|
We are frankly amazed. It quickly dawns on us that, arguably, San Miguel de Allende could be the greenest city in all Mexico. On a per capita basis, this achingly lovely, authentically historic place (population 130 thousand) eclipses even the cosmopolitan capitol of Mexico City, whose huge heartbeat nourishes many eco-undertakings.
Much of this, we soon learn, is being driven by San Miguel's resident expats, an international artist and retiree colony of 8 thousand or so, mostly Americans. But, significantly, not all of it. We meet dynamic Mexicans who fully understand the benefits, the necessity and the potential market of going green. They just prefer to make their stand in this perfectly preserved time capsule that built its tree-shaded Jardín (the central plaza), its astoundingly ornate churches and its narrow, cobbled streets lined with baroque mansions from the vast wealth extracted in silver in the surrounding mountains of Guanajuato state. They clearly like the life in this city that, since its founding in 1542, has been the native or adopted home to any number of larger-than-life personalities, including heroes of the War of Independence from Spain in 1810 and the Mexican Revolution a hundred years later. They say there isn't a day that goes by here without an exuberant fiesta of some sort spilling out onto its streets, from saints' days to music festivals to Dia de los Muertos (Day of the Dead). UNESCO declared San Miguel a World Heritage Site in 2008, officially ranking it among the world's most culturally and historically important cities.
Tourism fuels the local economy now. Yes, old-timers, especially those who discovered the place eons ago, lament the changes. But even today San Miguel remains the leading revolutionary light of the central Mexican highlands. Now, however, it's the green revolution. Let us guide you there.
Where to stay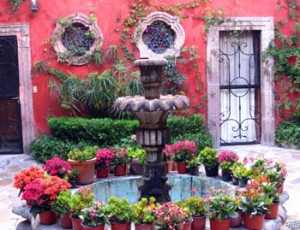 Dianne Kushner remembers when she first laid eyes on San Miguel, in the 1970s. More horses than cars, no TV, no local phone service—a far cry from back in northern California. It was love at first sight. She still can't imagine living anywhere else. Good news for us, because we happily become her guests at her Casa Luna Quebrada, an eco-sensitive B&B in a rambling, vine-covered hacienda secreted within a quiet neighborhood that's ideally suited for walking excursions in the historic centro. It's a charming, unpretentious place where you'll feel more like house guests than paying customers. (Even the paying is hospitable: drinks and snacks are always available at the honor bar where you simply sign and settle up when you leave.)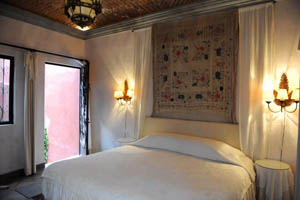 Vista de las Palmas, our snug romantic suite, is draped in creamy fabric with a balcony for sunset views over the city's rooftops. The hearty and delicious desayunos (breakfasts) feature traditional dishes you won't find elsewhere. It's served family-style in a dining area off the courtyard with its arches and fountains and hung with matador suits (how tiny these guys were!) and frilly 19th-century dresses in ornate frames. Dianne's wonderful organic marmalade is served at breakfast and is also for sale. She also makes a mean jarabe, a simple syrup of cactus tuna (flower) that transforms an ordinary margarita to the color of intensely purple bougainvilla and the taste of the desert in bloom.
We like that the B&B uses captured rainwater for irrigation, reusable containers for guest amenities, recycles and composts. As much as possible, the kitchen relies on the organic harvest from another of Dianne's properties, Rancho Casa Luna. "My getaway house that got away," she calls it during a tour of its 20 acres in the nearby countryside. You can only stay at this marvelous place if you take culinary classes in one of its three exquisite Mexican kitchens, or book it for a wedding or other event; it has extensive organic gardens, chickens, sheep, even a cow. Although of recent construction, the rancho house uses the old green technique for maintaining a pleasant interior temperature of two layers of adobe with air space between. Organic waste on the rancho is composted and used for vermiculture. "The organic movement is happening here," Dianne declares. "And we're happy to be a part of it."
Sleep in nature
Another green option is a 20-minute walk from the bustling Jardín—gently uphill, then steeply, steeply into a neighborhood of fancy homes that overlook the spires and tiled roofs of San Miguel. La Puertecita is an award-winning, luxury boutique hotel completely enveloped by nature. Its floral gardens, ponds and waterfalls slope down toward a lovely stream and are edged by a 300-year-old aqueduct. "Tranquility on the edge of excitement" is how this place delineates a getaway appeal that is thoroughly Mexican in its style and sophistication.
It is peaceful up here, so near and yet so far from the bus fumes and clamor of the vibrant city. La Puertecita's 23 guestrooms are arrayed down and across the hillside, connected by winding walkways and stone steps. Boveda (vaulted red brick) ceilings and sculpted stone-framed windows pay homage to the classic colonial era. Some rooms have private patios, fireplaces and garden baths, and all are decorated with local crafts.
This a grand example of how it's not just expats who are San Miguel's revolucionarios of green. Soft-spoken Donato Ortega, the hotel's general manager, arrived here from Mexico City after its most recent disastrous earthquake, in the mid-1990s. He speaks with quiet pride of his close interaction and training of staff to ensure that they are enthusiastic about green measures such as using only non-toxic cleaning solutions in the guestrooms and kitchen. A recycling program has just been launched, and Don Donato will soon begin composting, plus replacing plastic laundry bags with cloth and purchasing organic produce from a supplier in the city. Already, the hotel's "gray" water is charcoal-filtered and re-used for irrigation, energy-saving lighting has replaced incandescent bulbs and solar power heats one the hotel's two pools (the other is unheated). His goal is to become certified in a new green program being started by the local hotel association.
Where to eat
At the heart of the growing "eat local, organic and sustainable" movement here is chef Donnie Masterton. With his beguiling sidekick, José Manuel García, in the front of the house and Masterton in the kitchen, you will not be disappointed at the pace-setting The Restaurant. It's in a former colonial mansion on Calle Solano, with a dining courtyard that has Moorish arches and a retractable roof. Masterton calls what he does "global comfort food." It's definitely worldly. Think chilled cauliflower soup with shrimp, coriander and lemongrass … roasted pork loin with a jalapeño honey glaze … a blue cheese bread pudding with a red wine reduction. He takes the seasonal approach that he honed in well-regarded San Francisco kitchens—showcasing his network of small organic farmers, ranchers and other artisan producers—and creates beautiful food that does far more than delight his patrons. It also feeds the fire of courage in the campo. Courage to risk returning to the older, purer methods of growing produce and raising livestock and making amazing cheese.
We meet one of the area's new breed of cheesemakers at an afternoon tasting in Masterton's small retail area—great for grab-and-go treats—called The Grocery. Her name is Cristina Gerez, and her 27 goats are her means of producing organic cheese that equal any we know in Mexico (available aged or soft, with or without herbs from her garden). She is also an accomplished chocolatier. Look for both under the El Capricho label.
Another chef/owner leading the latest revolution in the highlands began cooking school at the age of 14, in his native Italy. He's Davide Giribaldi and his stylish restaurant is Mivida, on Calle Hernandez Macias. With his Mexican wife, Greta, he's employing local and organic sourcing to create Italian dishes "with a Mexican accent." Actually, they seem divinely and classically Italian on the evening we visit—house-made pastas like tagliatella paired with shrimp, broccoli, pine nuts and fresh tomatoes or lasagna a la Bolognese, risotto, duck with a Parmigiano mousse. There's always a seasonal vegetarian composition, too. Ours includes a veggie flan, "ice cream" of potato and Gorgonzola cheese with a dash of 12-year-old balsamic and a timbale with tapenade. Yum.
Where to shop
A pair of  more casual but also very good places to eat are attached to San Miguel's best natural foods stores. The first is Natura, at 7 Calle Nueva, where Jorge Catalan oversees the store and the al fresco café, which are open Monday–Saturday from 8:30 a.m.–6 p.m. Both offer great choices in healthy food and beverages. Browse for packaged organic snacks and natural health or beauty products you may need, too.
North of the centro, a few short blocks east from the beginning of Calzada de la Aurora, you'll find Vía Orgánica. The address is 2 Margarito Ledesma; its hours are 8 a.m.–7 p.m. Monday–Saturday, 9 a.m.–4 p.m. on Sunday. The café here is presided over by ebullient Lenny Avil, a self-taught Mexican chef who uses the same fresh ingredients from local organic farms and ranches that adorn the shelves and baskets of the tienda (store). We're especially partial to his quail orgánico, perfectly pan-seared and ladled with a Provençal white wine sauce. Incidentally, you might also like to try Tapas, another organic restaurant next door.
We learn Vía Orgánica's story from its inspirational director, Rosana Alvarez. Established as a non-profit, its mission is to encourage and teach organic farming. To that end it also hosts farm tours and is starting an organic garden project at a local orphanage. It has an ongoing agriculture school that has attracted 500+ small farmers from all over Mexico and helps to grow their revenue not only through sales at the store and café, but also through an organic wholesale business. It already employs 25 people (paying three times the going wage) and buys organic food from more than 100 regional small farmers. That's not all. Last March, Vía Orgánica co-sponsored an eco-fair in San Miguel that drew thousands of people interested in organic food and farming, solar and wind energy and green building and permaculture practices. It has also joined in an initiative called Ciudades Semilla (Seed Cities), a network across Mexico and Latin America working to change the way cities deal with major environmental issues such as transportation, energy use, consumption, garbage, water and food.
The organic tianguis
We next run into Rosana on a sunny Saturday, in sprawling Parque Juárez, at the southern edge of the centro. There, every week from 9 a.m.–2 p.m.,Vía Orgánica sets up its table alongside other vendors selling local organic produce and products. Rosana introduces us to her husband Roger, who chats on about a green building project. We sample a merlot and a port made from organic grapes by a small winemaker from the nearby town of Celaya. We nibble on a dried root said to have astounding antiseptic properties … oh! it numbs the tongue (but only briefly). We gaze in astonishment at the farmers, the animated shoppers, the panoply around us. Musicians are strumming and the smells of steamy caldo (stew), tomales, tacos and other snacks for sale are irresistible. This is San Miguel's own Tianguis Orgánico (organic market), and it ranks among the best in Mexico. Like all organic markets, it's a great place to gather tips and take the pulse of the green and organic community.
The pulse in San Miguel is steady… and strong. Once again, its revolutionaries are leading the way.