|
An Introduction
|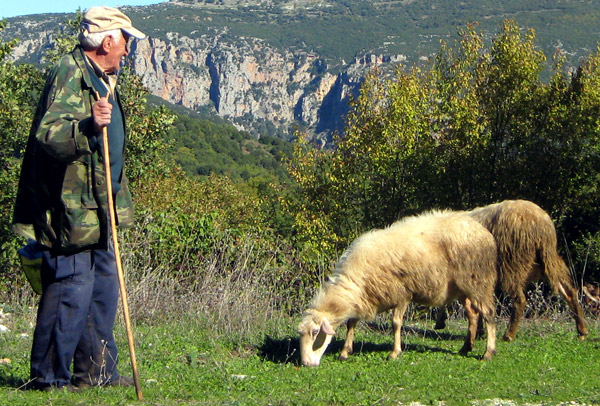 I meet Aphrodite on the west side of Mt.Olympus. She comes to greet me when I arrive at her family's hotel. She is as beautiful as her name implies—dark eyes, graceful body, long black hair, pale skin—and she is very smart. It is she who helps me understand the realities of traveling green in Greece today, the green and not-so-green elements at work. We've all heard about Greece's wrenching economic crisis, but behind the headlines are the human stories. Greeks, even confirmed urbanites, maintain ties to their roots—to the tiny islands where their relatives and ancestors have always staked their lives and fortunes on the casting of fishing nets, or to the remote mountain villages where herders still drive their goats along cobblestoned lanes. Due to the current crisis many families are now left with no choice but to move from the big cities back to their villages of origin. Some are returning to a simpler lifestyle enthusiastically, and some painfully. 
Part of the traditional Greek character is a peasant shrewdness for making the best of what you've got, and a reverence for the land , their ancestors and the simple life. Some who returned to living on the land again are developing an alternative green lifestyle; they are also bringing with them their city education, and an entrepreneurial spirit to village life to build jobs and opportunities in their towns. But there are also many elderly parents and retirees out in the fields tilling the soil and milking the few family sheep by hand to get by. Some young families are struggling to find work in small towns. "Green" is not a word these folks contemplate as they scramble to keep food on the table and a roof over their heads.
But yet….
Creating something new (or old)
Others with enough resources and know-how are creating something new on idyllic islands and deep in the Greek countryside—organic farms, green hotels, gourmet restaurants and businesses that create badly needed jobs and do not harm the environment. In a way they're returning to the older, purer, pre-EU world, when modern environmental contaminants were unknown. Not that eco-friendly tourism did not exist in the high-flying Greece of a few years ago. Yet as an unintended consequence of economic austerity, it has accelerated. Tourism accounts for 15 percent of the Greek economy, and moving just a small fraction of the tourist trade to the small towns and their green hotels and businesses can have a huge positive effect on the health of those communities. As the economy recovers, others can learn from this example.
All this and more I learn from lovely, smart Aphrodite. And then I venture forth myself to see green in Greece today.
Stayed tuned for more
What I find you can read in a series of accounts to be published here soon, so stayed tuned. They feature families who did go home again, back to their native villages, and were able to build something green which benefits everyone—their families, their neighbors, the struggling economy and you as a green traveler. There is also a story of a long-time farming family busily diversifying beyond their vineyard to launch a shop to market their wine, jams and honey. Another is an story about a new green business started by a Greek celebrity chef to modernize and promote Greek food by making it even more delicious, healthy and locally sourced from artisans and farmers.
Overall, I discover that the major tourist areas do not offer as many green hotels or businesses as the countryside. But the few that exist deserve to be supported. Tourist demand for local, organic products in restaurants and sustainable practices in hotels can have a big impact on local environments and the livelihood of farmers. Happily, the economic crisis has made local food competitive with imported goods, so now more restaurants are buying local and hopefully will continue to do so.
Consciousness in Greece regarding sustainability issues varies greatly from region to region. Some have very well developed recycling programs and public education around sustainability, and others have none. In the face of so many recent challenges, environmental issues have not topped the list of priorities for the Greek government, and unfortunately you can see that in many ways. But the Greeks have a very long view of history. The people I met while reviewing Green hotels and businesses are proud of their heritage, the beauty of their country, and are counting on their own ingenuity to build a better, more sustainable green future. Please come back to read about them, and the many reasons to visit Greece today.—Constance Washburn, Contributing Writer

About Constance Washburn: Constance has more than 35 years' experience designing and directing education and outreach programs for nonprofits.  She is the former director of education at Marin Organic and was for 17 years education director at the Marin Agricultural Land Trust (MALT). She has designed and run popular outreach and volunteer programs, which have included tours, talks, large public events, volunteer and teacher trainings as well as a Farm Field Studies program that brings more than 3,000 students out onto farms each year. She also taught at Dominican University on local and global food systems. Constance currently offer's workshops on the Work That Reconnects and Mindfulness in Nature experiences. Prior to work in the local food movement and land conservation, she traveled a lot in Africa, India, South America, Australia, New Zealand,  Europe and the South Seas.