| We Dive In
|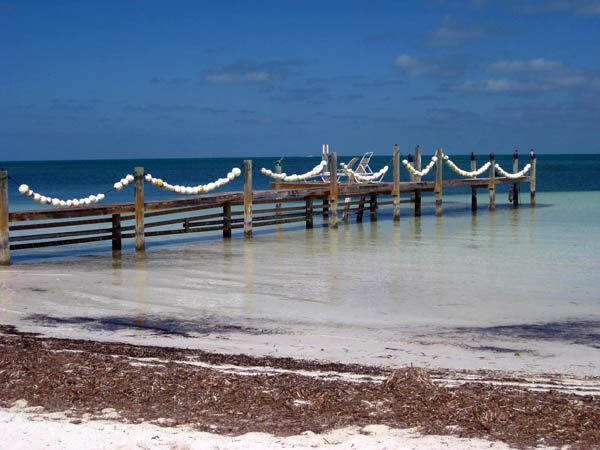 Who doesn't love the Florida Keys? Sure, and that's the problem. This chain of some 1,700 islands is so appealing in so many ways that, if we're not careful, we might just lose the very things that lure us to the most accessible tropical paradise of the Caribbean Basin. Consider:

The Keys are a Top 10 dive destination in the world. Dive shops are as common as conch fritters along the entire Gulf and Atlantic coasts of these islands. More scuba divers take the plunge here than anywhere else on the North American continent. One thing these divers may well not see, by the way, is conch. It's been fished out commercially for decades, and although this tasty sea snail is still served up daily in the Conch Republic, it's shipped in from the Bahamas. What you will see, within a short boat ride of the nearest sugary beach, is an undersea wonderland of giant turtles, manatees, sharks, tropical fish, rays and dolphins, plus shipwrecks and other algae-coated artifacts.
The Keys are still legendary as the salt-water fishing destination in America. Sport fishing charters chug out of Keys' marinas every morning during the "season" (November to April) like rush-hour commuters. These turquoise waters also support a commercial fishing industry that lands nearly 20 million pounds of seafood and marine products annually.
We keep coming
And, yes, we visitors keep arriving in larger numbers. By car, plane, cruise ship—4 million+ of us, from all over the world, each year.  Our numbers dwarfing the 82 thousand full-time residents.
Something had to give. Where once pirates were the scourge, now it's all of us who love the Florida Keys too much that are to be feared. And therein lies a remarkable tale. In a state not necessarily known for going green (barely 2.5% of its electricity comes from renewable sources and there have been repeated efforts to legislate offshore oil drilling within 3 miles of the state's beaches), this is the story of a fragile ecosystem's attempts to be loved and to love itself.
Let's start with what happened in 1990. Yes, 20 years have passed already since the establishment of the Florida Keys National Marine Sanctuary. The 2,800-square-nautical-mile Sanctuary surrounds and protects the entire archipelago of the Keys and includes waters of Florida Bay, the Gulf of Mexico and the Atlantic Ocean. More recently, Islands Magazine named the Sanctuary and the Monroe County Florida Keys Tourist Development Council as one of 100 leaders in responsible tourism—in recognition of ongoing efforts to ensure that these island destinations remain environmentally and culturally sound for future generations.
Dive Blue Star
Within the dive industry, dive masters certainly know that the coral reef that lies adjacent to the 126-mile island string of the Keys, the most extensive living reef in the United States, is their bread-and-butter. And amazingly enough, despite stresses from man and nature (the increasing frequency of hurricanes), marine biodiversity remains healthy. Along Molasses Reef off Key Largo, 278 species of marine life have been recently recorded by volunteers for the Reef Environmental Education Foundation (REEF), a grass-roots organization that works "to conserve marine ecosystems by educating, enlisting and enabling divers and other marine enthusiasts to become active ocean stewards and citizen scientists." Included now in scuba certification classes through PADI, the Professional Association of Diving Instructors, is instruction on eco-sensitivity that includes info about Project Aware, a nonprofit that "conserves underwater environments through education, advocacy and action," including marine debris and underwater clean-ups and reef protection.
So, when booking some great dives off the Keys, what can you do to be part of the solution? Go for a Blue Star-certified dive operation. Blue Star is a new, voluntary recognition program established by the Sanctuary to help reduce the impact of divers and snorkelers on the coral reef system. Dive operators who participate in the program must be involved in conservation-related activities and events. Their staff must meet certain training criteria, promote responsible tourism and teach divers and snorkelers in-water etiquette. That includes taking care in placement of hands and fins to avoid touching or standing on coral. Operators are evaluated yearly, and Blue Star-rated operators display a decal with the Blue Star logo and current calendar year on their charter vessel.
How about fishing? Used to be, reeling in a 45-pound grouper was just another day in paradise here. Humongous fish and plenty of them was what drew the likes of Ernest Hemingway and Zane Grey, and thus was the Keys' angling renown born. To get in on the action, sport fishermen started arriving from everywhere. Guess what? It couldn't last. The average grouper caught in the Keys today weighs in at about 8 pounds.
No catch of the day
Florida now has the largest contiguous "no-take" zone in the continental U.S.—about 140 square miles are off limits to fishing in and around Dry Tortugas National Park, about 70 miles west off Key West. As a result, its waters teem with tropical marine life. Nearby, another 60 square miles are also off limits.
And this year, a 4-month ban on shallow-water grouper fishing went into effect in both state and federal waters, to protect the species during its primary spawning season. The ban (January through April) coincided with peak tourist season and many charter boat captains and commercial fishermen screamed bloody murder, but officials are steadfast in declaring that the ban will run annually until the stock has recovered.
Rodney Barreto, chairman of the Florida Fish and Wildlife Conservation Commission, defended the ban this way: "We want to remain the fishing capital of the world. But it's not going to be any fun to go out and not catch anything."
Green onshore
Other green battles are being waged onshore. If you can believe it, many of the islands of the Keys, for instance, still have septic and cesspool systems, which often leak with age and have been a long-time threat to the marine and land environment. These areas are in the midst of a struggle with the politics and expense of  hooking up to sewer lines and modern wastewater treatment.
But, hey, there's more good stuff to report, too. You can bike your way the entire length of the Overseas Highway (U.S. Route 1), from Key Largo to Key West. Bike paths line much of the way, and more are coming. The Keys are showcased in a new iPhone app from Audubon called  "The Ultimate Guide to Florida Nature." A comprehensive Keys website details many more green travel options. Sweet little health food stores continue to thrive. In the upper and middle Keys, best are Betty's Health Foods in Key Largo and fun, funky Good Food Conspiracy on Pine Key; both have been in business for decades. Good Food Conspiracy also has a fine café, and its sandwiches, smoothies, organic juices and lunch specials make it a great stop on the way north or south.
The true mecca of green on the Keys, though, lies at its southernmost. We're talking Key West, matey…and for that, there's another post a-comin'….