|
Hana And Beyond
|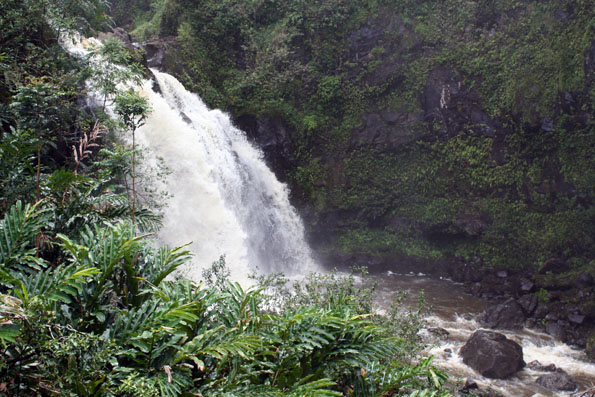 East Maui is dominated by 10,023-foot Haleakala, dormant but magnificent, with its vast crater where astronauts once trained for moon landings. On this far shore of Maui, the paved road stops at Kaupo, abruptly ending the coastal drive that begins on the North Shore and continues along the fabled Road to Hana, then 20-some miles beyond. The Waikamoi Preserve in East Maui is  sanctuary for hundreds of native Hawaiian species, many of them endangered or rare. And there are organic farms and hardy off-the-griders tucked into jungle clearings, as well the rich, famous or defiantly private souls who want the wildest part of the island.
The Bamboo Inn, a cozy Polynesian-style oasis above Hana Bay, is just what a weary green traveler wants after a long day of navigating the Hana Highway. Enter this eco-friendly haven past bamboo fencing into a courtyard with a thatched roof gazebo. Wind rustles through the thatch, but the sound of the waves conquers all. Explore further and find a trio of affordable choices for the night's lodging, each with a superb view across the bay.
Rustic Indonesian and Tahitian touches blend naturally here: coconut wood flooring, woven bamboo siding, and Balinese furnishings. With its outdoor shower and spa tub for 2 on the lanai, the first-floor Honu (turtle) Suite is made for recovering from the day's rigors—or a romantic evening. The second-floor 'Iwa (frigate bird) Suite has that bird's eye view across Waikaloa beach. The Nai'a (dolphin) Suite boasts a first-floor ocean-facing lanai with a spa tub, upstairs bedroom with its own lanai, full kitchen, and dining room. No toxic chemicals are used, inside or out. Guest units have their own recycling waste containers. Breakfast includes the fantastic local fruit of Chuck and Lilly Boerner's Ono Organic Farms, only a few miles east.
A green classic
Budget permitting, an oasis of green luxury also awaits you at the Hana Highway's end. The Hotel Hana-Maui, a true Hawaii classic.  This utterly beautiful and serene property traces its roots to 1946. Just as notably, it has been deeply rooted in local Hana life just as long. As its own Eco Promise puts it: Conservationist practices come naturally to the hotel, whose largely native Hawaiian management and staff live by the time-honored island principle of taking only what you need.
Here the mantra is buy local, buy organic, buy Hawaii. Even if it costs more.  Soaps and lotions in the hotel and its renowned Honua (earth) Spa are Maui-made, organic and natural. The first-rate restaurants work hand-in-hand with local organic farmers and Hana fishermen. Currently about 90% of produce served is Hana or Maui grown; to increase that percentage, the chefs collaborate with local small farmers for specialty heirloom crops. Cardboard goes to a farm for weed control; waste paper to flower farms for packing material. Green waste is composted at nearby Hana Ranch. Glass bottles are brought to a landfill where they are collected and converted to road resurfacing material by a Maui company, and the hotel is working with the county to establish a full-service redemption center for cans, bottles and other recyclable materials. The hotel no longer offers dry cleaning for guests—too toxic. Bed linens and towels are organic. And on and on.
Here is where you decompress and reconnect with the natural environment, in high style. We especially love the Sea Ranch cottages, with their recycled teak furnishings, lanai hot tubs, and ocean views. The stuff of lifetime memories.  And the hotel's Hamoa Beach (reached by shuttle bus) is such a perfect crescent of palm-fringed sand you'll think you've stepped into a vintage Polynesian postcard.
Green off the grid
But let us venture eastward still. Past Oheo Gulch and its sacred pools, very close to Palapala Ho'omau Church and its idyllic churchyard where aviator Charles Lindbergh lies buried. This is remote Kipahulu, a dozen or so miles past Hana, and far, far off the grid. The air is fragrant and heavy, tinged with the sea. Down the road a bit more there's the cutest little organic fruit stand in paradise, at Laulima Farms. And, to rest and rejuvenate for an afternoon or days on end, you will find Halemano.
Tropical wildness dares you to continue winding down Halemano's jungle driveway. You know you have arrived somewhere completely untamed … and very green. Originally a spiritual community dedicated to "caring for the land in a conscious way," in the words of its charming founder, Hans Gebhardt (also known as Siddho), Halemano has been evolving for more than 20 years. It is now available to anyone "drawn to enter into a deeper relationship with the natural realms." The natural realms are everywhere to be entered. On strolls along idyllic garden paths with ancient stone terracing, tropical landscaping, organic orchards and gardens. On nearby cliff tops overlooking a secluded bay (especially in the wood-fired bathtub), or in waterfalls and pools. Horseback riding, guided hiking, kayaking, or diving at "off the map" locations.
The handcrafted guesthouse—it sleeps 6, but the upstairs suite is perfect for 2—is a blend of Pacific and Asian flavors and furnished with objets d'art. Organic meals, massage and spa treatments, yoga, meditation and garden tours are available on request. Halemano is a unique chance to experience living off the grid in a magical outpost of Maui—and an opportunity to meet and mingle with members of this retreat center's resident community, who come here to learn to live sustainably in exchange for work roles.
Let us guide you to all things green & great in the Aloha State. Download your own copy of our award-winning e-guide, Green Traveler Guides Hawaii. We sleuth out travel you'll love.