|
Big Island Grown
|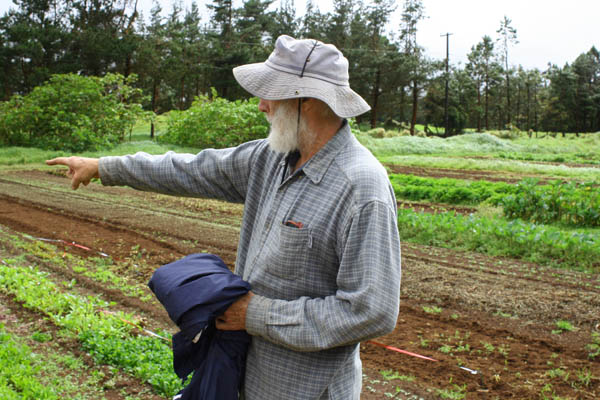 Merriman's is celebrating its 22nd year as a temple of Aloha Gastronomy on Hawaii's Big Island. Chef/owner Peter Merriman, a James Beard Award winner, is the godfather of Hawaii grown. You see it the moment you walk into his Waimea flagship restaurant. Adorning the walls of his quietly elegant dining room are heroic black-and-white photos of farmers, ranchers, fishermen. Merriman's carefully nurtured sourcers. Some are exclusive to his kitchen, where the menu proclaims "organically grown produce and chemical-free products used whenever possible." But you can do more than taste the difference Merriman's locavore philosophy makes. You can do a half-day immersion into how Hawaii Regional Cuisine comes to be. In conjunction with tour operator Hawai'i Forest & Trail, this icon of fine dining offers the state's very best farm-to-fork experience.
In mid-afternoon, as Merriman's chefs begin to prep your special 3-course dinner that will highlight the products and produce from local farms, you set off on your tour. First stop is Honopua Farms, where you meet with Ken Hufford, owner and farmer. His 10 acres are alive with organic veggies like fennel, kale, 10 varieties of lettuce, bok choy, arugula. Sample what he has available, perhaps a sprig of cilantro, sweet with a subtle taste of spice. You may even notice a few fearsome-looking  Jackson Chameleons roaming around the farm. Waimea is in a very special part of the island. The weather is continuously changing, going from rainy to sunny in a matter of moments. This is one of the few places on the island with perfect growing conditions for row crops—more than 60% of the island's produce is grown here.
Next stop is the other part of Ken's farm, run by his wife Rowen. Here is where she grows award-winning flowers and lavender. As she tour her lavish garden, you see hibiscus, hybrida and King protea. Many of her flowers are grown for flower leis sold in the farmers markets and used for weddings around the island. The scent of lavender is everywhere.
Contented livestock where warriors trained
Then it's on to a totally different landscape, the rolling hills and high country meadows of Kahua Ranch, where King Kamehameha once trained his warriors. Kahua ranch sprawls across 8,500 acres, grazed by contented cattle, sheep and horses.  From the lookout point, you see all of southern Kohala and maybe even Maui. During your trip up the mountain your guide will interpret old King Kamehameha stories and historical information about Kohala.
By now you're really hungry. But that's good. Because they're waiting for you back at the restaurant. Be seated at the special table reserved for the tour guests. Here comes a  meal that sings of authenticity of honest flavors, starring ingredients so fresh you might as well have grown them yourself.
This Merriman's  Farm Tour requires a minimum of 10 paying guests. The cost is $169 plus tax per person, and includes the tour plus dinner with wine. It is operated Mondays–Thursdays from 2:15 p.m.–7:30 p.m. Make reservations on the website of Hawaii Forest &Trail, or by phone at (808) 331–8505.