|
Green By Design
|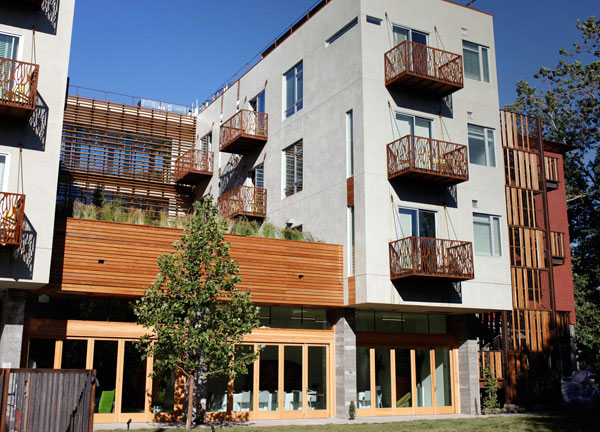 This is a fable called Green Hotel 2.0. Start with one nasty old gas station, a relic of the Carbon Age. Remove it and the all the oily, greasy soil beneath and restore the land to health. Now in this very space raise an eco-chic refuge. Let's say it has 36 guestrooms and suites. And that it is LEED Gold certified, has an undulating "living green roof, " a self-proclaimed organic aesthetic and more earth-friendly features than a Sierra Club outing. The really, really good news is, this fable is not make believe at all. See for yourself. Head on up to the Sonoma wine country town of Healdsburg, a little more than an hour's drive north of San Francisco. Look for H2Hotel.
It's only a short stroll away from the town's leafy plaza, the heart of this charming town of up-market shops, art galleries and farm-to-table dining. Getting to the plaza is even quicker on one of the H2's retro "urban bicycles," made in San Francisco by Public Bikes and yours for the borrowing as a hotel guest. More than 100 vineyards are within a few hour's pedaling distance … many much less … and the H2 can give you biking maps to suit your taste and time.

But before heading out anywhere else, though, we suggest you take a good look around the H2 first. It's sleek and modern, softened by wine country touches. Instead of standard hotel art, you'll notice the intriguing choices of a curated exhibition by local artisans. The lobby "fireplace" looks like an arching shock of wheat. Spoonbar, the ground-floor restaurant that opens its cantina doors onto the street on warm nights, is named for a fountain sculpture with thousands of bobbing espresso spoons that create water mosaics from rainwater captured on the green roof. Even the upper-floor balconies—all guestrooms either have a balcony or private patio—are sculptural, and designed to weather with a verdigris of rust. Reclaimed materials used throughout include not only wood (a school's gym floor, for instance) but also steel, concrete and glazing.
Character without fussiness
During construction, care was taken to protect the creek which runs through the property, and to restore the creek bed and riparian habitat. Almost two-thirds of the total site (including the living roof) has been left as landscaped open space to promote biodiversity. Most of this is planted with drought-tolerant native species.
Striped bamboo floors, funky (and chemical-free) Peace Industry rugs and local art give the guestrooms character without fussiness. Soft Coyuchi organic cotton sheets and waffle-weave robes await. All rooms have built-in desks with ergonomic chairs and extra storage. The bathrooms are ample, with simple lines wrapped in locally crafted Heath ceramic tile. Breathe deeply. Fresh air is circulated at a rate of at least 150 percent that of a typical hotel. Thirsty? Grab your glass carafe and head for the filtered water bar on your floor for your choice of icy cold still or sparkling.
What to do next? At hand are some of northern California's most scenic and least touristy wine regions: Dry Creek Valley, Alexander Valley, Russian River, Green Valley, Chalk Hill. A few of our favorite local wineries include Quivira Vineyards (biodynamic, solar powered), Truett Hurst (biodynamic), DaVero (biodynamic and organic), J Vineyards and Winery (certified sustainable), Medlock Ames (organic grapes, eco-friendly tasting room and gardens) and Iron Horse Winery (sustainable farming and winery practices, National Geographic partnership for ocean stewardship and Earth Day). Or try a lazy day of canoeing on the Russian River … or exploring other nearby wine country towns like Geyserville and Sebastopol.
Vine to table
At some point you gotta eat. Or perhaps take a brief wine break and sip another sort of adult beverage. And for these, Spoonbar is at the ready. Free-form tables are made from reclaimed acacia and the long, communal table is crafted from a split tree, accented by turquoise Eames chairs. Here's where you'll enjoy complimentary breakfast with the excellent organic coffee of Healdsburg's award-winning roaster, Flying Goat. At lunch and dinner Spoonbar is all about ingredients grown and produced in Northern California, especially organic and sustainable local purveyors. The seasonally changing menu offers small bites like saffron arancini and house-marinated local olives, interesting handmade pastas like orecchietti with scallops and uni (spiny urchin) cream, heartier fare such as Moorish-style organic chicken with couscous and even a not-your-ordinary burger with sweet onion marmalade, applewood smoked bacon and fresh horseradish.
The same focus on regional and seasonal carries over to master mixologist Scott Beattie's cocktails, which use organically grown herbs, fruits and vegetables and liquors from small-batch producers. As for wine, here's what Wine Director Ross Hallett has to say: "Our 'green' philosophy plays out from roof to room, and I've worked hard to bring it to the wine list, too. Each wine you see is doing something to contribute to true sustainability, be it carbon off-setting, a unique approach to worker compensation or encouraging biodiversity." Several choices are offered on tap (like the crisp sauv blanc from Mendocino's father of biodynamic wine, Paul Dolan) to reduce packaging and spoilage. Sometimes it's just fun to fall off the "locavine" wagon, and Spoonbar's sustainable selections from afar are a safe place to land. At our server's suggestion, we revel in by-the-glass choices of an Italian white (without skin contact) pinot noir from Lombardy and a Hungarian red from the kadarka grape that reminds us of a delicate Oregon pinot noir.
Venturing forth, Healdsburg has a host of options within walking distance of the hotel where you can bask in sustainable, local and organic dining. We especially like Mateo's Cocina Latina (awesome Mexican from a Yucatan-born chef trained in four-star kitchens) that's right across the street,  Scopa (made-from-scratch Italian by a husband-wife team), casual Bovolo (where everything from bacon to gelato is made using sustainable Sonoma-grown ingredients), Dry Creek Kitchen (New York star chef Charlie Palmer's tribute to wine country cooking) and Cafe Gratitude (the local outpost of this gourmet organic and vegan group).
Then again …
Trouble is, it's kinda hard to leave H2. Maybe we'll mosey down to the spa at Hotel Healdsburg, H2's sister property, with its all-natural, custom-blended spa products—the "lavender peppermint restorative massage" using rich lavender body butter from the gardens at nearby Matanzas Creek Winery sounds interesting. Then again, the solar-heated pool right here looks sooo inviting. And the bar at Spoonbar is such an agreeable spot from which to watch the world pass by. Hmmm, you might say it's easy being green in Sonoma wine country at H2Hotel.