|
Travel Greener: Fast
|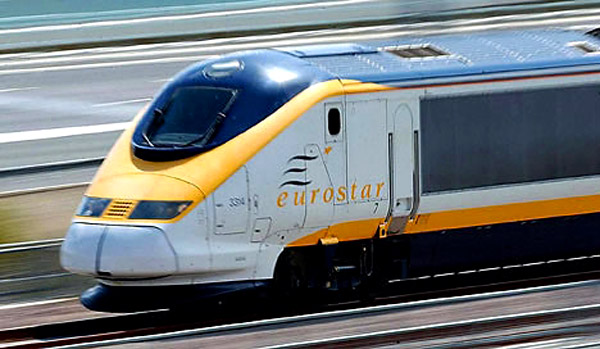 As a committed green traveler, you try whenever you can to visit green destinations, stay at eco-friendly hotels, visit green restaurants and eat local organic food. However, no matter how hard you try, sometimes it is next to impossible to find green alternatives while you are traveling. While this isn't ideal, the good news is that you can still do a lot of things to reduce your environmental impact, no matter what your destination.
One important way of doing this is choosing the right transportation to get to your destination. For example, if you are traveling to London from Paris, you can reduce your carbon emissions by up to 90 percent by taking the high-speed Eurostar from the Gare de Nord station right through to St. Pancras Station, rather than taking a flight out of Paris. Not only that, but you will also travel just as quickly, given the fact that you arrive right in the center of the city. In general, train travel is much more eco-friendly than just about any other mode of transportation, including driving. If you have no option except a flight, you could purchase offsets for your carbon emissions.
Once you arrive at your destination, use public transport if it is available. Of course, cheap rental cars are still a necessity if you want to travel into the countryside, but leave the car in the parking lot when you are in the city. Aside from saving energy, this can be much more efficient, since finding parking can be a huge challenge in major cities. You also get to meet the locals, which after all is one of the great pleasures of traveling.
When you arrive at your hotel, there are many ways to save energy there as well. Often, hotels now have card entry systems where you have to put your card into a slot after you enter your room to turn on the lights—so that they go out automatically once you take your key back and leave your room. However, if this is not the case, just remember to turn out all the lights when you leave. Also, turn up the thermostat a couple of degrees during the summer and turn it down a couple of degrees during the winter. This can save up to 6 percent of the energy needed to heat or air-condition your room, which really adds up when you think about a large hotel with hundreds of rooms.
Another major energy drain at hotels is laundry—in fact, this uses about 40 percent of a hotel's total hot water consumption. If the hotel offers the option, reuse your towels for a few days, and only have your sheets changed a couple of times a week. This is perfectly all right when you are at home, so there's no reason you shouldn't do the same thing when you are on the road. Also, it makes sense to bring your own soaps and shampoo. A lot of energy goes into the production of the miniature toiletries in your hotel room, and they are typically thrown away each day—which is a complete waste.