|
Yin-Yang Greening
|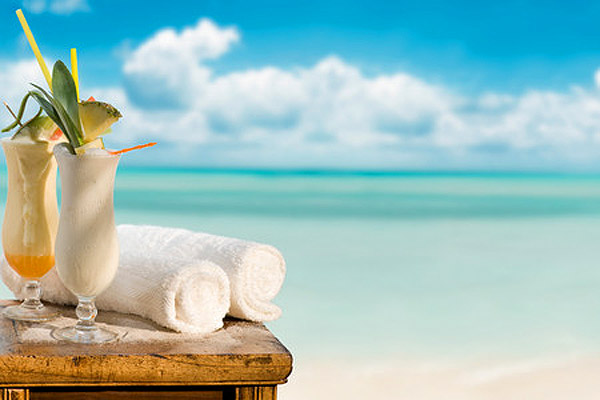 Your dream green wedding is all set. It'll have mega impact on you and your guests, mini impact on the environment. Don't stop there. Do like more and more couples today: Make your once-in-a-lifetime honeymoon eco-friendly, too. As The New York Times pointed out recently, "These days many newlywed couples are choosing a bed draped with mosquito netting over one dotted with rose petals, shunning the more traditional romantic resorts for retreats that are environmentally friendly." Anna Pezik, senior editor at Brides.com, agrees. "Couples are uncovering exotic, new, healthy ways to celebrate their nuptials, relax and have fun—while preserving the planet and giving back." But you certainly don't have to limit yourselves to an eco-tourism lodge somewhere in a rainforest (great as that sounds!). Today's honeymoon packages by travel experts can serve up your happily-ever-after in more flavors than they scoop at Baskin-Robbins.
Your first decision, of course, is your most pivotal: Where to go? One of today's freshest trends is the yin-yang trip. What's this? Simple. Two completely different destinations that share a common thread—they can both be packaged to be eco-friendly. Here are a couple of today's hottest green honeymoon combos.
South Africa & Mauritius
The pearly sanded resorts of the islands of Mauritius, in the Indian Ocean off the southeastern coast of Africa, are perfect for both sun worshippers and sea explorers. Newlyweds can wake to the sounds of the rolling waves, usually just a few footprints in the sand from the feet of their four-poster beds. Some resorts even offer honeymoon suites so exclusive they are on their own private islands, with a sea porter pandering at your beck and call.
Tell your honeymoon planner to focus on resorts that have earned green certification. The two Club Meds in Mauritius, for example, are both Green Globe certified.
Mauritius has much to offer beyond its impeccably clear waters. Like taking a step back to simpler times, the islands' culture will gently transport you to what feels like another world. The friendly, French-speaking locals are wonderfully welcoming, and happy to engage you at all skill levels of their language as you share a ride through their towns and countryside on 1970s-era buses. Eco-friendly, memory-making excursions span the gamut of a visit to the picturesque Central Market of Port-Louis to taking in the breathtaking  views on foot, bike or kayak, mountain trekking or simply enjoying the spectacular beauty of the waterfalls, forests and endemic flowers and plants.
Then … are you ready for lions and zebras and more? Oh, my!
On to South Africa you go. The many safari and wildlife parks in South Africa are where you and your new spouse will make indelible memories, getting up close and personal with all manner of African beasts and critters. Rest assured that after stalking lions and quad-biking alongside packs of zebras, you will return to the seclusion and privacy of your eco-friendly hotel. An increasing number of safari operators are embracing sustainability, from organic gardens to feed their guests to building schools for nearby villages. One of the oldest and most dependable is South Africa-based &Beyond, which runs 32 magical safari lodges and camps in Africa and South Asia and, through this, sustain hundreds of rural communities and millions of acres of precious, sometimes endangered wildlife land.
Prefer aquatic creatures? Then explore the South Africa's world-famous coastline and coral reefs. Snorkeling, scuba diving, beachcombing, or maybe a fishing trip where you barbeque your catch off the side of the boat. Your travel planner can find eco-friendly tour operators for all of these options, and more.
Whether exploring or simply relaxing your first days of marriage together, South Africa and Mauritius are a combo hard to beat. Unless maybe it's …
Hawaii and Las Vegas
Aloha! As one of the world's ultimate escapes to paradise, Hawaii has always been on the short list for newlyweds. And why not? Who couldn't deepen a romance on one of these fabled islands' sweeping, sugar-fine beaches, exotic cocktails in hand?
But that's just the first few feet of shoreline. Hawaii, as you may know, offers some of the most stunning and adventurous trekking experiences in the Pacific. Standing hand-in-hand on the edge of the volcano or experiencing the perfect swell for surfers, you can't go wrong here—especially if you sleuth out or instruct your trip planner to focus on the choices best for you and the planet. (Hint: this website has written extensively on great green options in Hawaii. We've also published an entire e-book, Green Traveler Guides' Green Hawaii. Start searching away!)
Just when you're mellow as an Iz Kamakawiwoʻole ballad, crank the vibe selector 180-degrees to the right. Staying up all night doing your Viva Las Vegas on the Strip's renowned adult wonderland is next. Take in a few extravagantly produced shows. Try your hand—could anytime in your lives be more lucky?—at the black jack or roulette tables. Gawk at the outrageousness of this over-the-top scene.
But how can a man-made place in the middle of a desert be green? You'd be surprised.
Hilton properties in Las Vegas, for instance, have set up "Green Teams" of hotel employees who are on the constant look-out for new ways to lessen their environmental impact. There are lots of ways these properties, as well as the entire casino industry, can accomplish this. Electricity consumption is one biggie. Running a hotel requires the use of a lot of electricity. So does a casino, to maintain all those slot machines, heating, cooling and lighting. Many top casinos have recently reduced this consumption by switching to LED lighting—which provides much greater energy efficiency and lasts longer.
Many of the casinos operated by MGM Resorts International, as an example, have achieved the prestigious Green Key rating for environmental conservation. Green Key evaluates properties on a scale of one to five Keys, with five Keys being the highest ranking. Results are based on a comprehensive evaluation of the hotel's sustainability efforts. Thus MGM's Bellagio in Las Vegas recently rose in rank from "4 Green Keys" to "5 Green Keys" by, among other things, updating energy-efficient equipment, enhancing its recycling efforts and sustainable food and beverage practices. In 2011, MGM also installed the Vegas Strip's first electric vehicle charging station.
City-beach. Adventure-relaxation. Yin-yang honeymoon themes are as varied as your imagination. So after the big day that joins you as a couple, why not make a perfect eco-friendly start to the rest of your lives together?